I've been looking at various options for my many registered but unused domains so that they could generate a bit of income for me and was psyched to read about Google adding AdSense for Domains to its many services. Don't know if anyone's seeing good money with it, but, heck, I'm willing to try!
Thank you for the reminder to dig into this service. As it happens I have about forty domain names and the majority of them (cough, cough) are "coming soon" or simply have nothing on the site at all. Even $10/month would make them profitable for me with $8.50 annual registration fees and a server that costs me the same regardless of how many domains are associated.
Problem is, most of the domain parking revenue generation services are ghastly ugly, have zillions of ads, and look so obviously spammy that I have figured for a long time that they're pointless and can't possibly produce any income at all. Of course, I could be wrong. 🙂
On the other hand, Google has a tendency to do things nicely and professionally, so you're right, it's worth trying.
And here's how ya do it…
Log in to your Google AdSense account (or sign up for one if you don't already have one) and on your main page you'll see:

Click on that and you'll be presented with their rather lengthy terms of service agreement. Scroll to the bottom (after carefully reading it, of course!) and you'll see a check box to click so you can proceed:

Finally, you're on the main AdSense for Domains area:
Click on "Add new domains" and…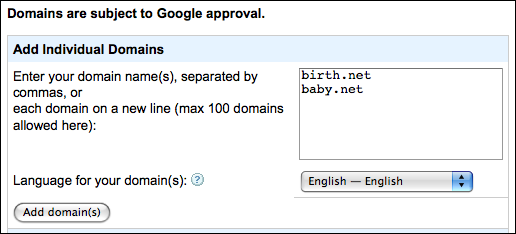 I add two domains that I've had parked for quite a while (it is my intent to sell one or both of these at some point, though, so if they spark your imagination, email me!) and click on "add" and you'll get a typical little confirmation message:
And the system shows you what you actually have to do to have your domain actually point to an appropriate page on the Google AdSense server:
As you can see, you need to modify the domain name record (aka DNS) information so that when people query the domain they get to the right place. Not hard, but finding out
where
to do so might be a bit tricky.
Finally, note that you'll need to have your domains approved by the wizards in Mountain View too, so for the first few days, you'll see:
How's it look? I don't know yet. Once it's up and online, though, I'll write a followup piece that talks about how it looks, how to customize it and some information about what kind of payout you might see.