I've been using a separate application to keep track of all my RSS channels on my Apple iMac, but now that I just downloaded the shiny new Safari 4 browser from Apple, I'd like to switch over to using its built-in RSS reader. Problem is, I can see how to read an RSS feed, but I can't see much else of how to work with RSS within the browser.
Actually, Apple's Safari web browser has been able to work with RSS feeds for quite a while. The problem is, it's not easy to figure out how to do so, as you have learned, In fact, the RSS capabilities are so incredibly subtle and obscure that I wouldn't be surprised if less than 1% of Safari users even know they're there, let alone know how to work with them.
Let's change that, shall we? 🙂
There are two parts to working with RSS feeds: subscribing to an individual feed and reading your combined set of feeds, and I'll start right out by suggesting that if you don't already use the Bookmark Bar in Safari (the narrow strip of your favorite site bookmarks that appears immediately below the address bar) then now's a good time to get into the habit of using it. You can enable it with View –> Show Bookmarks Bar.
Now let's go to a page that has an RSS feed available, like my film blog Dave On Film! Go there in Safari and the top address box will look like this:



Note the "RSS" graphic. Nah, don't note it. Click on it. Now you'll see that you've moved into the Safari RSS viewer, complete with a "feed://" URL being displayed:


Nice, with lots of useful tools on the right side to tweak and fine-tune how you want the feed displayed.
Now here's the key step: to subscribe to this RSS feed you need to bookmark it. But you don't want to just create a bookmark, but instead a bookmark folder within which you'll save all your RSS feeds.
First you need to create the folder. If you're going to add it to your Bookmarks Bar so it's convenient for later access, simply Ctrl-Click on the bar itself:



Give it the name "RSS", perhaps, or just about anything else that your heart desires and that'll make sense to you. Remember that it'll contain all of your RSS feeds, not just one, so we don't want to, for example, call it "Dave On Film".
If you click on the new folder you'll see that it's empty. Here's the magic part, though…
Choose
Bookmarks
–>
Add Bookmark…
to bookmark the Dave On Film RSS feed and you'll see this: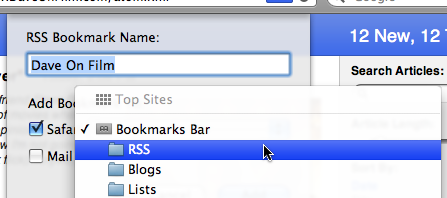 Save the bookmark in the new folder and now when you click on that folder in your Bookmarks Bar (or bookmark menu, if you put it there) you'll find that it magically expands to offer more than just that one bookmark:


Ahhh…. now you see the magic. The "View All RSS Articles" option shows up automatically if you drop a "feed:" URL into a folder!
Even better, add a few, wait a while until there's new material in those feeds, and you'll find that the folder is no longer called "RSS", but actually also includes a count of the number of new articles in those feeds: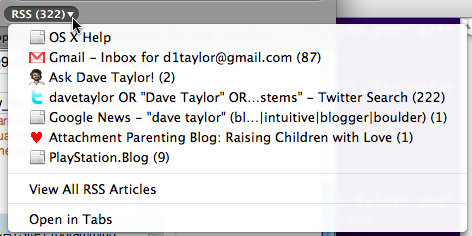 You can see that there are 322 new articles in my RSS feed collection and how they're distribute between the different feeds I've bookmarked (e.g. "subscribed to"). I choose "View All RSS Articles" and now they're displayed from newest-to-oldest in a unified window: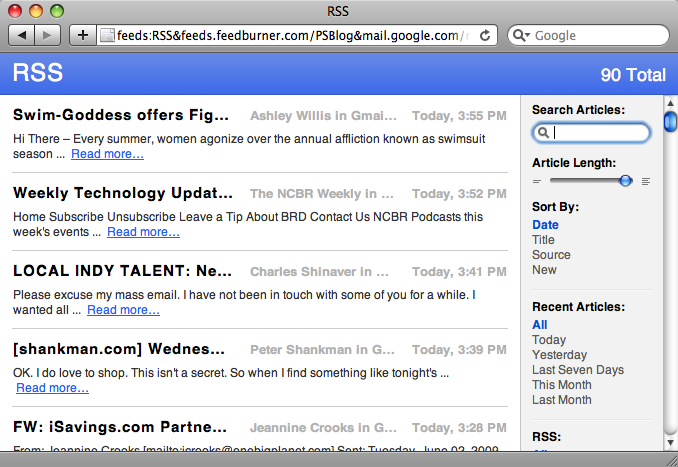 Very nicely done, but it's odd that it's such a hidden capability. Now, however, since you've read through this article, you know the big RSS secret hidden within Safari!