A number of my friends and business colleagues use Skype and I'd like to be able to chat with them while traveling, but I don't know their Skype account names. Is there some directory of Skype names and/or some best practices about how to search for someone in the Skype universe?
That's a very interesting question, actually, because I often forget to check and see if my colleagues and friends are on Skype before I spend my cellphone minutes making a call, and when I'm traveling and at a hotel, it can be a major unexpected cost if I unthinkingly pick up the phone and dial someone, even if it's local!
Skype, an eBay property, is a great alternative, especially for overseas calls. Better, it's also a nice way to have a quick conference call that you can record and share. In fact, I've been involved with more than one podcast via Skype as we tapped into just this capability.
Nonetheless, it can be a bit daunting to try and find a friend or colleague on Skype and though some people will include their Skype ID in their email signature, most won't, leaving you on your own.
I experienced something quite similar recently when my friend Nathan Segal asked me to contact him via Skype. I had no idea of his account. Fortunately, I know how to search, and this is how I did it…
First off, your Skype Contacts Window has a handy search box: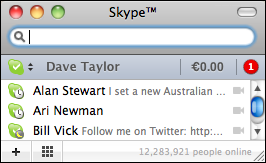 Type in your friend's name and you'll see the window transform into the search results window as you go. Probably, it'll look like this: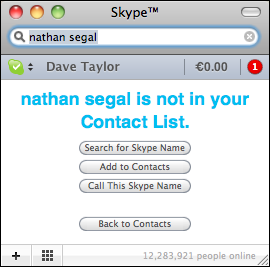 Here's where you need to pay attention. To find the person you seek, click the first of the four buttons shown, then "Search for Skype Name" button. Some time will pass:

Perhaps a fair amount, but hopefully within a few seconds, you'll get a results window similar to what I saw: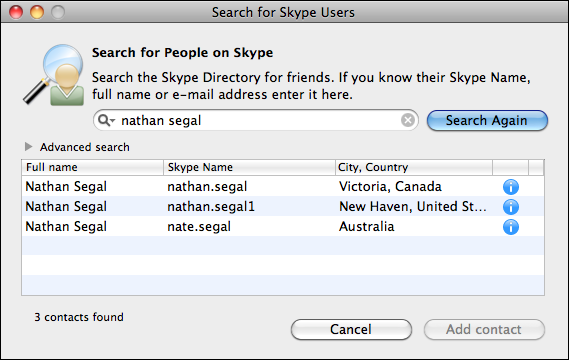 Click on the name of the person who most closely matches your friend's profile (hopefully you can differentiate at this point without a hassle), then click on "Add contact". Now you'll get the ability to send an invitation for them to reciprocally link to you too, along with a notification that you've connected to them:

Best practices is to replace the boilerplate with your own custom message about who you are and why they should connect with you. Once you've done that, you'll see: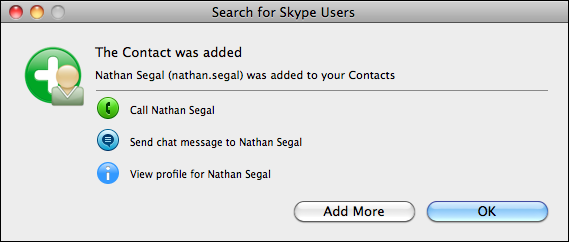 From that point, you can easily initiate a text instant message session or a phone call, whether it's a conference call or a one-to-one conversation.
Hope that's helpful!