I'm still falling down the well of Twitter, or is that falling into the Twitterverse? Anyway, I'd like to have a couple of different profile photos that I can switch between. Is this possible?
This is the kind of thing that'll make Twitter even more fun, actually, some sort of pop-up menu of pre-loaded images a la emoticons that you can see in instant messenger clients with a range of smiley faces, etc. Maybe it's a little retro high schooler in me, but I think that all the weird icons are great fun. 🙂
Unfortunately the Twitter clients I have seen do not support you spontaneously changing your Twitter icon on a whim, so I can only hope that's something coming soon (perhaps inspired by this very blog post, who knows?!)
You can change your profile picture, however, it's just a bit more effort.
In honor of Earth Day (22 April) I thought I'd change my own Twitter cartoon icon to a cartoon image of the earth, as a demonstration of how to change your own Twitter icon (you can find me on Twitter as DaveTaylor, and you're welcome to follow me, yadda yadda. 🙂
First step is to find a suitable image, and to do that, I'm going to use my favorite image search tool, Google Image Search. My search: cartoon globe. Some great matches are right there on the first page, and I particularly like the globe image found at klineschool.com: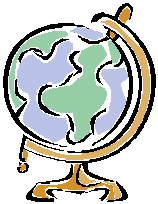 Problem is, is it in the public domain? Is it legal and safe to use it? That's a hard one to say, and the Kline School itself is a private educational institution (images used on the Web site of a publicly funded school are most likely in the public domain if not otherwise copyright). Nonetheless, I'm going to make a rash assumption that I can use this image because it's just for a twitter profile pic, not any sort of commercial enterprise. Plus, it really looks like some clipart out of Microsoft Office and I own that software so it'd give me republication rights to the artwork anyway.
Okay. So now we have a graphic we want to use. Next step is to save a copy of it onto my computer which is easily done by right-clicking (or, if you're on a Mac, Control-clicking) on the image itself. You'll get a pop-up menu like this:
Choose the highlighted option "Save Image As…" and specify a name you'll remember and a location that you can find again on your hard disk. I usually just drop images onto my Desktop while I'm working with them.
Now it's time to log in to
Twitter
and click on "Settings" on the top right. You are then shown the Twitter navigational tabs. Click on "Picture", as shown here:

Click on "Browse…" then find and select the graphic you just saved from the Web, and click on "Save". Your Web browser will now upload the image to Twitter and, after a few seconds, you should get the cheery message from the Twitter system that it worked and was accepted as your new profile picture:
Below it you can notice the new graphic is already in use. Send out a test Tweet and you'll see your new icon in the timeline:

And that's how it's done. 🙂
Remember, if you seek more info on how to work with Twitter, I have lots of Twitter help here at AskDaveTaylor. And, yes, if you'd like, you can follow me on Twitter and learn about my scintillating life. 🙂