Maybe I'm the only one who has this problem, but I swear, I get email from eBay's Half.com every two or three days telling me that something on my wish list is now available. Which wouldn't be bad, except every time it's the same item. How do I make it stop??
I have a theory, actually, that Half.com has been sending more and more frequent messages as we got closer and closer to Christmas, but perhaps I'm wrong. All I know is that I too have been seeing a remarkable amount of email from 'em in the last few months too.
Here's what mine looks like. Every time:

Look closely and you'll see the link
edit your Wish List
. Click on that (or just log in directly to
half.com
, of course), and you'll go to: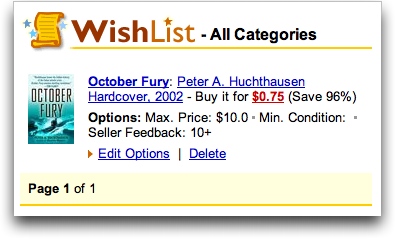 Now click on "Edit Options" and you'll get to the page you want, with the options that let you turn off all these options:
The last of the options is how you stop those pesky email messages. Just disable
Send me email updates on this item.
There are some other quite interesting capabilities here too, most notably that you can specify the minimum condition of an item on your Half.com wish list. Could be a nice way to have it watch for items that are in a "new" condition only, for example, rather than the default of "any". You can also limit it by price, so if you're looking for a new DVD of
Willy Wonka
that's under $5.00, you can set it up to find just that.
It's worth noting that in addition to Half.com's wishlist, you can also set up a tracker on
eBay
itself too, so you could easily monitor both marketplaces to help find exactly what you seek. And eventually you'll need to turn off your wish list, at which point you can come back here and remember how to do it. 🙂