I was poking around on Google Maps looking at satellite views of my neighborhood and when I switched to street view, was upset that the photo they have of my home includes my children playing in the front yard. That's not right, I don't want the world to be able to see that. I know that important government buildings and installations have gotten their street view images blurred in the database. Can I do that too, can I get Google to blur or otherwise obscure my house in the Google Maps database?
Google Maps is an amazing application. Between its lightning fast rendering of maps just about anywhere in the world to its ability to route you from point A to point B however far apart the two points are (try this: Alta, Norway to Cape Town, South Africa). It calculates that insanely long route in a fraction of a second. Amazing.
As you point out, Google Maps also has a huge amount of satellite data and lots of interesting places to view from above, including a few of my favorites (The Great Pyramid of Giza, The Eiffel Tower and The Magic Kingdom at Walt Disney World). Get down to street view, however, and there's quite possibly too much information available. I totally understand your concern!
Fortunately Google knows it's a potential problem and has a fairly straightforward method of requesting that a streetview image be blurred for privacy or because there's something in the image (someone naked? a criminal act happening?) that is inappropriate.
Let's request Google blurs the photo of my own house so you can see how the process works.
To start out, I typed in my street address then switched to street view, which produces this image: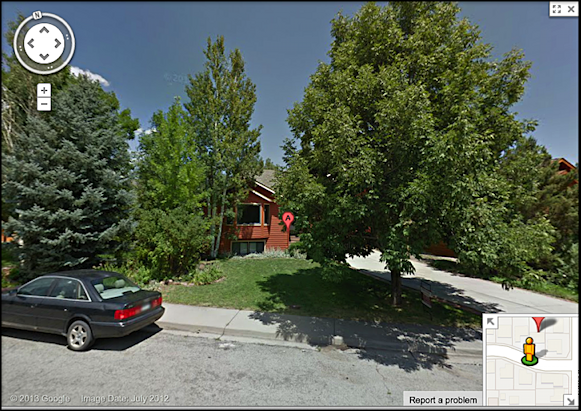 Look closely on the bottom right and you'll see a link "Report a problem". Click on it and a window opens with the page "Report Inappropriate Street View":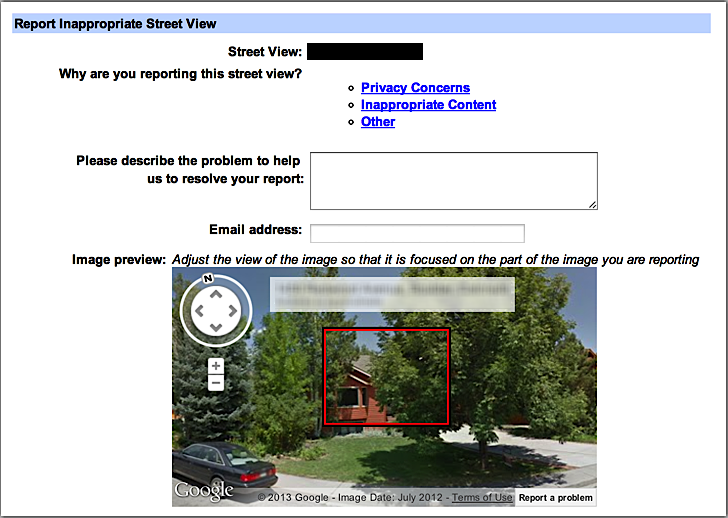 As you can see, there are a number of different categories for reporting something as inappropriate, including privacy concern, inappropriate content and other. For this situation, I'm going to click on "Privacy Concern", which opens up a few options:

That's the one. "I have found a picture of my house and would like it blurred". Fill in the other information on the page and don't forget that darn CAPTCHA at the bottom…

And you'll get a message that indicates it's been received and will be taken under advisement:

A few days later (in my case, it took almost a week) a message will arrive in your mailbox with the good news: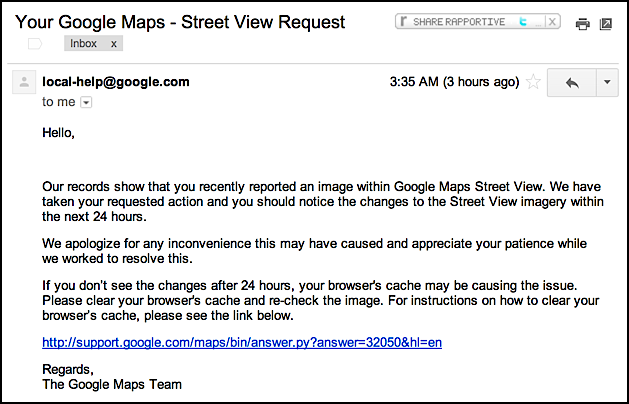 That's all there is to it. There's a few days lag time for them to review your request, then another delay for the database to be updated, but eventually your house image should be blurred and your children's privacy ensured.
The resultant street view, btw? Looks like this: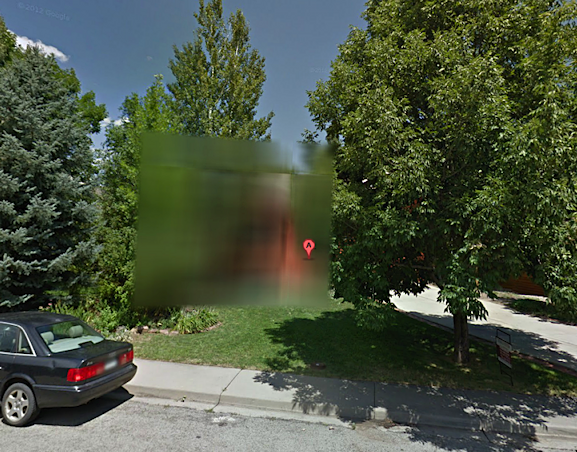 Hope that helps you out!