I have a new Apple iPod that I've been playing with on my brother's PC, but now I want to pair it to my iMac. Every time I try to do that, though, it refuses to do anything and I'm ready to toss it out the window! Rather than do that, can you please tell me how to proceed? At this point I don't care if I lose the music on the iPod either, since I have it all on my Macintosh…
One of the subtleties of the Apple iPod that is least understood is that it can only be "owned" or "paired" with one computer. Whether Mac or PC, if you hook it up to any other computer, you'll either only be able to access the music thereon to play (not copy or burn) or you'll be asked whether you want to 'restore' it, just to find out that's secret Apple code for erase everything on the iPod device.
If that's the situation you're in and there's music or other content on the iPod that you want to copy onto your computer before you pair it with your iMac then you'll definitely want to check out these articles: Copy music off your iPod onto your Windows PC or, if you're on a Mac, Copy music off your iPod onto your Mac.
You're not in that situation, so for you it's quite a bit easier!
Most likely, when you plug in your iPod, you'll find that there's a systems update available for it, so most likely the first thing you'll see on your Mac is this:



In this case, "MicroTV" is the name I assigned my 30GB iPod Video on my own Windows PC: your name will undoubtedly be different.
I'm going to click "OK" here, and then it'll give me the all-important window: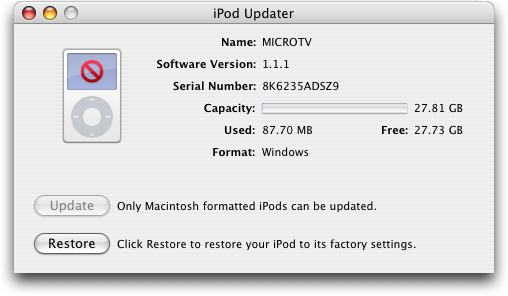 As you can see, since the iPod's formatted for a PC, the system can obviously see it, but can't actually update the software. No surprise. Instead, I want to
Restore
the iPod to its factory settings, which means that
I am going to erase everything on the device
. I click "Restore" and it reminds me of this consequence:



I'm ready to zap everything, so I'll click "Restore" one more time, and…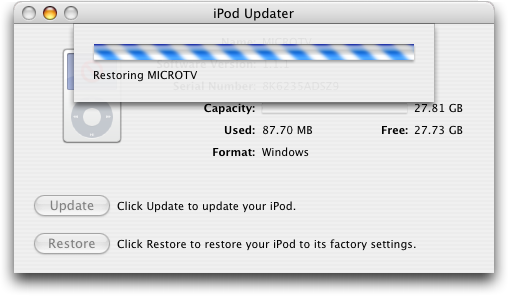 It only takes minute or two to completely reformat the device and restore it to its pristine factory, out-of-box state:



This is not when you want to suddenly say "Wait! No, that Green Day album I copied from my brother! Noooooooo….." 🙂
At this point, when you do "Quit" the iPod Updater program and jump back into your iTunes application, you'll find that it's exactly as if you had plugged in a brand new iPod for the first time. You'll have a chance to name it whatever you prefer: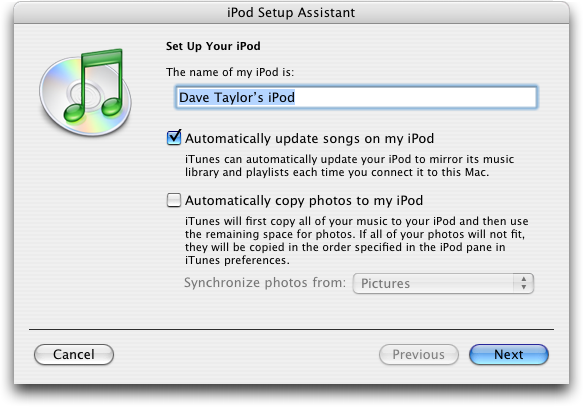 and you'll be able to re-register it with Apple if you're so inclined: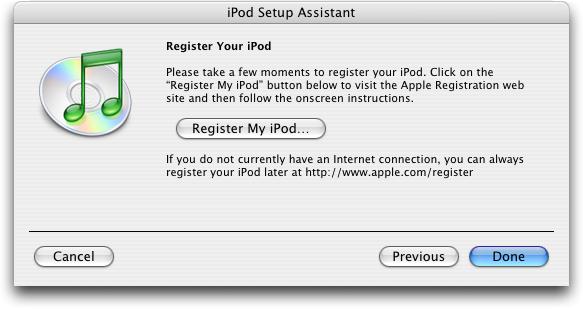 Click "Finish" and, no surprise, you have an empty iPod within iTunes: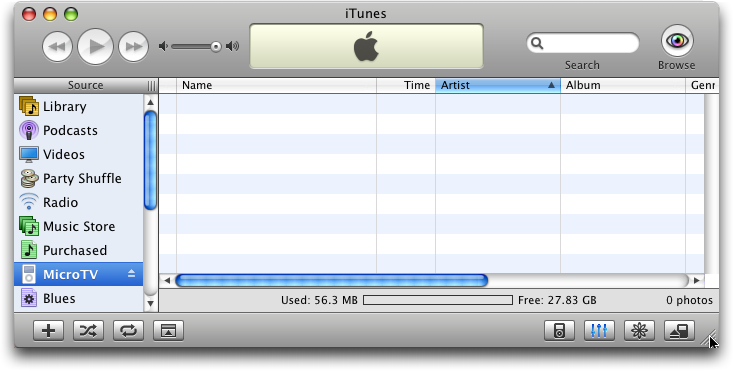 To copy your music, either let it sync (if you left it to sync automatically) or copy your entire library or some subset you prefer onto the device. I copy my entire library onto the 30GB iPod I have, as you can see:


As it's copying, you'll see a status window. If you're copying a lot of music and other material, don't be surprised if it takes 30 minutes or longer. Even at fast speeds, gigabytes of data are, well, gigabytes of data: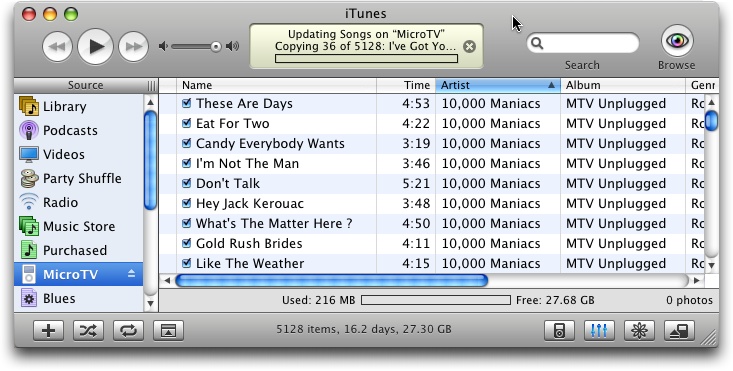 Finally, the copy will be done and your iPod will be ready to rock 'n roll, full of great music and happily paired with your iMac.