The events page on myspace.com has a link "view map", and that link opens a new window with the map of the location of a given event. I want to do the same for a site that I am working on, for a friend. His site is also about social events and he wants me to add a link that will automatically provide the user with a map of that event's location. Please tell me how to do that. I looked for code snipets and stuff, but I am just not sure how to go about it. I thought I could just add a link to the google maps main page, but I don't know how to ensure that it will map the address of each event. Please help.
You're on the right track when you talk about Google Maps, actually. It turns out that just about all of the mapping programs make it somewhat easy for you to add links to your own event information that pops up a map of the venue's location.
On the MySpace events pages, the links point to Google Maps too, as it happens.
Let's have a look! First off, I'll randomly pick an event, in this case a MiX party in San Jose, California. On the page you'll see: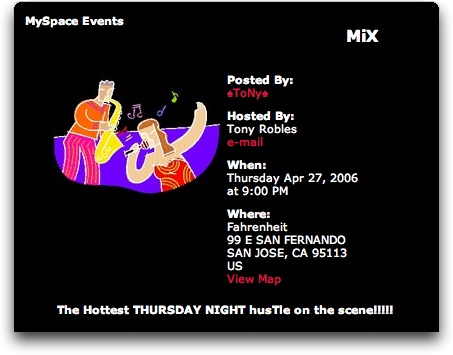 Notice the "View Map" link. Move your cursor over it and you'll find that it points here:
http://maps.google.com/maps?q=99+E+SAN+FERNANDO,+SAN%20JOSE,+CA+95113
Fortunately, you don't have to know how to decipher this sort of thing. Instead, just pop over to Google Maps and enter the address of your venue. For this example, let's suppose that I want to add a salsa dance coming up at the Westport Beach Club in Kansas City, Missouri. The street address of the club is:
&nbps; 4050 Pennsylvania Ave, Kansas City, 64111
so that's what I'll type into the Google Maps box:


Now click "Search" and it'll show a map of the venue, as you can see here: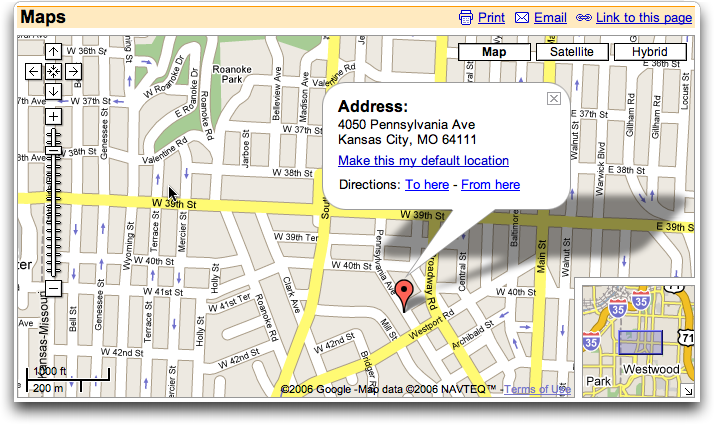 The most important link on this page is on the top right:
Link to this Page
. Click on that and you'll see your map again, but Google will have created a URL that includes every configuration tweak you've made, your zoom-in level, and more. In this case, the URL is super-long:
http://maps.google.com/maps?f=q&hl=en&q=4050+Pennsylvania+Ave,+Kansas+City,+64111 &ll=39.056584,-94.593272&spn=0.01223,0.030727&om=1
You can just use that directly, or if want something simpler, strip out the
f=q&hl=en&
from the beginning and everything after the zipcode, leaving you with a succinct URL like this:
http://maps.google.com/maps?q=4050+Pennsylvania+Ave,+Kansas+City,+64111
That'll work too. Which you use is up to you: I'd probably just use the longer one and not worry about how pretty it looks, but both of them are exactly what you could use on MySpace or anywhere else when you want a "View Map" or similar link for an event announcement.
Oh, and here: View Map to see what I mean.
Hope that helps you out!
Finally, if you'd like to connect with me via MySpace, that'd be great! My MySpace Page. Also, since you are just learning about MySpace, you might well be interested in my MySpace Help area too.