My son installed an app on my iPad and now it's posting updates on my Twitter account when he plays. What the deuce? How can it even do that? More importantly, how can I let him continue playing the game but disable the Twitter access?
I have seen the same thing with my kids when they install and play with games on my iPhone. It drives me crazy, but from their perspective, when a game pops up with a confirmation "Allow game to access your Twitter account?" it's no surprise that kids are eager to tap "yes" and get to the game. The fact that these games want to push out Twitter updates? Well, on the one hand it's pretty ridiculous – I mean how many 6yo or 9yo kids are on Twitter? – but on the other hand, it's a tough world out there for app developers and anything they can do to help raise visibility is probably not a terrible idea.
Still, as with you, I don't want my daughter to borrow my iPhone and play "Cute Pet Ville" or some such game just to find that she's inadvertently produced dozens of Cute Pet Updates onto my Twitter feed. Yikes!
The problem is, while most apps that access your Twitter account can be controlled directly from your Twitter account itself, iOS apps are in a kind of limbo…
Let's have a look!
First off, go to twitter.com and click on the gear icon:

Choose "Settings", then look on the let side, because what you seek isn't on "Account":
Instead, click on "Apps" and it'll show you a list of the Web sites and apps you've authorized to use your Twitter account. And I bet there are a lot more than you'd initially expect!
Here's a small portion of what I see on that page:
The app that's proving a problem is
Tap Pet Hotel
and as Twitter explains, it's an issue with permission on iOS (e.g. the iPad or iPhone). Problem is, if you click on the link "Learn how to revoke an iOS app" you'll find that the resultant help page no longer actually offers that information. Aww snap!
Fortunately, i can show you. 🙂
On your iPad or iPhone, tap on the "Settings" icon, then find the "Privacy" option:
Tap on "Privacy" — a rather confusing option for this, if I may say so!
Now look for "Twitter":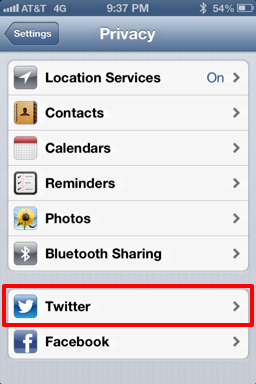 Tap on "Twitter" and it'll show you all the iOS apps you've approved to access your Twitter credentials and account: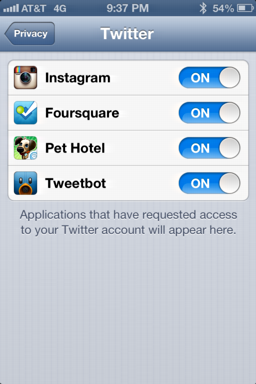 Finally you can see how to block that Twitter access. Simply slide the switch from "ON" to "OFF" and it should now be safe for your son to play with the game without everyone on Twitter knowing about it. 🙂