I host my Web site on WPEngine and a few days ago got an email that I need to update my PHP. I have no idea what that means. How can I update everything as needed?
WPEngine is one of the best hosts out there for WordPress sites: I have two of my own on their service. Focused on WordPress and the infrastructure required, they make keeping up with all the updates and security patches easy. But, like most hosting services, the company does expect that you have a basic technical understanding of the software and its requirements. Not everyone has that, and for some people who are happily blogging, PHP might well stand for Personal Habitat Preference or Purple Hibiscus, Peony or… something else equally unlikely and non-technical.
In fact, PHP originally stood for Personal Home Page, as it happens, but now stands for the recursive PHP: Hypertext Preprocessor. It's a language that lets you program within Web pages, all without the complexity of JavaScript or more formal languages. PHP makes it easy to add the current time and date to a Web page, for example, or have conditional images based on the visitor's location, and so on.
Suffice to say, with a modern WordPress site, you really need to have PHP working and secure. Which is why WPEngine is pushing everyone to PHP 7.2; to improve performance and to tighten down security both.
Here's the notice you probably saw when you logged in:
As you can see from the button, WPE does have an upgrade guide, but let me step you through the process I used for upgrading my GoFatherhood parenting site, which is hosted on WPEngine.
First off, the dashboard will show you what version of PHP you're running on the different sites you have hosted:

Ah, in fact, I had forgotten, I've already upgraded GoFatherhood to PHP 7.2. It's IntuitiveStories.com that I need to move from PHP 7.0 to PHP 7.2, as the red alert indicates.
Before I do the big jump – and you'll see, it's easy! – I want to have a quick analysis of all the plugins and my theme to see if there are any lurking dangers. That's easily done by installing and activating a plugin called PHP Compatibility Checker. Grab it and once you fire it up, you'll see this:
As shown, I suggest that you choose "PHP 7.2" to test against and specify only the plugins and themes that are active. I will note, however, that from a security perspective, getting rid of unused plugins is a lot smarter than just deactivating them.
The scan takes a few minutes, depending on how many plugins you have, and the eventual result is something like this: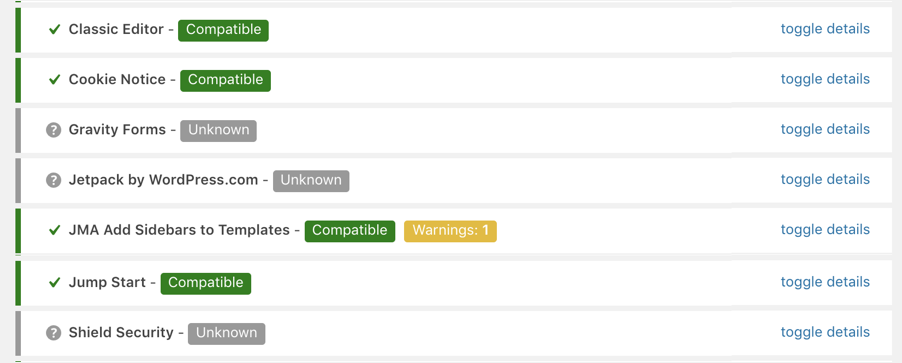 You can see that the JMA Add Sidebars to Templates has a warning and that there are three plugins that the scanner couldn't figure out: Gravity Forms, Jetpack by WordPress and Shield Security. Since all three are from highly reputable developers and since all of my plugins are up to date, I'm confident I can proceed. If you have old plugins that haven't seen an update in years, however, this is where you might need to reconsider or possibly replace them with more modern plugins. If you're still running PHP 5.2, you might want to consider paying a software developer to assist your upgrade too; that's a big jump in versions…
Ready to proceed? I am! That's done by clicking on the down "V" adjacent to the host in question, and choosing "Overview":
Hopefully you're already familiar with the many options on that menu, actually!
The overview for your site will include PHP version information:
The next step is easy but not obvious: Click on the "7.0" adjacent to the red PHP Version information.
You'll get a new window:
Check the circle adjacent to "7.2" and… click on "Change PHP Version".
Now close your eyes and pray to the WordPress Gods. Nawww, just kidding. It will most likely be a completely invisible change. The only difference you'll see is on your install stats:
And… mission accomplished!
Note: if this seems daunting, WPEngine offers assistance on the upgrade process for a nominal fee. Please check with their customer service team for details.
Pro Tip: Learning about WordPress? Excellent! We have lots of WordPress help on the site, please check it out!