I don't know what my cousin did when she used my computer for a few hours but ever since then, it beeps every time something happens on Facebook. And it's driving me crazy! How do I turn the alert sound off?
I have to be candid that if your cousin has changed any settings at all on your computer I'd be concerned about what else might have been tweaked or modified as part of her adventures. If she's just a practical joker, that's one thing, but it sure sounds like you left your Facebook account logged in when she sat down and she took advantage of that. Heck, you might even call her to ask exactly what she did and why.
But… let's give her the benefit of the doubt and assume she just wanted to have some fun with you by turning on the alert sound. Fortunately, that particular change is pretty easy to reverse so that you can regain your sanity. No crazy Ask Dave Taylor readers, thank you very much. 🙂
Even better, there's a shortcut that means you can fix the problem with two clicks!
Click #1 is to bring up your notifications window off the globe icon: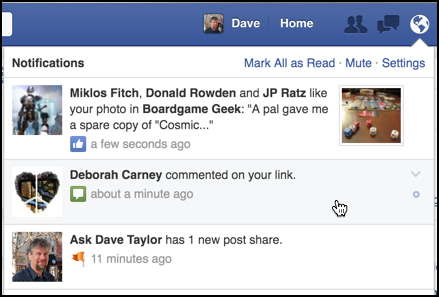 Don't react to the individual notifications, however. Click on "Settings" on the top right.
That's click #2.
There it is, what you seek:
Play a sound when each new notification is received
You can see I have mine set to "On". A third click (okay, three clicks, not two) and you can set it to "Off".
Done.
While you're here, scroll down on Notification Settings as there are some additional things to check out while you're here:
I'll let you step through them, but while you're fine-tuning your Facebook experience, carefully consider which if any of these you actually want to know. I definitely recommend you look at "Close Friends activity" and especially "Group activity", the latter of which is what accounts for most of my notifications!
And that beep? It's finally turned off. And just in time to help you retain your sanity, I say!