I want to tweet some photos I took when I was on vacation in Hawaii, but I want to tag the location where I took the photos, not my home location. Is that possible in Twitter?
Photos typically have a location already embedded in the image through what's known as the EXIF information, but when shared on social media, modern apps remove that. Otherwise, it would be an easy way to have photos tagged where you took them. Instead, you'll need to spoof or fake out Twitter to get the tweet you post to appear to be posted from the location of your photo. It's doable, but there are a couple of steps involved…
I'll demonstrate with the Twitter for Web app, essentially posting my tweet from the twitter.com home page. For this to work, you need to be logged in and you need to grant Twitter permission to identify your current location. By default, when you tag a location it is going to offer options based on where you are. Logical. But not what we want, in this instance.
POST ON TWITTER WITH TAGS AND HASHTAGS
Since today is the 133rd anniversary of the grand opening of the Eiffel Tower, I'm going to post a historic photo and spoof that I was in Paris, France today when I posted it. To start, I want to actually tag the Eiffel Tower itself. This is easily done by prefacing the name of the Twitter account with an "@" symbol: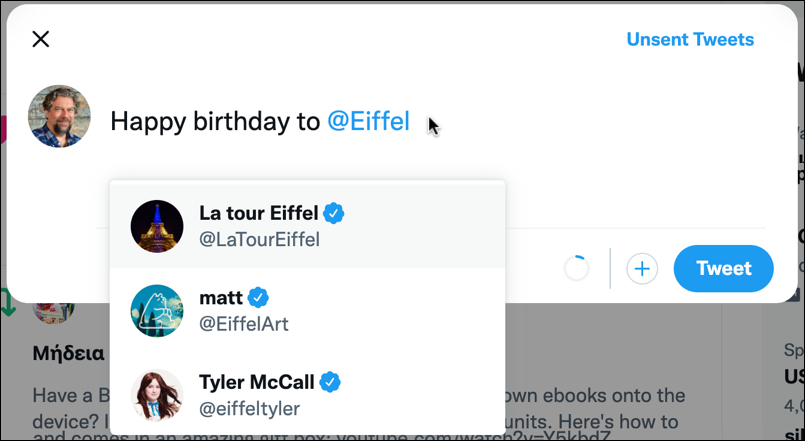 Notice that it's smart enough to offer up @LaTourEiffel as the best match for @Eiffel. That's what I want, so a click adds it to my post. Turns out you can do the same with hashtags too, as shown:
So it's #EiffelTowerDay, which makes sense since it is that anniversary. Cool, I can add that hashtag for additional visibility.
One more step, let's add a photo. This is also pretty straightforward, a click on the tiny "landscape" button along the bottom and it's included. Here's what it looks like, so far:
Time to fake it out so we look like we're in Paris. Ready?
HOW TO SPOOF YOUR LOCATION IN TWITTER
You probably already know that the double-circle "pin" icon along the bottom is the location tag feature. Click on it and you'll be given a list of places near your current location: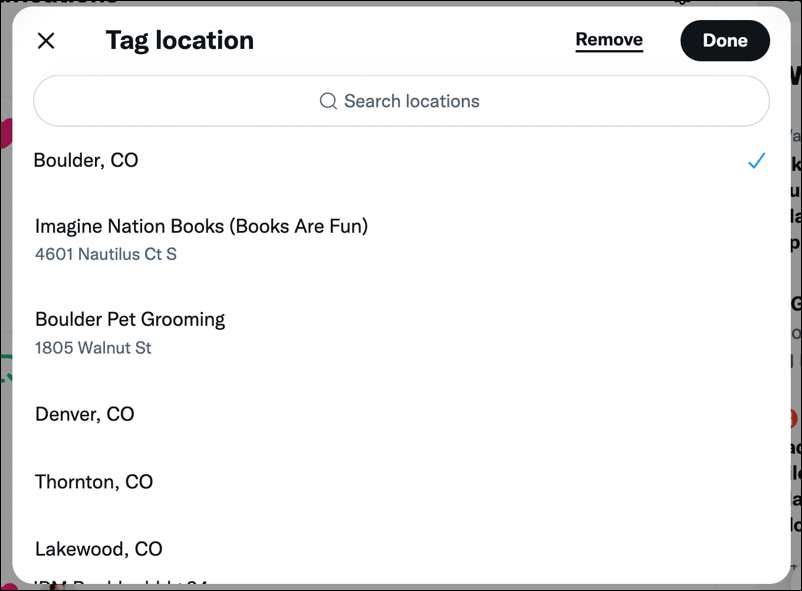 What I think most people don't realize is that you can not only search for somewhere nearby, you can search for anywhere in the world in that search box. If I search for "Paris", no surprise, there aren't any possible places within a few miles of my current location:
But see that blue Search for "paris" link on the lower left? A click and it'll cast a net across the entire Twitter location database, however near or far:
When I scroll down, one of the matches is "Paris, France". Perfect! A click and I've now spoofed my location to add just a bit more of a Parisian feel to my Eiffel Tower tweet!
Here's the final tweet (and note that location isn't generally shown unless you click or tap to view the details of a specific tweet):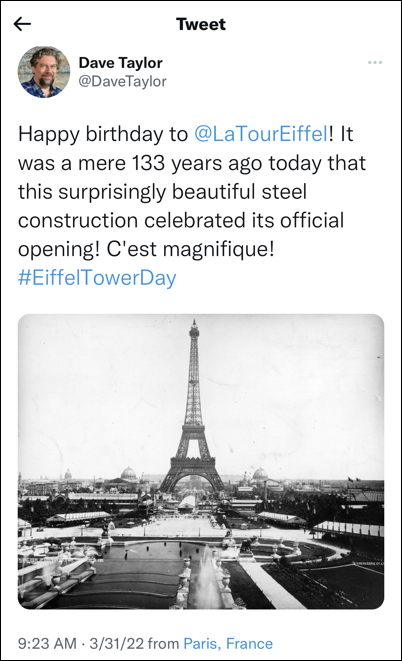 Can you see it on the very bottom? "9:23 AM • 3/31/22 from Paris, France". Voila!
Pro Tip: I've been on Twitter since the early days and have written lots and lots of useful tutorials. Please check out my twitter help area for more useful guides. Oh, and why not follow me, @DaveTaylor, on Twitter too? Thanks!