I run a lot of Zoom meetings for work, school and even my family. To make these meetings and virtual gatherings a bit more fun, I'd like to add some polls and see how people vote. Is that easy to do in Zoom?
There are really two Zoom programs, one for people who attend meetings and another for the people who arrange, moderate and host meetings through the popular video conferencing system. As a frequent Zoom meeting host, I can tell you that there are a surprising number of rich and powerful features! You can leave people in a waiting room and bring them in one at a time (useful if you're worried about party crashers) but you can also create breakout rooms for a subset of the attendees to talk privately on a topic. If you're a teacher, this is a great way to break up your virtual class into groups!
The sharing feature is quite robust too, allowing you to share your entire screen or any window from any program that you have running concurrently to Zoom itself. You can check out my Everything You Wanted To Know about Screen Sharing in Zoom guide if you want more info on that subject. I use it all the time, even with very small groups.
And then there are polls. At their most basic, it's a multiple choice question, just like you would see on a standardized test. But it's a bit peculiar because you have to create polls on the Zoom Web site, even though you share then and get the results in the Zoom app. Let's have a closer look…
On the toolbar along the bottom once you have a meeting launched, your toolbar will include "Polling":

You might not have exactly the same buttons but you should see "Polling" somewhere on your toolbar! Click on it and a window pops up with a lot of blank space: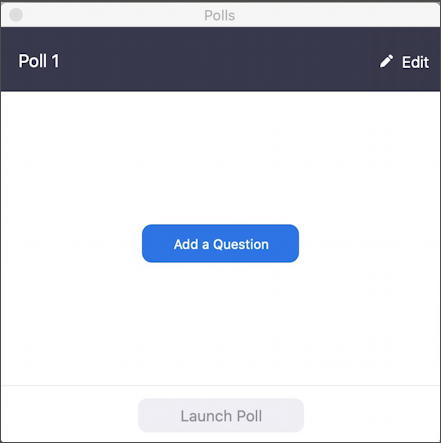 Here's where it gets interesting. Click on "Add a Question" and it won't pop up another window as you might expect, it'll bounce you back to your Web browser where you'll have to log in to your Zoom account (if you aren't already) then take you to a poll creation window just like this:
That's pretty self-explanatory, so let's just jump to my poll all filled out and ready to save: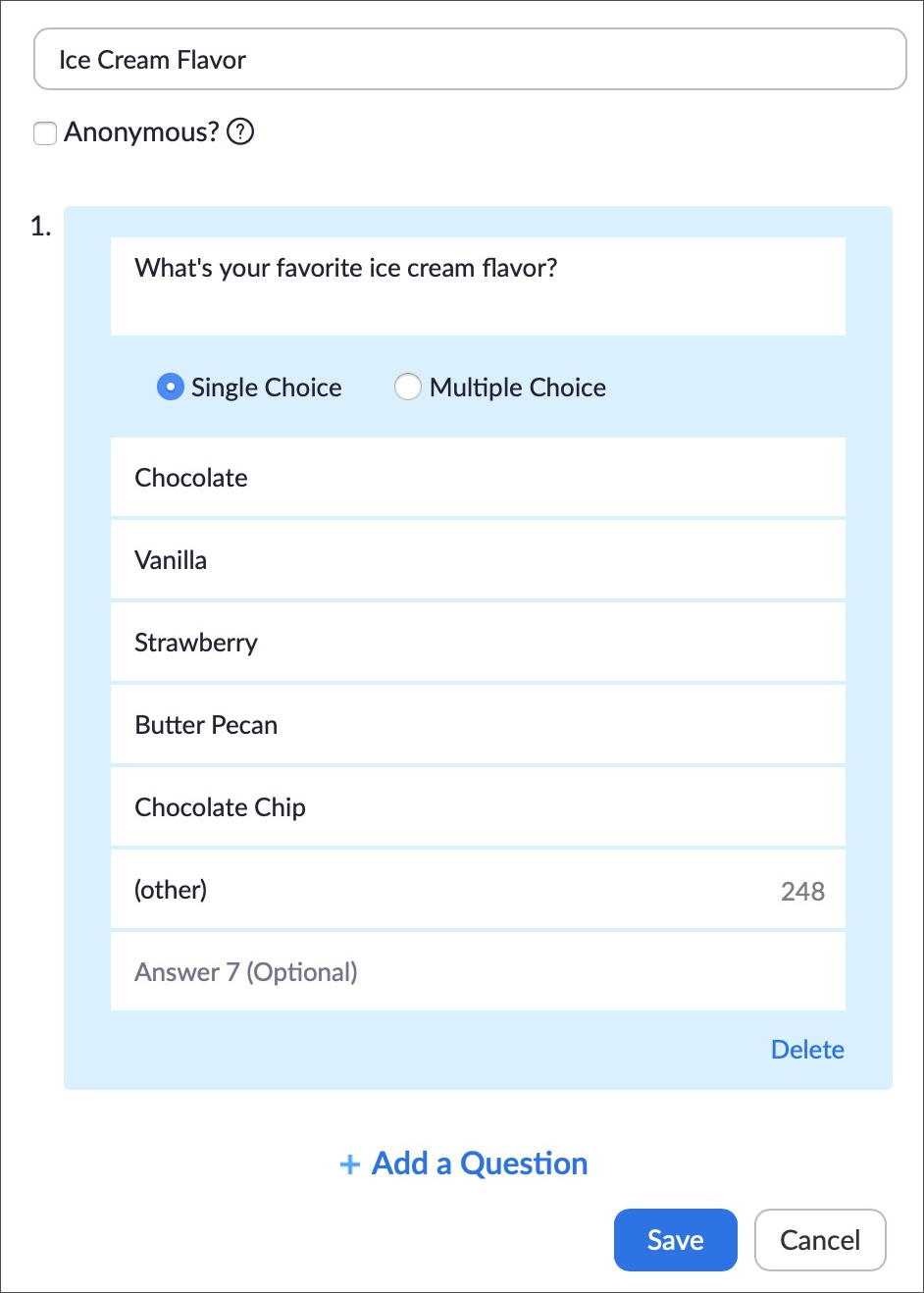 Looks good. Six answers, that's a lot for a poll, but let's go with it. To actually share the poll, you want to "Save" it on the Web site, then it'll be available in the app almost instantaneously! It's not yet shared with participants yet, however, as is suggested by the button at the bottom: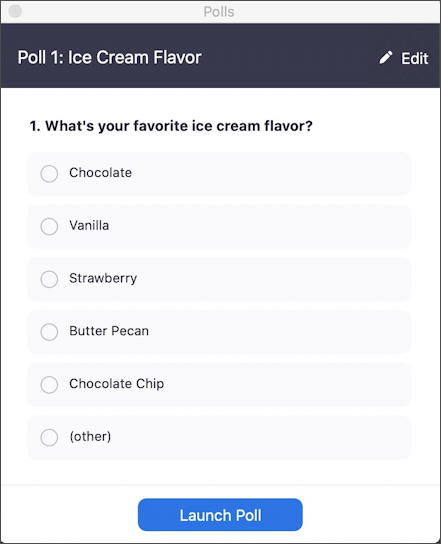 Ready to go? You can share this – or any other saved poll, if you switch – by clicking on the "Launch Poll" button. Now you as the Zoom meeting host will see this live tally of answers:
If you're thinking that the smart approach is to create a poll prior to your Zoom meeting, then you're spot on. In fact, that's why it's all designed this way and it might seem a bit convoluted, the fact that you can build up a library of polls is really helpful.
Meanwhile, a participant to the meeting will see a very attractively formatted pop up like this: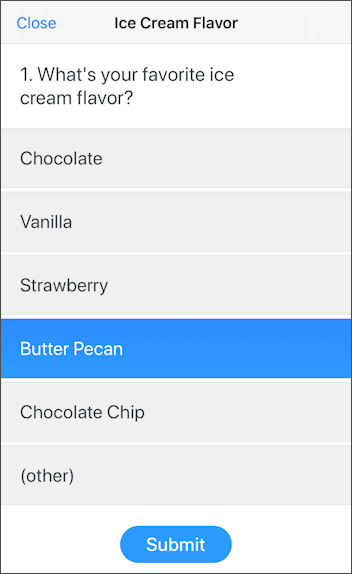 That's a screen capture from an iPhone, by the way. As you can see, quite attractive!
Once they answer, you'll see a real-time poll update:
Ah, you can see Butter Pecan was their answer! Me? I think chocolate chip out of this list of flavors. How about you?
Anyway, anyway! That's how you work with polls in Zoom. Set them up pre-meeting and remember to click "End Poll" when you're done asking for responses. Easy.
Pro Tip: I have a number of useful Zoom tutorials and help pages here on the site. Please check out my Zoom help area for more info!