My parents send me tons of hilarious photos via iMessage [ed: it's now known as "Messages"] and I want to be able to save them. What's the easiest way to do that on either my Mac system or my iPhone?
Ah, the good old days when all we could do was send each other text messages made up of letters, digits, and punctuation. Smileys were a colon, dash, and parenthesis, and we dreamed of being able to share more, but having to press 1-1-1-1 to get to the D key was already enough of a hassle! The introduction of actual keyboards on smartphones was a big improvement, then came emoji (can we even live without emoji in modern culture? 😉) and, finally, MMS, multimedia messaging service. MMS is what lets you share photos, videos, audio recordings, and any other media you want with friends and family through "text" messaging.
Apple recognized that if people were all hooked up via iCloud and were sending messages from iPhone to iPhone, there wasn't really any reason to have the cellular companies involved at all, so created iMessage, its closed messaging system. iMessage – now just 'Messages' – was introduced with iOS 8 way back in October 2011. Nowadays with its tight integration with both MacOS and non-iPhone MMS messaging, the only indication you have that you're using Messages instead of MMS is the color of the dialog balloon: blue = Messages, green = text MMS messaging for your Android friends.
This brings us full circle back to the question of how you save photos or other media that someone sends you! It's not too hard on a Mac system if you have it all synced up via iCloud, but it's really easy on the iPhone. Let's start with the Mac tho…
HOW TO SAVE PHOTOS FROM MESSAGES ON A MAC
My friends and family share tons of media with me every day, which is great fun. From animated GIFs to Web page URLs with preview images to photos and videos, it's a colorful and visually interesting stream of information. Like this photo of my daughter's new Bernese Mountain Dog pup "Sokka":
Who wouldn't fall in love with a cute puppy like him?? Definitely a photo worth saving.
I'm in the Messages program on my MacOS system, so the logical step is to right-click — oops! I mean Control-click — on the photo itself. Sure enough, this brings up a context menu with a surprising number of options:
Quite a few choices, including "Add to Photos Library" if you use Apple's popular Photos program. "Tapback…" is what Apple calls the emoji reactions options of a heart, thumbs up, thumbs down, etc. You can "Copy" the image and paste it within an email message, Pages doc or even in a blank canvas within a graphics program, but instead, choose "Open". Well, wait, no, let's have a quick peek at one of my favorite features first! Choose "Forward…".
Handy! Now you can easily add a comment, specify your siblings on the "To:" area and forward along the best pic of the day from your parents without any interim steps required.
But… let's back up. Choose "Open" and the photo will open up in whatever graphics program you have handling JPEG images (most likely, it could be a PNG or HEIC image too, depending on the sender's phone setup). Probably that'll be Preview, from which you can easily choose "Save As…" from the "File" menu.
Or you can do things the easy way. Simply click and drag the image right from the Messages display. A few things will happen at once:
There are three things happening here with the click-and-drag: The tapback row of reaction icons has appeared, the "Reply" button has popped up on the lower right of the image and a thumbnail of the image is now tracking your cursor (as long as you keep the button down). In the above, you can see the thumbnail to the right. Drag that thumbnail image onto your Desktop and let go of the cursor and boom! You just saved that photo out of Messages. Easy!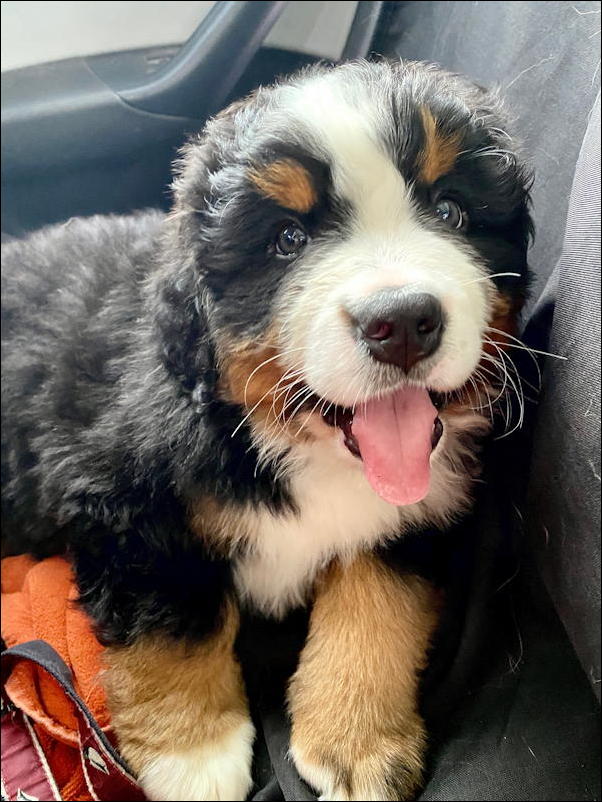 So there are a bunch of different paths you can take to share or save a photo from within Messages on your Mac. It just depends on whether you want to forward it to others, paste it into an email or document, add it to a Photos album or just end up with the image on your computer's desktop.
SAVING PHOTOS AND VIDEO FROM MESSAGES ON AN IPHONE
By comparison, the iPhone has a much simpler path to do just about anything. Simply tap and hold on the image while you're viewing the message:
You get that same set of tapback emoji if you want to send a reaction back to them, but more importantly, on the bottom you can see that the menu has four options: Save, Reply, Copy and More…. Choose "Save" and the media is instantly copied into your Recents album as if you'd taken the photo or captured the video.
You can very that by opening up your Photos app:
You can see Sokka peering out from the "Recents" album. Then it's just another photo and will be backed up to your iCloud account and any other backup services you use, accessible from any social media apps you use – like Instagram – for easy sharing and more. Really, pretty dang easy!
So that's it. A bunch of different ways you can forward, share, capture or utilize those hilarious photos and videos that your parents keep sending you. Good luck!
Pro Tip: I've been writing about the iPhone and iOS since the very first iPhone was released. I have quite a few iPhone help articles here on a wide variety of topics, along with lots of Mac help articles too, so please check 'em all out while you're visiting. Thanks!