I found my Mom's old iPhone 6 while cleaning out my office. I'd love to resell it but there's a pin code for security and I don't know her pin. Is there any way to get around this security so I can get to the iPhone system itself – iOS 12? – and reformat it?
For what are hopefully obvious reasons, that's a pretty tough challenge. The entire purpose of security codes on a device is to stop you being able to circumvent it and get into the data. But don't lose hope. In many cases you can actually reformat a phone that's locked, even though you can't access the photos, videos and other data without knowing or guessing the PIN.
In the case of the iPhone, what turns out to be really critical is whether "Find My iPhone" has been enabled or not. If it has then even doing a hard reformat has a significant chance of not giving you the outcome that you seek. Indeed, you can end up with a completely DOA device, known in the biz as "bricked".
There are also some really interesting third-party tools that help you with this unlock/reformat step including LockWiper from iMyFone which is what I'm going to demonstrate in this article. It is extremely important to understand that this reformats the phone and destroys all data on the phone. Every photo, every video, every contact, every app, everything. When the process is done you will have a phone that acts as if it's fresh from the store.
Let me state that again: this process erases everything on the iPhone.
With all of that in mind, I found an old iPhone XR of my daughters that we wanted to reformat so she could sell it on Craigslist or similar without any worry about people accessing her data. Unfortunately she had forgotten her PIN on the device. Here's how we proceeded with LockWiper after having determined that there were no other options for finding or remembering the PIN code on the phone…
LockWiper can handle a variety of different lock out situations, but in this case our situation matches perfectly with "Unlock iPhone Screen Passcode". Notice point #1 on the small print on this window however: "Using LockWiper to unlock your idevice will erase all the data on it."
That's pretty darn important. In fact you should think of this option not as "unlock" but as "delete everything and reset the phone".
This is also where you can see the second disclaimer, #4: "If Find My Phone is enabled you'll need the Apple ID and password to set up your device after unlocking [really 'erasing and reformatting' it". I can't emphasize enough that if this is a phone you found or bought used or otherwise acquired and it has Find My iPhone enabled, there's nothing you can do to restore it to factory defaults without having access to that Apple account.
With all that said, let's proceed! A click on "Start" once the phone's plugged into the computer gets us to the next step…
LockWiper will analyze the phone's configuration for a minute or two, then download the latest firmware for that specific model as part of the process. If it has identified the wrong model of iPhone, don't proceed but instead click on the "Doesn't match? Please tell us" and wait to hear back from their customer service team.
Mine is a match, and the default save directory is fine, so it's time to "Download".
The program really wants you to be thoughtful and deliberate about wiping and reformatting this device, so you're prompted to enter "000000" at this prompt. Take a breath, read the warnings, and make 100% sure this is what you want to do.
It is? Enter "000000" and click on "Unlock".
The program will start doing the heavy lifting of pushing a new firmware version onto the locked phone. This can take a while so have patience.
Don't panic if you end up with it displaying this error:
No surprise I was anxious when I saw this error message and then looked at the phone just to see it stuck partway through the reboot process:
Here's where some knowledge of how iPhones works is invaluable. Instead of being overwhelmed/frustrated, pop over to this super informative page that will explain how to do what's known as a force restart: How to Force Restart Your iPhone.
With the iPhone XR, it's volume up, volume down, then push and hold the side button for 30 seconds. Which restarts the phone again getting me to this point: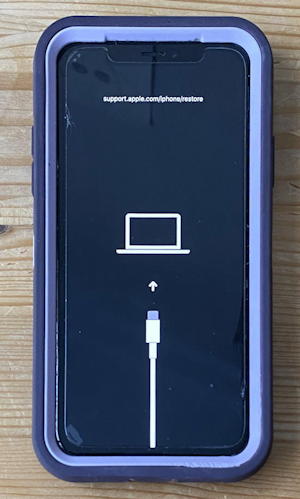 It's not dead! Yay! Now it's all really easy. Plug it into your computer and iTunes will automatically recognize it as a new phone and offer up a Restore or Recover option:
Your best option here is to choose "Restore" and start afresh. iTunes (or its equivalent on the latest generation Mac system) then has a second prompt for you:
Sound good? Let's proceed by clicking on "Restore and Update"…
As you can see iTunes has taken over and is doing the restore while we wait. Just about done! In fact, it won't be long at all before you see it show up as a new, empty phone in iTunes:
Done! Mission accomplished! We went from a locked iPhone with an unknown, forgotten PIN and recovered access. It is at the cost of all the data that was on the phone, but I'd rather have an iPhone I can use than one that sits and reminds me I don't know the darn PIN.
Software: iMyFone LockWiper for Windows. $29.95 for the base license. Learn more about it at iMyFone.com and don't forget to use code F487SA to save $10 on the basic license. Note also that there's a version for Android phones too, also at iMyFone.com
Disclosure: iMyFone supplied us with a license code for LockWiper for the purposes of this test and review. Thanks, iMyFone, we appreciate the help gaining access to that old iPhone XR.