I've been working on a paper for school for quite a while now, and this morning when I opened the file, it was just one line repeated a half-dozen times! Where's the rest of my text? I'm using Microsoft Word on a Mac system. HELP!
Let's start with the bad news. Odds are that you cannot recover the text that you've lost. But maybe we can rummage in the file and find some of it, however, so not all is lost. Still, the real question is whether there are versions of the file and whether you have autosave or version tracking enabled on your copy of Microsoft Word. Turns out that corrupted Word files are so common that the Microsoft Office suite actually includes a recovery and repair program as part of the suite.
Curiously, though, it's pretty hard to find and if you search for 'recovery' in the Word help system there are zero matches, even though it offers a recovery feature. Odd, eh? Still, let's poke around and see what we can do.
Note: for this particular Q&A they kindly sent me a copy of their original Word document so I could try to recover it. That's what we'll be using for this example.
First off, launch Microsoft Word and choose File > Open…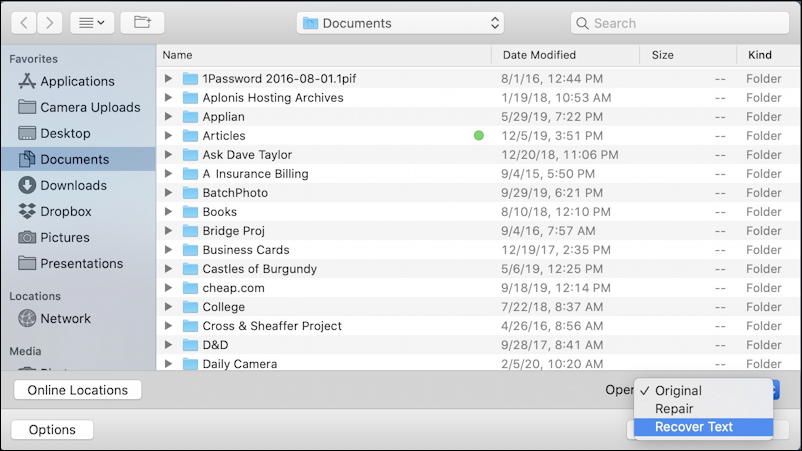 Notice down at the bottom the "Options" button. Click on it and the bar above appears. On the right, it shows "Open: Original" but if you click on it, there are actually three different choices, as shown. You can choose from Original, Repair, and Recover Text. Since the file in question is opening up, but isn't showing the desired text, let's choose "Recover Text", as shown.
With that option, find and open the Word document you want to examine. A window pops up:
As it says, "This file needs to be opened by the Recover Text from Any File text converter, which may pose a security risk if the file you are opening is a malicious file. Choose Yes to open this file only if you are sure it is from a trusted source." Since it's your own file and not likely to be infected with a macro virus or similar, choose "Yes" to proceed.
The tool will grind through the document and produce a new doc that has every snippet of text it could find that's not part of the current version. There's an update window that offers less choices than you might expect, but:
And behind it is that new doc with whatever it could salvage. Don't be alarmed, it's typically gobbledygook, like this:
Not much there of interest, alas, and on the very bottom you can see that it recovered 108 words. No luck this time, but sometimes it does work, in which case you can just scroll down and find the recovered text and copy/paste it into a new, clean document.
That was a "recover", but you can also try a "repair" if you want, though if the doc opens normally in Word (other than the missing text) it's probably going to look identical to the actual file itself. In this case, just that same text duplicated a few times: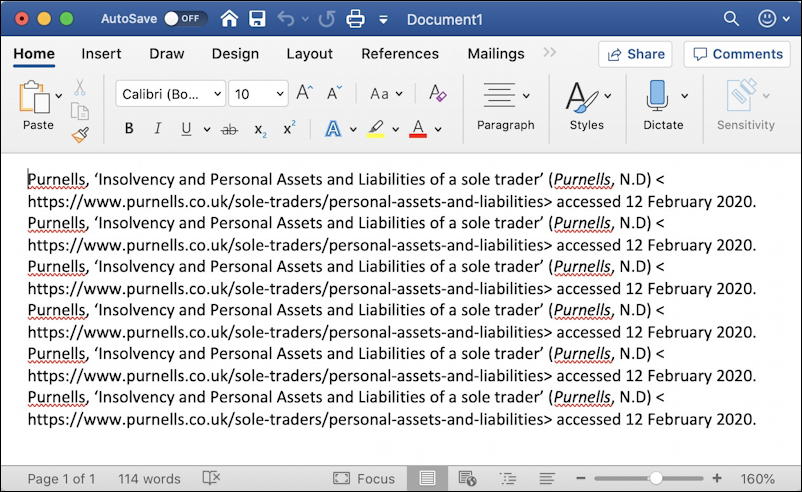 Very disappointing to report that there's no recovery of the lost text in this instance, but other times the repair or recover option might work great. To minimize the chance of this being a problem down the road, I suggest that you enable AutoSave (notice it's on the top left, along the dark blue title bar) and consider using Track Changes from the Reviewing featureset. You can enable that without it displaying what's changed as you edit, but that way it keeps a copy of every word every typed into the doc, even after deleted. The consequence of this is that just before you're done and ready to submit your paper, a "Save As…" is smart to get rid of all the extra deleted content baggage.
Pro Tip: I've been using Microsoft Office on Mac and Windows for a mighty long time. Please check out my Microsoft help area for more tutorials on the subject.