I signed up for LinkedIn Premium a few weeks ago to give it a try and, well, I'm not impressed. How can I cancel it before they bill me for another month of access?
In the modern online era, if you're looking for a job or looking to fill a position in your company, LinkedIn is a great resource. The problem is that as the job search has become more digital, it's also become more overwhelming, so that people apply for dozens – or hundreds – of jobs in a search, while hiring managers have to sift through hundreds of resumes and applications for each and every position. Add AI and you have smart job search tools on one side and smart applicant analysis tools. It's enough to make an old-school job search seem like a way to ensure you remain unemployed for a long while. At the center of the maelstrom is LinkedIn, and it's the Premium services that can really help out, particularly if you're actively searching for a new position.
But these same LinkedIn Premium services are pretty expensive at $59.99/month. Versus getting a $75,000/year job a week faster? An easy investment to justify. But if you're just poking about and using LinkedIn for connecting with your supply chain, potential partners and perhaps some marketing for your business or service, that $719 annual cost might be more than you want. Fortunately you can try it out for a month free (a link that's all too easy to find on the site). But ready to quit? That's not so easy.
Here are the steps. You need to pay attention, they don't make it easy to navigate the various windows and options…
Start by going to Settings & Privacy, an area I hope you're already somewhat familiar with as you use it to fine tune your own privacy settings on LinkedIn: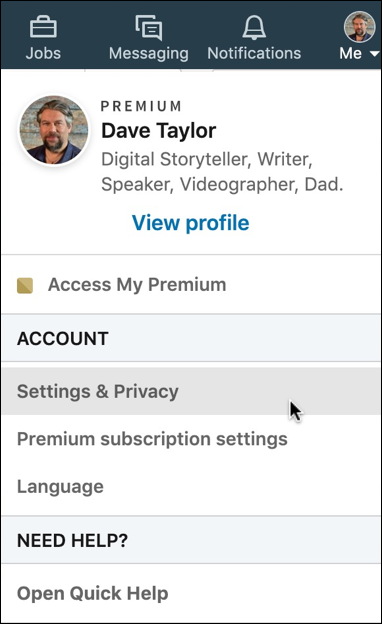 On the resultant pages of settings and options, you'll want to navigate to Account > Subscriptions and payments, as shown:

From here you're thinking "this looks easy". Well, sort of. Click on "Manage Premium account" and you get to a page with lots of info about what you have access to as a Premium member. And, tucked away down a ways on the right column is this section: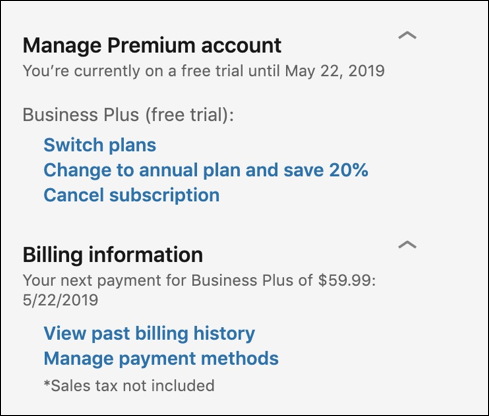 You can explore other plans or switch to an annual rate will will save you about $150/yr on LinkedIn Premium, but to cancel click on the link "Cancel subscription".
Here's where it gets a bit odd from an interface perspective.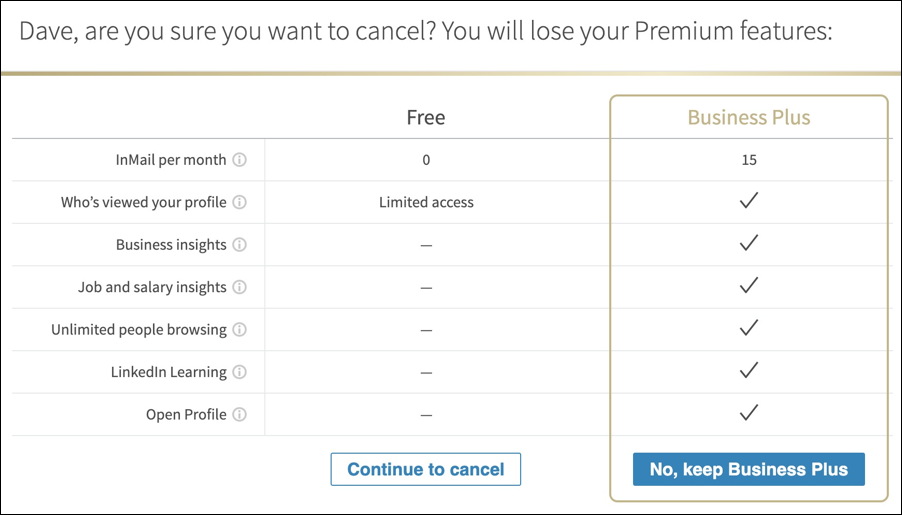 I can appreciate the desire to have you stay around as a Premium subscriber, but this is a really weird way to proceed and it's the oddly positioned "Continue to cancel" button in the middle of the table that you want to click.
Now you have to navigate one more page, an explanation of why you're cancelling your LinkedIn Premium subscription:
Notice that you can't click "Confirm cancellation" until you choose one, and you aren't cancelled until you confirm. Tricky, eh?
Once you do pick an option and confirm, you'll know you're done with this message: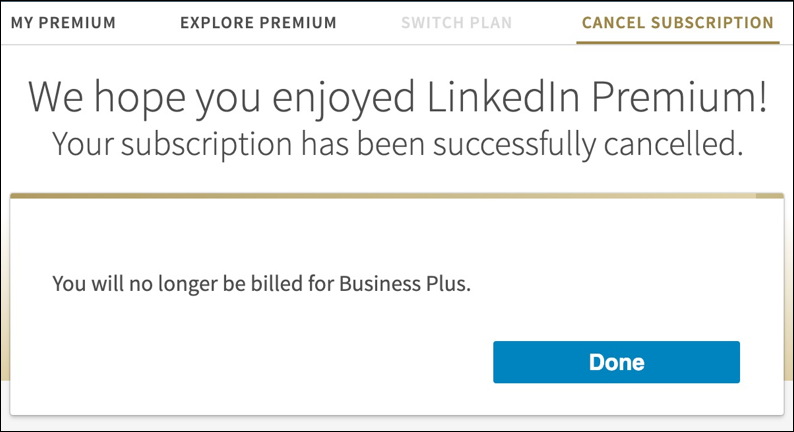 And that's it. LinkedIn Premium is definitely worth checking out if you're on the hunt for a job, but now you know how to cancel it when you're done too. Good luck!
Pro Tip: I've been writing about LinkedIn for many years. Please check out my extensive LinkedIn Help on the site while you're visiting!