I'm afraid I might have left a Web browser logged in to my LinkedIn account at an Internet Cafe. Not good. How can I quickly change my password and log that system out?
First off, don't panic. Most Internet Cafes seem to have their computers set up so that when you run out of time, the system logs you out and deletes all temporary and created files. You are most likely okay even if you forgot and left yourself logged into your LinkedIn account. Still, since it's a good idea to change passwords with regularity anyway, and 10x if you've been using open public Internet access like an Internet Cafe, let's go through the steps because you really should change your password.
Remember, since hackers use increasing sophisticated computers and software, you really need to come up with fairly random passwords nowadays. I recommend using uppercase, lowercase, digits and at least one punctuation mark, at least 10 characters long total. Hard to remember? Yeah. Hard to hack? Definitely. Even better, if you have a password manager like 1Password, utilize its password generator to ensure it's truly random!
Let's change that password! Go to your LinkedIn home page and click on "Account" on the top right: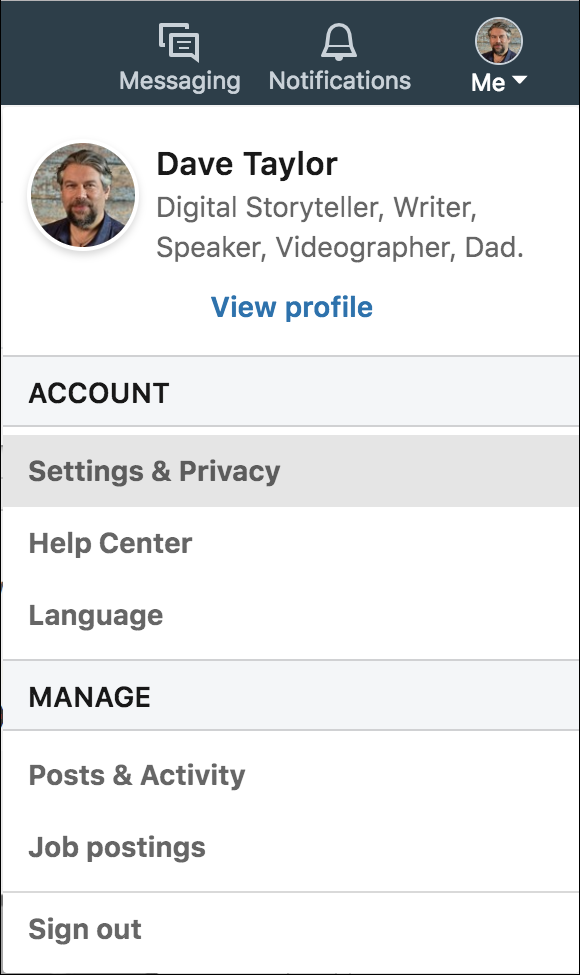 As highlighted, you'll want to choose "Settings & Privacy" so do that to get to the quite large area that lets you fine tune your account settings and, well, privacy. 🙂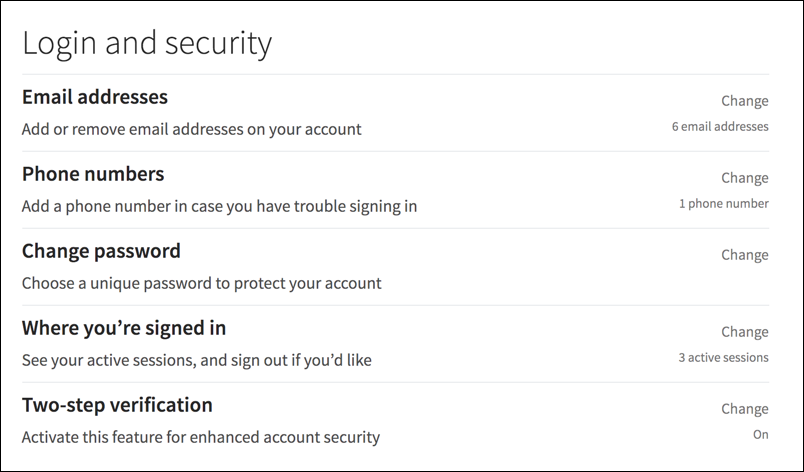 There are quite a few options and areas to explore, but let's stay focused on the password update. That's done by choosing the center option of the main list (shown above): "Change password". No real indication of what to do, so just click on the word "Change" adjacent to the "Change password" title. A window opens up below it:
As is typical, you'll need to be able to enter your current password before you can specify a new one. This ensures that if there are any nefarious types at that Internet Cafe, they can't just lock you out of your own account by changing your password. A good thing!
Type in your existing password, then as you begin to type in the new password, LinkedIn will offer some tips:
I suggest above choosing a password that's much more complex than LinkedIn suggests. And their warning "Don't use your name, email or phone"? Yikes. Please, please, NEVER use a password like that. Ever.
Once you've entered your new password twice, make sure that you've checked the box adjacent to "Require all devices to sign in with new password". That'll ensure that if you are still logged in at that Cafe computer, it'll instantly be logged out.
That's it. Click "Save". You don't really get any confirmation that it worked, but the page will update to show the last password update date:
And that's how ya do it. Now, while you're at it, I also encourage you to check out the two-step authentication option for LinkedIn too. Adds even more security to your login and account…
Pro Tip: We have lots of LinkedIn help, so please spend a few minutes to check it out!