Got a new Apple Watch and was of the understanding that I can pair my Bluetooth earbuds with it directly, so I can listen to music on a run without bringing my iPhone. But I can't figure it out. How do I pair a Bluetooth device with my Apple Watch?
From the very beginning, the Apple Watch has used Bluetooth (specifically BLE, or Bluetooth Low Energy) to remain in contact with your iPhone, so it's always had Bluetooth capabilities. This is also how your Watch can unlock your Mac screen and how the battery status of your Watch can show up in the battery widget in iOS. Handy, almost magic. But your Apple Watch can also pair directly with a lot of Bluetooth devices too, from speakers to earbuds and headphones. Probably a bit less useful to pair it to your home stereo but a new pair of earbuds? That's a no-brainer update!
Even better, if you use Apple's audio gear – AirPods, AirPods Pro, AirPods Pro, etc – then it's probably already paired with your Watch, you just have to choose it in Settings to have them use the Watch as an audio source.
For all other gear, you'll need to pair them with your Watch. Paired them with your iPhone? That's insufficient, you'll still need to go through the steps with your Watch too. Since I have a new pair of Sennheiser SPORT True Wireless Stereo earbuds [see my YouTube review!] I will use them for this demo:
Ready? Let's do this!
STEP ONE: GET YOUR AUDIO DEVICE IN PAIRING MODE
The Sennheiser earbuds are easy to switch into pairing mode; just put them in your ears and push the touch-sensitive surfaces for about five seconds. It says "pairing". Other devices have various ways to get into pairing mode, from having them in the case and pushing a button to having them in your ears and pushing, double-pressing, etc. Check the user guide for this critical snippet of information. While units in your ears can give auditory feedback ("pairing") others might flash their LED different colors or switch to a special pairing color only.
Once you're sure they're in pairing mode, tilt your wrist because everything else will be done directly on your Apple Watch.
STEP TWO: SETTINGS > BLUETOOTH ON THE APPLE WATCH
Press the Crown once to get into the app menu view, then migrate around until you find the grey gear "Settings" app icon: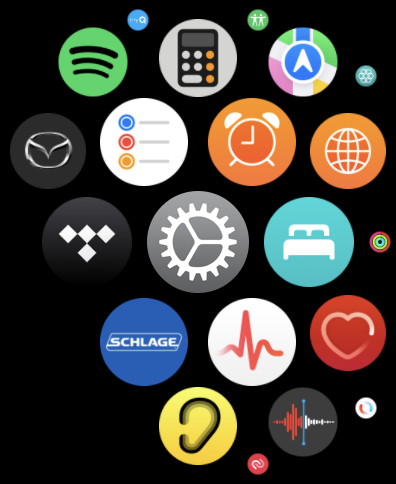 A tap and you'll be in "Settings". You'll need to swipe up to move down the list of options to find "Bluetooth":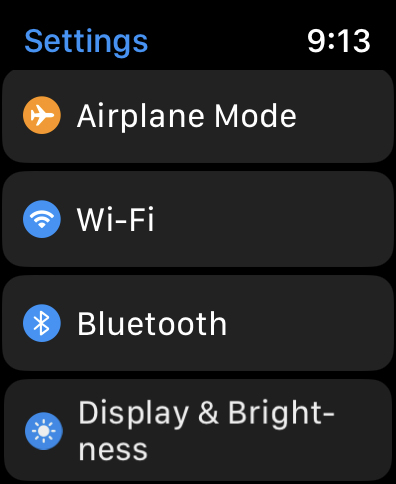 Tap on "Bluetooth".
STEP THREE: CHOOSE YOUR NEW BLUETOOTH PERIPHERAL
This view will show you a list of known Bluetooth devices. Any Apple audio gear will already be listed, as shown, but much more importantly, it should also list your new device too: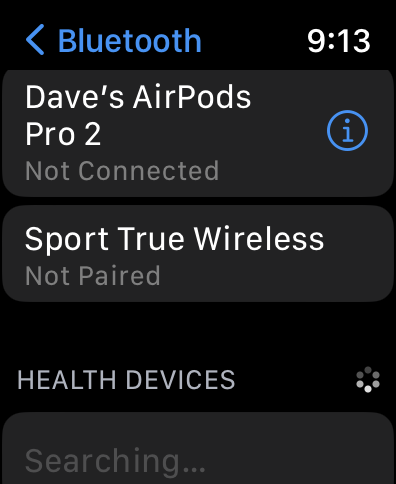 My AirPods Pro have automatically shown up because they pair automatically with all your Apple devices if everything's logged into the same iCloud account, from AppleTV units to iMacs, MacBooks, iPhones, even your shiny new Apple Watch.
For our purposes, it's the second option that's of far more interest: "Sport True Wireless". Honestly, it probably should say "Sennheiser" in this snippet, but that's based on how Sennheiser programmed its ID information in the earbuds, there's not much Apple can do to change this value!
Don't see your device listed? Go back and ensure it's in pairing mode. Still won't show up? A small subset of devices are incompatible with the Apple Watch, unfortunately, so you might be out of luck, but before you give up, try doing a Google search of your device + apple watch to see if there are people who've solved the problem.
Tap on your device.
STEP FOUR: EARBUDS & APPLE WATCH PAIRED
It'll take just a few seconds to establish the connection, then it will change on the list: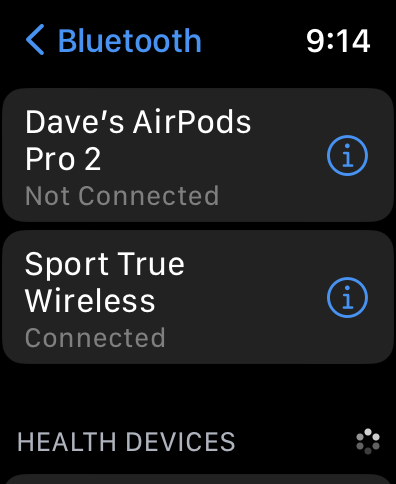 If you're curious, tap on the "i" to see how the Apple Watch's WatchOS has categorized your device: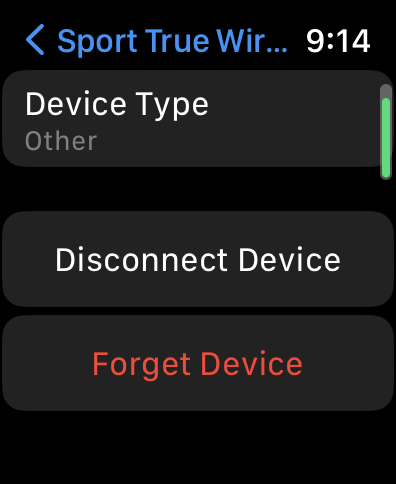 Worth remembering that this is where you find Disconnect Device and Forget Device, but for now, why is this showing up as an "Other" rather than an actual audio device? It's fixable! Tap on the "Device Type" and you'll see a short list of options: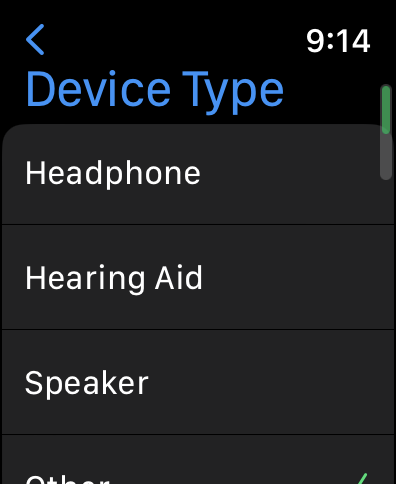 "Earbuds" aren't a choice, so pick "Headphone", as appropriate. Notice that you can also specify it's a speaker or a hearing aid. Yes, there are some modern hearing aids that can pair with an Apple Watch and then allow control through the Watch directly. Pretty slick!
USING AN EXTERNAL BLUETOOTH DEVICE FOR MUSIC
Ready to test it out? I know you are! Push the Crown button again and this time in the Home Screen find the red Music app icon: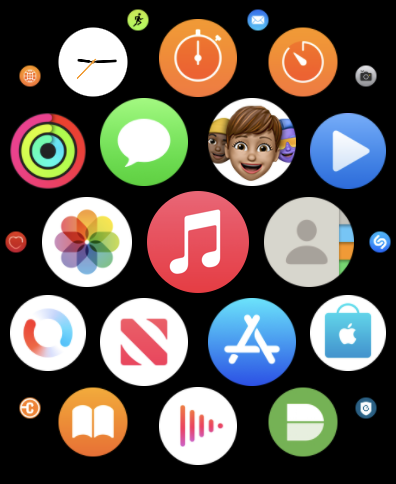 Tap on it and you'll see whatever music you've downloaded onto the Watch (something you can control in the Watch app on your iPhone. See: How to Add Music to your Apple Watch). I've dropped some jazz onto my watch, as you can see: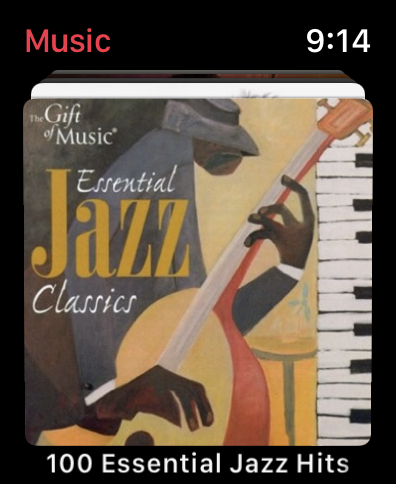 To play the music, just tap on the Watch face. It'll change to show you the "now playing" view: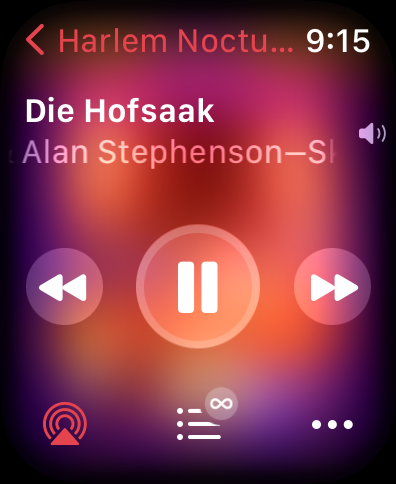 That's it. You should now be enjoying music on your earbuds from your Apple Watch, with all the controls for pause/play, next/prev, etc conveniently on your wrist. Have fun!
Pro Tip: I have quite a few watch and smartwatch tutorials here on my site. Please check out my Apple Watch & Smartwatch Help for lots of useful content!