Microsoft is excited about adding its Bing AI system to all of its different programs and apps. The latest to get the AI upgrade is the venerable, O.G. video conferencing application Skype. Yes, Skype now has built-in AI capabilities. Sort of…
The current rise of AI features and capabilities is nothing less than a frantic race to have the smartest user experience in the industry. Billions of dollars are being poured into quick turnaround additions, with a potentially unhealthy level of keeping-up-with-the-Joneses as capabilities are incorporated faster than it's fully tested and considered for long-term usability.
Skype is no different. Skype was originally launched back in 2003 when live video chats were quite a novelty and the underlying technology was quite astonishing. This was eight years before the first release of Zoom (which had been around for about a decade before it became the digital belle of the ball during the pandemic). Skype has been slow to evolve with the changes brought about by the aggressive evolution of its competitors, some of whom have risen and vanished in the interim. Major video conferencing tools now include Zoom, Bluejeans, FaceTime, Microsoft Teams, Google Meet (née Hangouts), Goto Meetings, Webex, and Slack. Microsoft has owned Skype since 2011, but released its own video conferencing system (Teams) in 2017.
All of which is to say that while Skype seems to be the terminally unchic, forgotten cousin from the boonies, it's still a viable program with lots of great features and a long history of product deployment. And, as of April, 2023, it incorporates Bing AI, the first video conferencing system out of the entire (exhaustive) list to do so.
SAY HELLO TO BING AI WITHIN SKYPE
Update your copy of Skype as needed – since it's only in the latest version for now – and fire it up. You'll see this main window once logged in: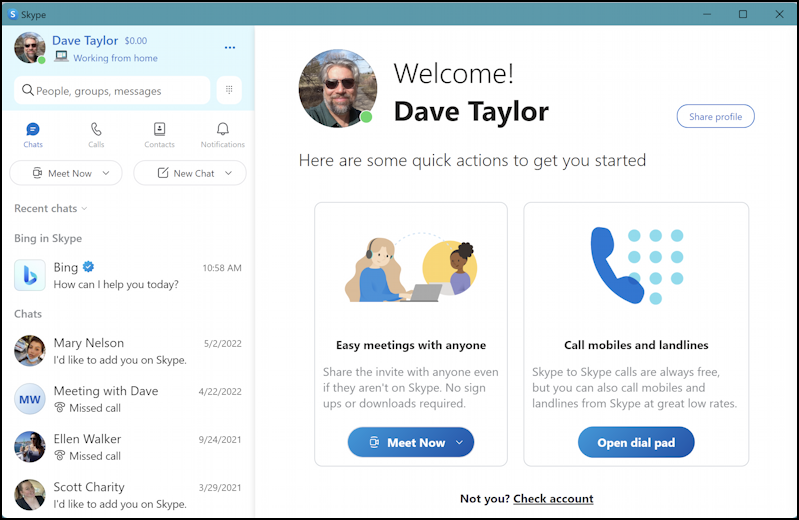 On a Mac system, this interface looks particularly old-school Windows, but the functionality is definitely all there. And so is Bing AI: Notice the "Bing in Skype" section in the Recent chats area on the left. Why does it have a blue checkmark? Because it's the real Bing, I guess. 😉
A click on "Bing" and you can start a chat session with the massive language learning system: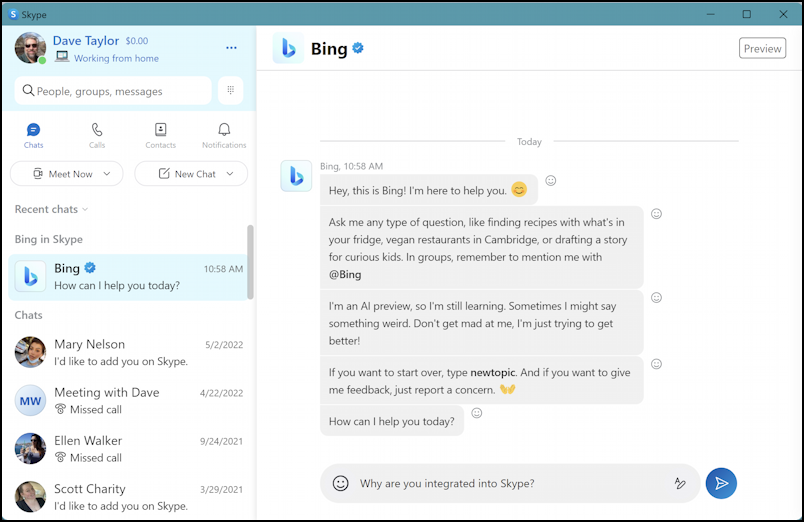 On the bottom, I'm poised to ask it a question: "Why are you integrated into Skype?". Seems reasonable, right? Here's how it answered: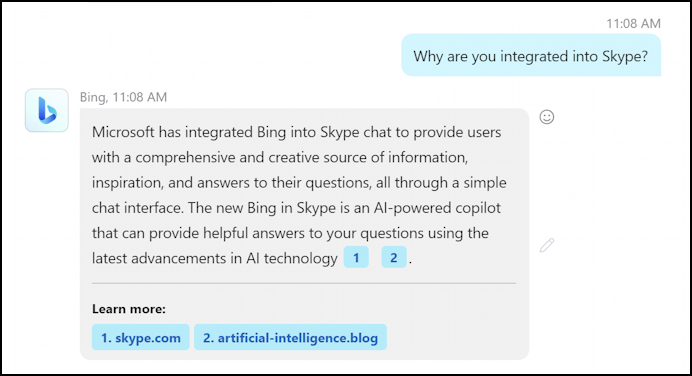 Somewhere along the way we also have to opt into using the AI system in the first place, a pop-up that explains some of the known shortcomings: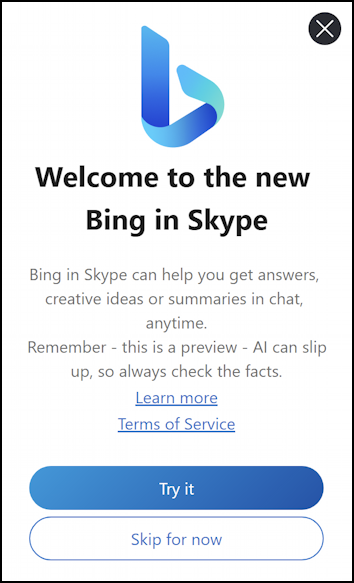 As a fast way to get to an interactive dialog with an AI, it's pretty solid. If you're running Microsoft Edge, there's also a "b" button on the top right of the latest release of the browser that opens up a window to the AI system too, even easier if you're already in your browser.
But what about having Bing join a meeting or chat? You can do that too, perhaps surprisingly!
INVITE BING AI TO YOUR NEXT SKYPE MEETING
Simply click on "New Chat" and you can click to choose who you'd like to have join you, including Bing itself. Then name and launch the meeting and wait for your friends, family, or colleagues to join you. While I wait – with my green screen behind me – it looks like this for my 4-person "Friends of AI" group: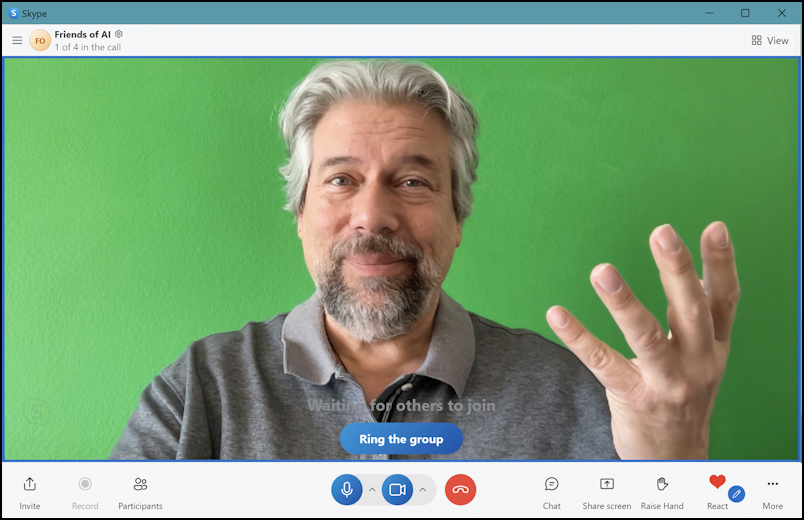 "Ring the group" helps notify everyone to join, but what exactly does that mean with Bing AI? Is it going to join us with an animated face? Can it talk with speech? It's a smidge confusing, but a click on "Ring the group" brings up a list of who's already in the meeting and who's not yet connected:
Bing gets a telephone handset icon? Of course, I'm going to try and call Bing! The result? You can see it in the shaded background image: "Bing unavailable". Slackers, these AI!
If I jump into the Chat area of the call, however, that's where Bing AI lurks, uhhh, hangs out. I can even ask it to tell me a joke or write a limerick while I wait for everyone else on the call: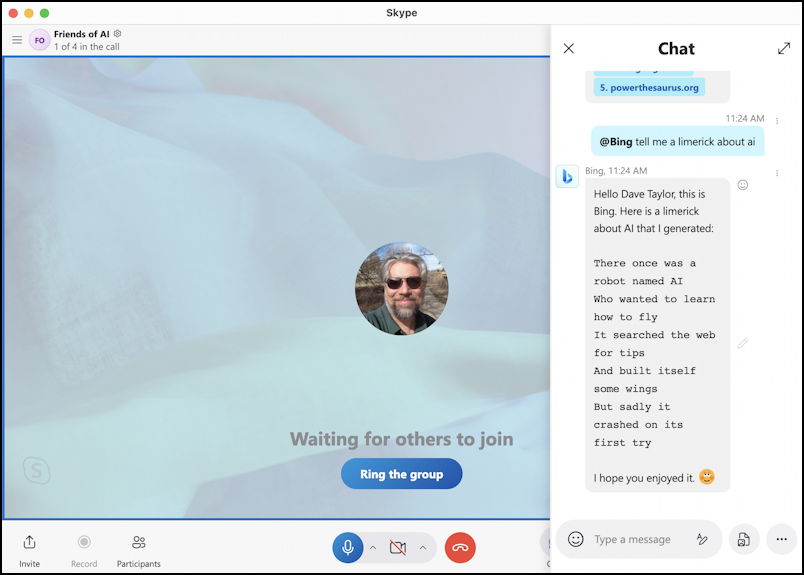 I have to admit that while Bing AI might be a marvel of technology, its limericks are pretty miserable. Here's what it shared with me:
There once was a robot named AI,

Who wanted to learn how to fly.

It searched the web for tips,

and built itself some wings,

But sadly it crashed on its first try.
On the other hand, at least it's humble, right? More interestingly, note that you have to preface your requests to Bing with "@bing" so it knows when to respond. It's listening – and presumably analyzing – every chat message, but it won't just start responding randomly.
The fact that I can "ring" Bing just to be told its unavailable hints at how much of a rush job this integration with Skype really is; as they iterate through a few more versions this will all smooth out and, honestly, there's no reason that they couldn't have a voice interface atop Bing AI either. It would be like a really smart version of Alexa. The next step of a live animated or photorealistic face is going to be far weirder (I envision Holly from Red Dwarf), but we're at least a few months away from that.
Now you know how to work with Bing AI directly within Skype. Zoom has announced it's bringing ChatGPT to its popular platform ASAP and it's a sure bet that all the other popular platforms will include some sort of AI layer too. Will they be helpful additions? We'll have to see…
Pro Tip: I've been using and writing about Skype for many years. Please check out my Skype Help Area for more tutorials on how to use this undersung, but robust and eminently usable video chat system.