Ever since Twitter started to fall apart, there have been lots of other social networks popping up to try and take the crown away. The latest is "Threads" from Instagram and Facebook and it's very well assembled. Here's how to get started with Threads for Android or iOS iPhone…
While it may seem that the big social networks have been around forever, the fact is that these sites and services ebb and flow. Sometimes the new is dramatically better than the old, but other times things just gradually fade from the scene. And then there's Twitter, which has been completely undermined by a rather remarkable parade of terrible business decisions by its new owner. As with anything, though, one door closing means another opens, and the gradual demise of Twitter has meant that a lot of other text-based social media channels have appeared. Mastodon and Blue Skies are the two biggest, but both suffer from being too complicated (figuring out your "home server"?) and too small; social media is fun when there are lots of participants and voices.
Meanwhile, Meta, the parent company of Facebook, has all the tools it's needed to effectively compete in this space with its powerhouse social network and ownership of Instagram, which, after all, is basically Twitter for photos. The latest from Meta is "Threads", a surprisingly good Twitter-like text-based social network with comments, likes, reposts, and more. Since Instagram has moved more and more towards video (a la TikTok) in some ways Threads is like the OG Instagram too.
But you don't much care about the history lesson. Let's get on with the signup and setup process!
HOW TO DOWNLOAD THE THREADS APP
First things first; at this point Threads is only for mobile devices. There's a rudimentary Web interface, but at this point it's basically just a way to share your profile with others. You'll want to download the Threads for Android or Threads for iPhone app. Can't see it? So far Threads is not available worldwide, just in specific regions. It might not show up in the app store for you or it might show up but not allow you to launch it. FYI.
Fire up the app and you'll immediately realize you need to have an Instagram account:
Notice it's offering me the opportunity to "Log in with Instagram" or "Switch accounts" but not "Sign up" or "Set up a new account". You will need to Set up an Instagram account to be able to proceed, though once you're set up on Threads, you certainly don't have to use your Instagram account if you don't want to. I have to be candid, I am on Instagram a lot less than I was a half-dozen years ago.
I'm going to sign into Threads with my Instagram ID – d1taylor – which makes it all remarkably simple.
SET UP YOUR THREADS PROFILE
Once you tap on your Instagram account to get started with Threads, it prompts you for some basic account info: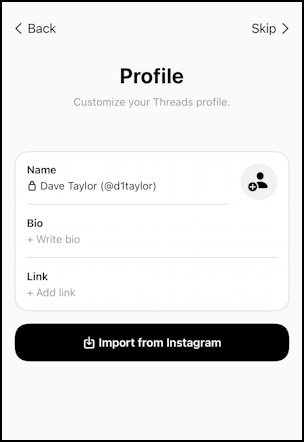 Here's where you can enter a short bio and a link to your blog, YouTube channel, company, even your favorite movie on RottenTomatoes. Well, maybe the latter would be a bit unusual, but you get the idea!
Where this is great for us long-time Instagrammers is that you can alternatively tap on "Import from Instagram" and it'll instantly grab your profile photo, biography, and link:
Looks good to go. Want to edit it? That's not yet implemented so it appears you need to edit your Instagram profile and then reimport it. I expect that'll change within a week or two as all the essential features are implemented. For now, clumsy.
But that's okay. I'm going to tap on "Next" to proceed!
Just as Instagram and Twitter both support private accounts where only people who you allow to follow you can see what you post, Threads has a similar option where you can have a Public or Private profile. I always opt for Public, but this is your chance to consider something with a far more limited visibility. Presumably, you'll be able to change this later if you prefer, but for now, this is the place to make this fairly important decision.
One more step with setup: Who should you automatically follow? Again, Threads makes this easy if you've been involved with Instagram for any period of time:
I'm going to tap on "Follow all" to get my friends and family in the loop. This appears to have no logical order to it because while I most recently followed cocountrylife on Instagram, I've followed cowhiskeygirl and futuristthomasfrey for years.
Since social media is boring if you don't follow anyone, this step is important for you to be able to immediately start enjoying Threads, though the site's also doing something really interesting too: First posts from new accounts are mixed into your timeline too, even if it's from someone you don't follow. If you don't choose to then follow them, they'll just naturally vanish, but it does mean your first post should be something worthwhile!
GETTING STARTED USING THREADS
The first thing you'll see once you've made the decision of who to initially follow is the home view, your timeline. My friend Mia shows up front and center and in her post you can see it supports @-notation for other Threads users, emoji, added photos, and more:
Notice that there are four basic responses you can have to a post too: Like, Comment, Repost, and Share. The latter, interestingly, allows you to share the post – or your own post – to Facebook, Instagram, or even Twitter! Pretty slick, Meta, pretty slick.
The bottom toolbar is key to using Threads too, and those icons, left to right, are Home, Search, Post, Notifications, and Profile. The tiny red dot under the Notifications icon means there are updates I haven't seen, probably new followers or likes to one of my own posts.
Scroll down, check out what your friends are posting, try liking a few posts, maybe add a comment. Easy, right? We've trained for this with all the other social networks we've used in the last decade or two!
POST YOUR OWN CONTENT ON THREADS
Time for your first post. Since it will be shown to far more people than your own group of followers (first post only), I suggest that you make it something better than "test" or "first post". To get started, tap on the box with the pencil icon along the bottom toolbar.
I expect it'll become clearer but the paperclip icon is how you add photos or video content. What else can you add? I haven't tried it, but I would not expect PDF files or Word docs are on the short list. You can reference others by prefacing their Threads name with an "@" sign – so I'm @d1taylor – and use your regular emoji keyboard for emojis. You can also add animated GIFs if you have them available through your phone or camera roll.
Here's what I've composed for my first post:
Notice you can manage who is allowed to reply to the post by tapping on "Anyone can reply" but at this point, I don't see any way to change visibility. Either it's everyone or you've set your account to private. This is consistent with other social networks, however.
A tap on "Post" on the right and it's posted!
Looks good and hopefully I'll garner a few likes and maybe a comment or two. Now you can tap on the profile icon along the very bottom and it'll show your profile and that first post:
Looks good. Now, how about you? Ready to jump onto Threads and get started?
Pro Tip: I've been writing about Instagram for quite a while and am just starting to document Threads. Please check out my Instagram help library while you're visiting and why not follow me on Threads too? Just look for @d1taylor to find me there!