I have a lot of essays to write every week in my college program and am wondering if I can possibly dictate or speak my first drafts rather than endlessly type? I'm using Microsoft Word on my MacBook Air if that matters.
The Mac system already has a surprisingly sophisticated voice to text system built in to the operating system. It taps into the technology that makes Siri work, but push twice on the function [fn] key on your keyboard and you should be able to dictate anywhere you would otherwise be typing in text. Don't have it set up? No worries, here's a quick tutorial: Setting up voice dictation on your Mac system.
I use that all the time, from Google searches to first drafts of email messages to friends and colleagues. Tip: If there are words you know that you misspell all the time, dictate them and let the computer do the work! 🙂
Microsoft has its own equivalent for Windows systems through its Cortana technology, and that also shows up in the dictation features in Microsoft Word. In fact, the dictation in Word is startlingly good if you speak clearly and at a reasonable pace, so much so that I bet you'll use it more and more as your semester proceeds! Even better, the button's front and center on the toolbar, you probably just haven't noticed it.
HOW TO USE DICTATION IN MICROSOFT WORD
Here's a blank document in Microsoft Word for the Mac. Should look pretty familiar to you as I imagine this is what you see every time you have to begin a new class essay: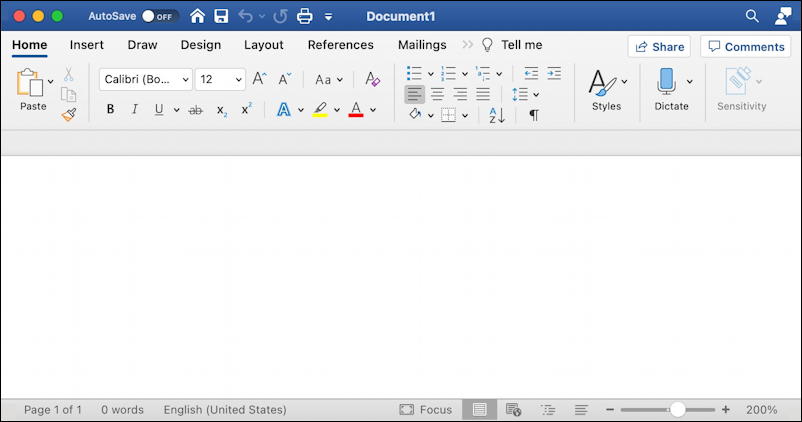 To be fair, that's one busy ribbon with dozens of buttons, icons and features accessible. Handy once you get it all figured out, but not noticing the big blue "Dictate" microphone near the right edge is understandable too with this level of information overload.
On a PC? The Home toolbar ribbon is surprisingly similar: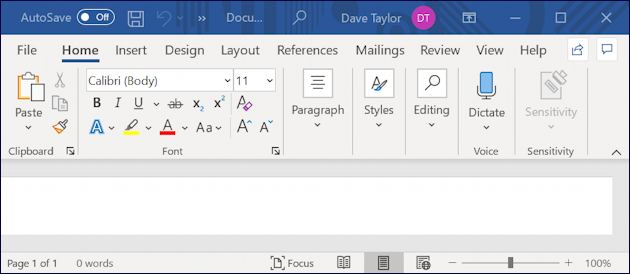 Either way, it's easy to use the Dictate feature: just click on it. Then you'll get a chance to specify which language you'll be speaking out of a pretty impressive list: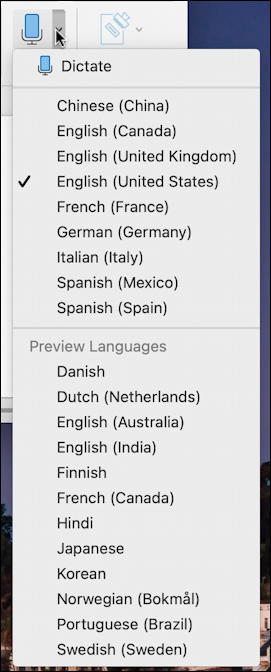 Choose your language if it's going to be different than the default for the program and just start talking! As you go, you'll notice that the Dictate icon in Word has changed to show it's listening and processing: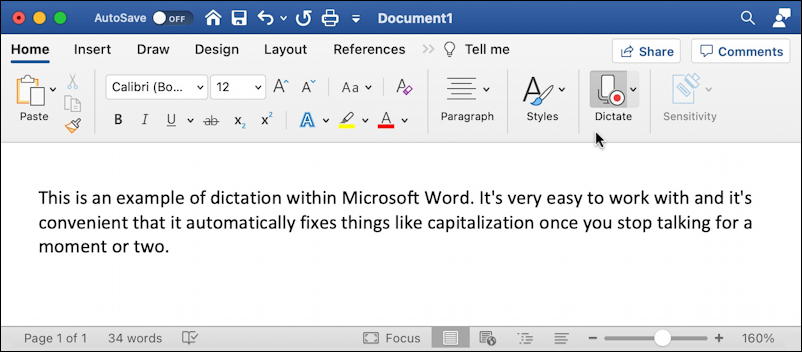 If you stop talking for a minute or so it'll automatically stop processing, or you can just click on the Dictate microphone instead. In the above example I didn't use the keyboard at all, I just spoke to my computer and it translated what I said into the example text. Note that it also correctly capitalized Microsoft and Word. 🙂
Note that it converts every word you say, including punctuation words, and shows them in the document, but, as you can see below, the text it hasn't actually processed yet is shown in grey, rather than black: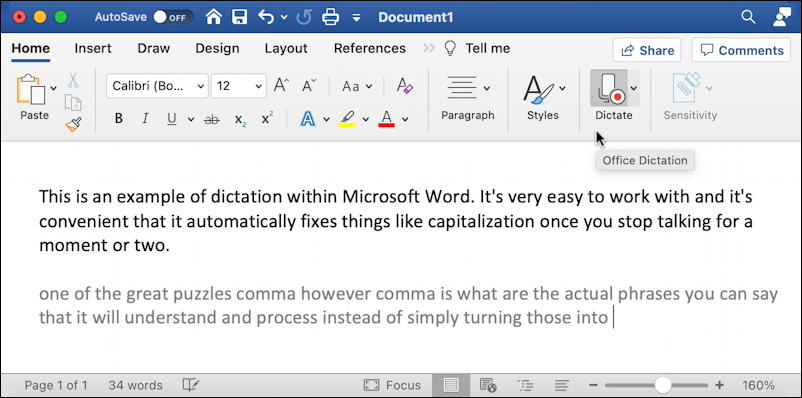 Once I stop talking for a few seconds, the dictation system will go back and clean things up, interpret words like "comma" to mean the comma symbol, correct the lack of uppercase in the first letter of the sentence, etc. In other words, all the edits you'd hope for:

It's actually really fun to work with and there's an entire language of special words and phrases you can use to have some level of control over non-text that shows up, including the very useful "newline" to get the equivalent of pressing the Enter or Return key on your keyboard.
Even better, it still highlights grammar and structural problems, though one hopes that there aren't typos: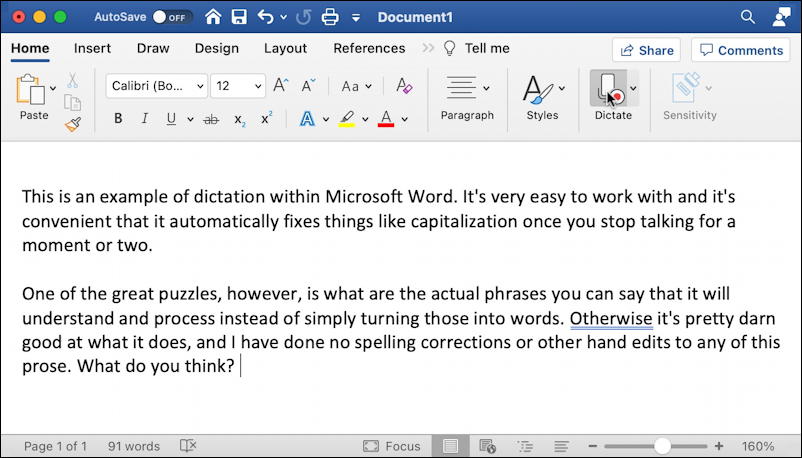 As I said, definitely worth utilizing even if just to get your thoughts into your document for further editing. Please give it a try and let me know how it works in the comments, and if you use a language other than English, I'd be most interested in hearing about that experience too.
WHAT COMMAND PHRASES SHOULD I KNOW FOR DICTATION?
The only question left to tackle is what are the most useful command words and phrase for while you're dictating? Turns out that Microsoft has a pretty exhaustive tutorial document with dozens listed (see: Dictate Your Documents in Word) but in addition to the expected punctuation words (period, comma, colon, question mark, etc) here are a half-dozen of my favorites:
 newline – equivalent of pressing Return. Try "newline newline" for a blank line between paragraphs.
open quotes / close quotes – make sure you use the plural "quotes" for it to work.
delete – removes last word or punctuation mark spoken.
bold last word – this works for italics and underlining too.
euro sign / yen sign – way faster than looking up the key sequence.
Those should get you started and whether you're using dictation because you're a slow typist, have motor control challenges or just want to interact with your computer in a different way, I'm confident you'll find it way better, easier and, yes, more fun than you expect. Try it!
Pro Tip: I've been using and writing about Microsoft Office on Mac and Windows for eons. Please do check out my extensive Mac help, Windows help and my newest category, Microsoft Office 365 help for lots of tutorials to help you master your tech. Thanks!