I've become a big fan of using Siri for dictation on my iPhone, rarely typing in messages any more. I'd love the same capability on my MacBook Air, but it's not running iOS and doesn't have Siri. Can I use voice dictation anyway on a Mac OS X system?
Ah, Siri. The stuff dreams are made of.
Well, maybe not. 🙂
I'm also a big fan of the voice dictation on Siri and when I'm in a quiet enough environment, I'm always impressed at how well it interprets what I say. In fact, from what I've seen of the service, it seems to work better with lower tones so my deep voice is perfect. But Siri on the Mac? Actually, it's part of MacOS X and you can enable it and request all the usual things, timers, weather, music, etc.
Even better, the system that sends your voicewaves up to Apple's centralized processing system and returns text is indeed available on Mac systems as well as the millions of iOS devices out there. It just doesn't have a personality (or should I say "personality" with quotes?) and won't chat with you. It just listens and converts your words into text.
To use it on your MacBook Air, for example, jump into TextEdit — though it works with any app once it's enabled — and create a new document. Then look for "Start Dictation" on the Edit menu:
Dictation not showing up or not available to choose? No worries, there's a bit of setup involved, however, so you'll need to authorize your Mac system to send not just the audio waveforms of what you've said but also some additional data for its remote analysis. First jump into System Settings (off the Apple menu on the top left), then choose Keyboard, then the "Dictation" tab:
As you can see, mine is already enabled. If yours isn't enabled, click "On" to enable it, then approve the service also sending personalized data to Apple's central voice processing facility:
Good with it all? I am. Click "Enable Dictation" to proceed, and…
Nothing happens! Actually, what's happened is that the system is now enabled and you can choose "Start Dictation" from the menu or, far more easily, just tap the "fn" key twice any time you're in a text input area, whether a form on a Web page, a section in a program like Apple Mail, or even, yes, TextEdit (Pages, Microsoft Word, etc) and a little microphone window pops up: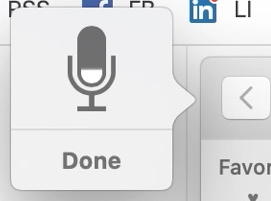 As you talk, the purple section goes up and down to indicate it "hears" you, and the words you're saying show up as text on the computer with just a tiny lag…
If you have any sort of decent Internet connection it's just a matter of a second or two before the text — hopefully transcribed accurately — shows up where you're working.
How accurate is it? Let's test it. I'll read out the first paragraph of the John F. Kennedy's speech to Congress from May, 1961 launching the Apollo space mission, and let's see how it does. Unedited:
"I believe this nation should commit itself to achieving the goal, before this decade is out, of landing a man on the moon and returning him safely to the earth. No single space project in this. Will be more impressive to mankind, or more important for the long-range exploration of space; and nine will be so difficult or expensive to accomplish."
A couple of hiccups, but not too bad. 🙂
Pro Tip: I've been writing about MacOS X since way before it was an "X". Please check out my extensive library of useful Mac help tutorials while you're here!