I've been working on keeping my PC Desktop clear of files and apps I don't use, but now realize there are a few programs that I do want on the Desktop or Taskbar. What's the easiest way to create new Desktop shortcuts etc for existing programs in Windows 10?
As someone who uses MacOS, Linux and Windows every week, I've always found it rather shocking how every time a Windows app is added or installed, the default behavior is for the app to also drop a shortcut onto the Desktop. It's no wonder that PC users have dozens and dozens of icons parading across their Desktop! Have a close look at them and I bet most of yours never get clicked. So why are they on your Desktop at all?
A smarter approach is to delete the shortcuts you don't want or need and clean up that darn Desktop! 😉 You can, of course, get overzealous at this and end up with a few programs for which you do want a quick access shortcut. No worries, there are quite a few ways you can launch a program, not the least of which is to simply type in its name to the search box on the Win10 Taskbar. But I'll also show you how to quickly recreate a Desktop shortcut for your favorite app or program, create a Taskbar shortcut and, in case you decide that clean's the trend, delete 'em too.
CREATE A DESKTOP SHORTCUT FOR YOUR FAVORITE PROGRAM
You already know that in the Start menu there's a list of every app on your PC. Find the app you want – in this case I'll use the Calendar app for my demos – on the list…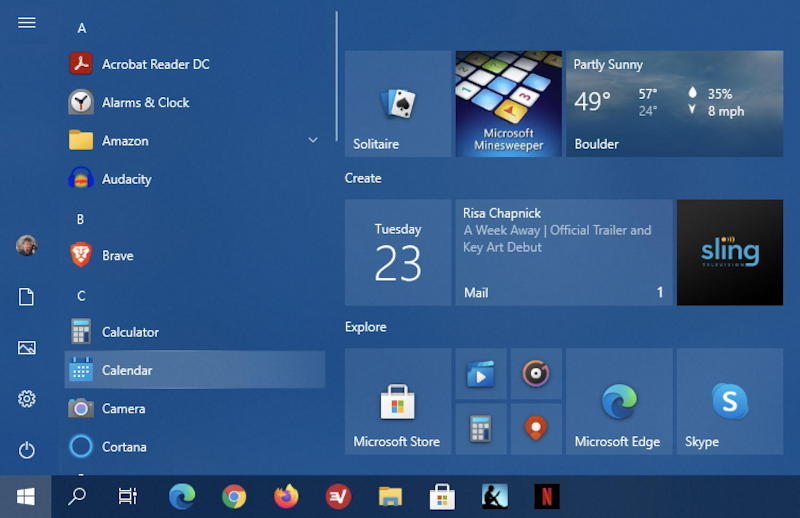 See "Calendar" highlighted on the left? Great, now just drag that highlighted app icon onto your Desktop.
As you drag it, you'll see this:
Kind of a strange display, but you'll see, they move together. Drag the tiny app icon to where you want your Desktopshortcutt and let go of the mouse button. That's it. Shortcut created:
Yes, it's that easy.
CREATE A TASKBAR SHORTCUT
What about if you want to add it to your Taskbar? That's also easy. When you're running theprogramm, right click on its entry in the Taskbar and it'll offer up "Pin to Taskbar" or you can literally just drag the shortcut you just created onto the Taskbar directly:
Not sure why it says "Pin to Calendar" when it should say "Pin to Taskbar" but ignore that error and, again, just let go of the mouse button. BOOM! It's a Taskbar shortcut:

Ridiculously easy, right?
Before I wrap up, let me show you how to delete each of the three different types of shortcuts: Desktop shortcuts, Taskbar shortcuts and, yes, Start menu tile shortcuts.
HOW TO DELETE WIN10 APP SHORTCUTS
It's all about the right click in all three cases. For example, right click on the Desktop shortcut and you'll have this menu pop up:
Choose "Delete" and it will delete the shortcut. Not the program itself,don'tt worry, just the shortcut.
Taskbar? Same idea. Right click on the shortcut:
In this instance you want to choose "Unpin from taskbar" to remove it.
And, finally, if you have it in your Start menu tileset (ah, like a retro throwback to the original weird Windows 10 start screen!) you can right click directly on the tile in question…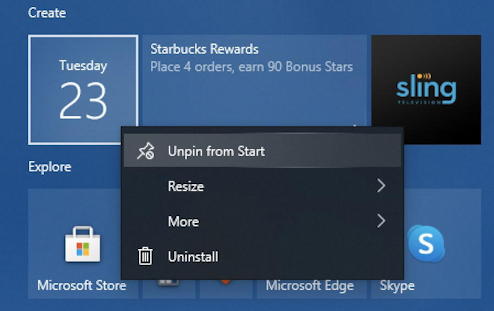 If you're guessing "Unpin from Start" you're right!
That's it. Now you know everything you need to know about creating shortcuts on the Desktop or Taskbar, and deleting them too. Now go clean up that Desktop of yours!
Pro Tip: I've been writing about Windows since way before Win10 was released. While you're here, please check out my quite extensive Windows Help Library for hundreds of other useful tutorials and how-to guides for your favorite OS. Thanks!