My professor has asked us to download a few movies to watch for my film studies class, but they're in MKV format. My Mac can't play them but rather than ask her for help, I thought I'd ask you: Can I somehow convert MKV video files to MP4 so I can watch them with QuickTime Player on my Mac?
Your Mac system has a fairly narrow set of video file formats it can understand and play, mostly all through the QuickTime Player program. You can try dragging and dropping videos into your Web browser too, but give how many formats are floating around on the 'net, it's a disappointingly small subset. Fortunately there's a terrific open source video player app called VLC that will let your Mac (or PC or Linux system) play just about any possible video format you can imagine, including MKV. But it turns out that VLC has some conversion capabilities hidden in its menu choices too!
Which brings us to video conversion. Turns out that there are a lot of commercial programs that promise you the ability to convert from just about any format to any other. Nice, but who wants to pay money when there's a free alternative? You can grab a copy of VLC for your Mac from videolan.org and I have it on every one of my systems. It's a must-install just for those situations when the regular video player fails to read the file you have.
But MKV is a particularly interesting format because it's not actually a format at all. It's a container that lets you embed other video and audio format files within. MKV = Matroska Video and it's an open source standard created by Russian programmers Lasse Kärkkäinen and Steve Lhomme. Its name actually comes from the Russian word for Nesting Dolls, matryoshka. There ya go, today's trivia, right?
Anyway, download it onto your computer and here's how easy it is to basically pluck the MP4 video file out of the MKV container in VLC:
Launch the program, then choose Convert/Stream from the File menu:
That opens up a bit, rather sparsely populated window:
Starting at the top, I've already picked out my demo MKV file, you can either click to select or just drag the file onto the top portion of the window to select your file. Then it's time to pick the output format. You can choose from the menu, but it's critical you also click on Customize… for it to work.
Click on Customize… and you'll see there are a lot of different formats that the program knows about!
MP4/MOV is probably the most native video file format for a Mac, so choose that.
Next up, and this is the critical part, click on the Video codec tab at the top.
I've highlighted the button that you must check for this to work: Keep original video track. Not sure why that's not automatically checked, but make sure you've specified and then you won't have to worry about any of the other settings on this tab.
Click on Audio codec too, as that has exactly the same checkbox you need to select:
If you have subtitles, check that tab page settings too, but if not, no worries, just click on Apply on the lower right.
You'll be back on that conversion configuration window. Click on Save As File… and you'll be able to specify a location and output file name. No need to add the file suffix, VLC will do that automatically:
And, finally, here we are, ready to go:
This is where it's fun. Since the MP4 file is (probably) already part of the MKV container, there's no actual conversion needed, just an extraction. So it's super fast. Like 3-4 seconds fast. A click on Save and moments later the output file is created and ready to view with QuickTime Player:
Hmmm… M4V? Turns out that's a variation of MP4 that Apple uses (it's basically MP4 but with the option of digital rights management (DRM) protection, which doesn't apply in this situation) and can be directly opened and read by QuickTime: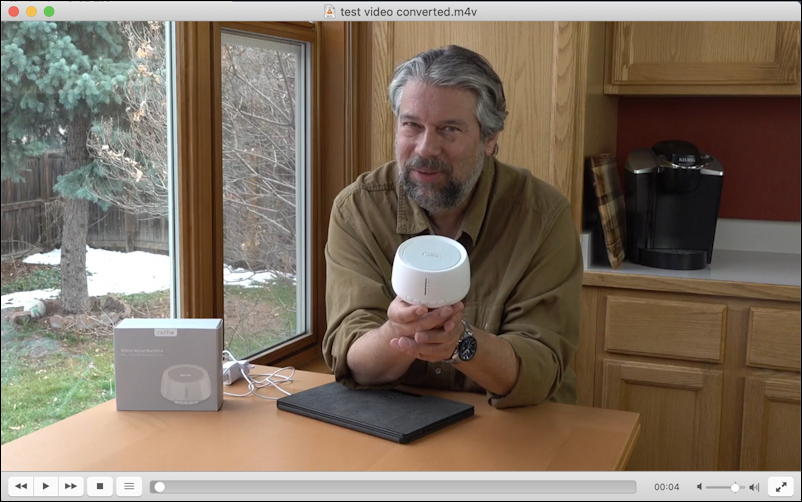 Looks great! Now, if you're a purist, you can safely change the M4V suffix to MP4 by just renaming the file. MacOS X will warn you that changing a filename suffix can be dangerous, however…

No worries, use .mp4 if that's what you prefer. Either way, congrats, you just converted an MKV video file to an MP4 video file and you didn't have to buy anything, just download a copy of the open source VLC program. Nicely done!
Pro Tip: I've been writing about the Mac system for years and have a massive library of Mac help and tips for you to explore. Please do take the time to check it all out while you're here!