I am an enthused bargain shopper and am always checking out deals through Facebook Marketplace, Craigslist, NextDoor, and similar. What's an easy way to see if it's actually a bargain or not, however, if they only share photos, nothing else?
There are extraordinary bargains to be had online, particularly through local groups and Web sites like Craigslist and Facebook Marketplace, but you do need to know your valuations to avoid being scammed into ending up with what's not much of a bargain at all. Part of this is that stores sometimes offer significant discounts to get rid of excess inventory – like Barnes & Noble's infamous 50% off board game sales every so often – but discontinued items and stores going out of business also sometimes offer exceptional discounts. If you can buy a $90 item for $20 and then sell it for $50, you just made a cool $30 for almost no work at all.
There's perhaps a bit of a philosophical question here too: If you as the buyer get a $90 item for $50, you're doing well too, right? In this case, yes, but what if it's an item that one store routinely sells for $55? This is the heart of why buying a new car is such a hassle: They're priced with the intention of dealers offering discounts as incentives to close a sale, so "suggested retail" and "typical out the door price" are two entirely separate things…
Anyway, let's get back to the question! I have found that Google Image Search, which includes some of its Lens technology, is a remarkable tool to help you identify items and ascertain their value.
HOW MUCH IS THAT FACEBOOK ITEM WORTH?
For this demonstration, I'm going to grab a post off Facebook that I saw show up in one of the groups. The original post (with the person's name redacted for privacy) is:
What caught my eye was that $100 seemed rather expensive for such a simple IKEA-esque desk, which made me wonder how much it cost in the first place. To ascertain that, I saved the photo (either drag and drop it onto your Desktop or use screen capture to select just the image) and fed it to Google Image Search…
Instead of typing in a search query, click on the camera icon. It opens up a new window…
At this point, simply drag and drop your saved image onto the grey area.
GOOGLE LENS ANALYZES THE PHOTO
Google's vision analysis system – Lens – identifies individual objects in the photo and adds dots so you can choose them if you want to search that item rather than the primary element in the image. In this instance, it's correctly identified the desk and offers up startlingly good matches:
The very first match is the same desk, for sale at Home Depot. Notice along the bottom row that the second entry is also this desk, for a significantly higher price.
On the left, Lens has indicated what it's analyzing for the primary object, so if you find it's looking at a subset of what you're interested in, simply click and drag the "handles" on the corners and it'll automatically search again using that subset of the image…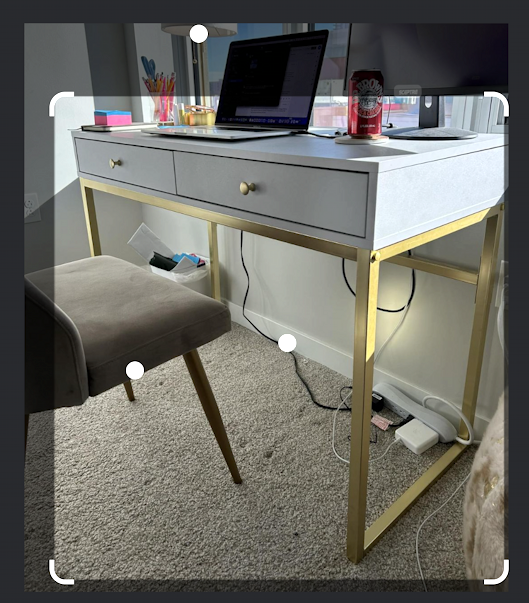 Again, notice I can also search for the chair and desk lamp, even the wire behind the desk, by clicking on the corresponding white dot. For this, however, it's already nailed the match, and a click on the Home Depot image in the top left slot reveals…
If nothing else, we can get dimensions from the Home Depot listing, but is a desk that costs $139 worth buying used for $100? Maybe. It is assembled and it's always better to have someone reuse something rather than just dump it or abandon it. The daughter in this particular Facebook post also offered to deliver the desk, which could be a significant factor too; if your child's in college they might otherwise have to Uber to Home Depot and back, which could add an easy $50 to the cost of the item.
Ultimately the value of something relates to more than just its price tag, of course, and for that decision, I'll leave it up to you. You do now know how to use Google to assess a listing on one of the popular shopping sites and ascertain if it's a bargain for you or one to skip. Good luck!
Pro Tip: I've also been writing about Amazon, eBay, Barnes & Noble and other online commerce sites since the dawn of the Internet. Really. Please do check out my online shopping help area for more tutorials and articles!