I have a brand new HTC One phone and just love it, except for one thing: the battery life stinks. The cell phone dies after just a few hours if I don't plug it in. I'm new to Android, is there some trick to getting better battery life?
Before you take your gorgeous new HTC One back to the store, know that, yes, there are indeed some common settings and tweaks you can make to extend your battery life, techniques that actually apply to all Android mobile phones. In fact, even if you have an iPhone or a Windows mobile phone these ideas still apply because I'm pretty sure that the featureset in modern phones is evolving faster than the battery management team at the phone manufacturer can control.
The basic idea is to turn off every feature you don't need. Which, if you think about it is kinda daft. I mean, why buy a state-of-the-art cellphone like an HTC One if you're going to then disable half its features because you don't need them at this exact second? On the other hand, having to constantly charge your phone is a drag.
Tradeoffs.
Okay, so let's jump in. Here's a typical HTC One home screen with the latest version of Android: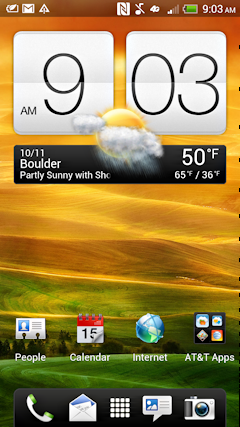 There's that weather update, an update that the phone has to keep pulling off the Internet to stay current.
Let's fix that. Tap on the small grid of squares in the middle of the bottom row of icons. That'll get you to "Settings":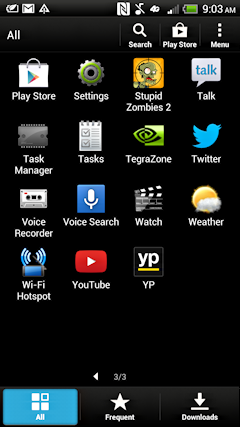 You might have to swipe to find "Settings" (the gear icon in the top row, next to the, um, stupid zombies 🙂
Tap on "Settings" and you'll see the central spot for tweaking battery extending settings on the 'droid:
At this point you really should turn off features you don't need, most importantly Bluetooth. If you aren't actually using any Bluetooth devices then it's a big help to turn it off — by tapping the "On" slider — and if you occasionally use a headset or similar, then just remember to enable Bluetooth before using it, then disabling it when you're done.
Mobile data can be a problem too if you're trying to manage your cell phone bill: leave it enabled and your phone will be tapping the cellular data network without telling you what's going on. Kind of a stealth bill booster, if you will.
I'm expecting that, like me, you're always tapping into Wi-Fi networks, so definitely leave that enabled. WiFi = free network access = good!
The best place to improve your battery life, however, is located behind the "Accounts & sync" link. Tap on it.
See that "Auto sync" feature? Yeah, that's likely what's hurting your battery life. It means that the phone is constantly checking the network for updates and activity, stock changes, updates to weather, etc.  Fortunately you can change the frequency of these sync settings on a one-by-one basis, as you can see here from my tapping on "Weather":
I'd recommend you look very closely at all of these auto-update and auto-sync feature, disabling anything that's not mission critical.
And then? Keep a charger handy anyway.
Do you have a favorite battery life extending tip, fellow Android users? If so, do share…