I'm working on some projects for work and need to find stock photos for background art. I have zero budget, however, so want to search through public domain content. What's the best way to do that?
It's amazing just how many millions of photos are out there in the public domain, open source, and otherwise license free. The Internet might seem like a massive edifice of protected intellectual property and lawyers ready to sue you at the slightest hint of infringement, but there are huge photo archives with professional photographs, ready for you to download and utilize. However, you do need to be careful because it's also the case that some are free to use for non-commercial applications and others require you retaining an attribute that credits the original photographer.
What's great is that it's quite easy to search through all these archives because Google search has an image search feature and that can be constrained by license terms. Definitely handy, and way more convenient than going from site to site to site looking for the perfect image for your project. Let's check it out!
For this example, I'm going to look for a cute black kitten image. I'll start with "spooky" as one of the search terms too, but suspect that won't necessarily apply to the final image selected.
To start, go to images.google.com and enter your search term: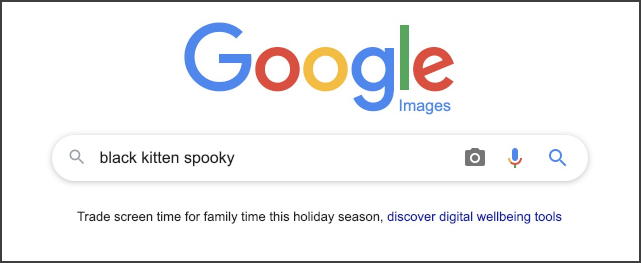 The results can be all over the place and often the sponsored images are barely contextual at all. In this instance there were some pretty scanty Halloween costume ads that showed up. Don't worry, though, I got rid of 'em in the screen capture:
Fun stuff, but before you just grab the first image that you see, realize that these are most likely images protected by copyright and can get you into legal trouble down the road.
Instead, click on the word "Tools" on the top right. That brings down a new secondary menu that lets you fine-tune the search results:
If you guessed that "Usage rights" is what you want to choose, you're right! Huzzah!
Click on "Usage rights" to bring up a menu of various levels of public or license free image results:
The big question here is whether you want to use it commercially, say for a print ad, banner graphic or within an article that generates ad revenue, or whether you're just looking for something that's more for a hobby or charitable usage. I'll choose "noncommercial reuse" but since I don't plan on tweaking or editing the image, I don't need to add the "for modification" clause. The results are a whole new set of images: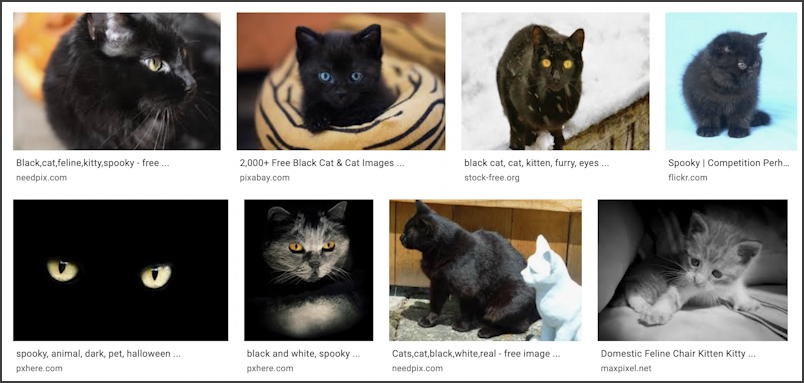 That second one is terrific, and as you can see, it's from a site called pixabay.com which is a royalty free photo archive site. Good.
Since images can be all sorts of sizes, do a quick check by moving your cursor over the image in question. A pop-up will tell you the image dimensions: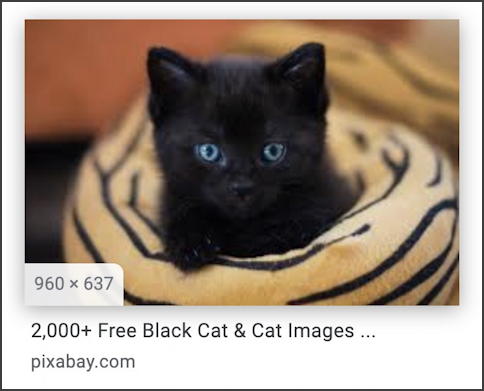 960 x 637 is a great size for online work, though probably a bit small for print material. A click on the image and a small window opens up (still in Google image search) that shows a bit more information about it and the site it's from:
Notice the line "Images may be subject to copyright. Learn More". That's important: If you're going to be using this image for commercial work, make sure you do just a bit more homework before you save the image; just because Google Image Search shows it as labelled for noncommercial use doesn't mean that it actually is.
On the other hand, if it's an image for a social media post or an email, you can also just right-click on the photo in this sidebar to save it to your Desktop:
But be smart about it. After you've saved it (and make sure you got the full size image, sometimes this produces a smaller thumbnail) click through and find the page on the hosting site to check license terms and any attribution required:
This one's completely wide open: Notice on the right it says "Free for commercial use. No attribution required." Great! And such a cute photo too. Nice, eh? And that's it. Now you know how to find and save license free and royalty free images. Use your power wisely 🙂
Pro Tip: I've been writing about computer basics since the dawn of the computer era. Please check out my extensive computer help pages, along with specific Windows help and Mac help too.