I have a google adwords campaign. When I look at my keywords in each adgroup, they all say active, yet most of them carry zeros in every other column. When I do a search my ad is not appearing and often there is only one or sometimes no other sponsered ads. Why is this happening, and why would it still say my keyword is active?
I know Google AdWords, but not as well as my friend and colleague Joy Milkowski. So I asked her to tackle your question and here's what she shared…
Adwords, much like a Rubik's cube, can usually be solved with some twists, turns, adjustments and a few more twists! There are a handful of possible explanations for these occurrences within your Adwords account. Let's explore why this could be happening by starting with explaining what "active" means to Google. Your ad is considered active if the maximum cost per click (CPC) you've designated AND the quality score are both high enough to meet Google's standards. However, an active ad doesn't necessarily show for all search queries, though it meets the aforementioned criteria.
First things first: how popular is the key phrase you're concerned about? You mention the many zeros in the columns for certain key phrases that are listed as "active". That could be a function of limited search activity which leads to fewer impressions (times the ads are shown) for a given key phrase. Of course, without enough impressions, it makes sense that there would be little or no clicks on your ad. Bottom line – if not many people are searching for your key phrase, you're going to see a lot of zeros in your Adwords reports. Because you mentioned that there is sometimes only one ad (or none) on the page, it could be that the search query isn't as "in demand" for searchers or advertisers.
Here are some other possible explanations for your ad not showing on your searches, though it is listed as "active":
The campaign has reached its daily budget limit so all key phrases will stop getting impressions. If you have key phrases that are important enough to get every possible impression and click, break them out into separate campaigns with reasonable budgets to handle the daily traffic.
The default ad delivery method within Adwords is set to "Standard", which means that your ad may not show every time it's searched. If you want your ad to display every time it's queried, I'd recommend going into your Campaign Settings controls and switching to the "Accelerated" delivery method. By changing that setting, your ad should appear on every search until your budget is exhausted. (Use this carefully, though, as this setting will sometimes max your budget early in the day.)
A conflict with another key phrase exists so that some other (possibly similar) ad is showing for a different key phrase within a separate ad campaign or ad group (see Diagram 2 below). In that case, delete the duplicate key phrase and focus the ad to the key phrase that remains.
The ad scheduling feature is turned on, and it just so happens that the time you check is outside the scheduled time.
The position preference feature is active, and your bid isn't high enough to place you within the positions you've selected all of the time. Be sure to check this setting, because this is a common problem. I recommend either a wide range of possible positions in your setting -OR- that you keep a careful eye on the bids if you want to pin point one or two positions. If you are trying to be laser-focused in getting position 4, let's say, you may want to be checking the account throughout the day to ensure proper placement.
Your location targeting is too narrow (this can easily happen if you're customizing a specific geographic area within a city, for example.) If this happens, you can easily change the location targeting setting to be broader.
Thankfully, Adwords makes it *somewhat* easy for you to stay on top of these items in your account. You can use the handy Ad Diagnostic Tool Google provides. To use the tool, hover your mouse over the magnifying glass icon next to the key phrases you're curious about. If your ad is showing properly, you'll see the green check mark and "This keyword is OK" as seen in the box below.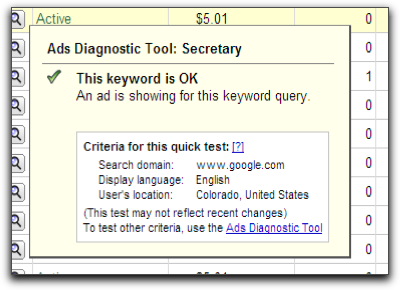 However, if something is awry in the ad display, you'll see an error message such as the one shown below (even though the phrase is listed as "Active".
If you've tried all the remedies above without success, you can
contact Google
for help. You can also submit more in-depth Adwords strategy questions to me on my blog,
Marketing Joy
. If you've never had any training on the Google Adwords system, allow me to also suggest my
Intro to Adwords
course, which goes much deeper into the strategy of setting up and the initial management of Adwords accounts, much more so than the Adwords Learning Center.