I'm a long time interaction designer and web usability consultant looking to move more into web publishing to generate revenue. I have number areas of domain expertise that I'm considering writing about. I'd like to prioritize these based on AdSense value, but am not sure how. Can you offer any tips?
This is a pretty common question once people realize that not all advertising from a contextual system like Google AdSense offers the same per-click payout, actually. The short answer, the politically correct one, is that you shouldn't worry about what's valuable and what isn't, and instead just focus on producing the best possible content that's focused on your market niche or customer segment.
Okay, all the purists have left now, right?
Good. Okay, so if you have a choice between two topics, I think it's quite rational and logical to do a little bit of research to ascertain which topic is more valuable in the pay per click (PPC) world and then to let that influence your determination of which to tackle first.
There's a second consideration, however, because a super-valuable topic that has precious little traffic, like "mesothelioma", will likely generate far less gross revenue for you than a less valuable topic that has manyfold more queries. An example? "free ringtones" is a huge topic and very popular search term. If the former pays $5.00 per click, has an expected click thru rate of 0.5%, and you get 100 searches per month for it, your payout would be, um, $5 every other month. If the latter pays $0.50 per click, an expected click thru rate of 2% and you get 500 searches per month, you'll earn $10.00 per month. See what I mean?
My favorite tools for ascertaining both the popularity and value of keywords is Google AdWords, if you have an account, Yahoo's Overture, WordTracker or Nichebot Classic. I'll show you Overture just as an example.
Pop over to inventory.overture.com and you'll find that you can easily – and without an account – do rudimentary research as you desire. Here's how that first page looks: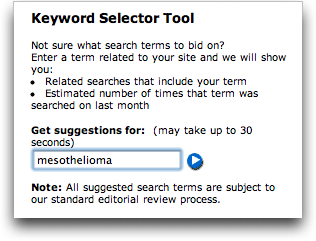 As you can see, I've gone for the big fish and searched for "mesothelioma". The results: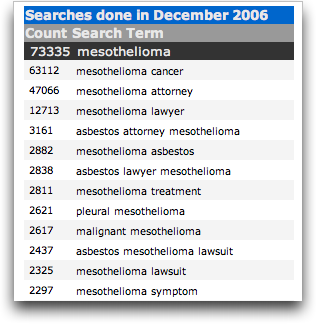 There are actually a surprising number of searches. Just for fun, let's compare that to 'ringtone' and see which wins the popularity competition: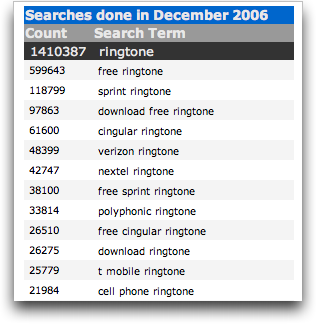 That answers the popularity question. Now, how about the value question? For that, I suggest we switch to Google's external
AdWords Keyword Tool
: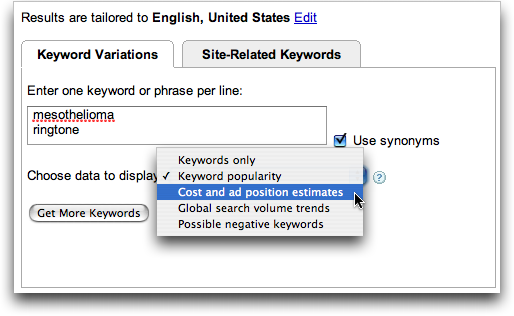 Notice the pop-up menu. You'll want to select "Cost and ad position estimate" to get the $$ associated with these particular keywords. You should also enter some sort of wild guess as to the basic value of the keywords – I'll use "$5.00" to see what happens.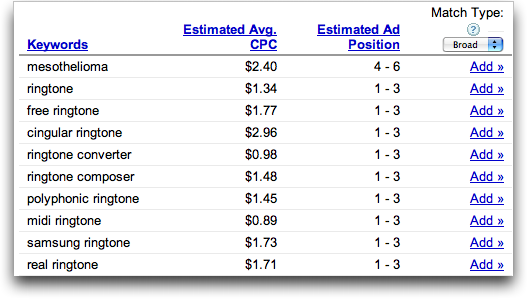 You can see that $5.00 is a reasonable guess, and that for the broad keyword "mesothelioma" we wouldn't even get into the top four (meaning that they're bidding more than $5.00/click), but for "ringtone" we could be in the top position, with an effective CPC of less than $2.00.
You'll want to click on the help information before you finish with the data shown here, however, because how Google calculates "Estimated Avg. CPC" is rather complicated.
Nonetheless, I think this will help you get started trying to figure out keyword value!