I am a big fan of my Apple iPod, but I can't figure out how to have it automatically download the most recent podcast from the podcasts I subscribe to. I think there's something I can do in iTunes to get this to work, but I'm just not exactly sure how to proceed.
Downloading and adding podcasts to your iPod and iPhone is relatively straight-forward. But once you are in your car and driving along, it can be tough to figure out what new podcasts you have available. For instance, you may subscribe to several daily podcasts and want to be able to listen to the latest episodes without navigating to the podcast menu, then the podcast name, then the episode.
By using iTunes' smart playlists feature, you can build a list of the most recently added podcasts. You can even filter by audio and video podcasts.
In iTunes, choose File, New Smart Playlist… This will bring up the Smart Playlist dialog: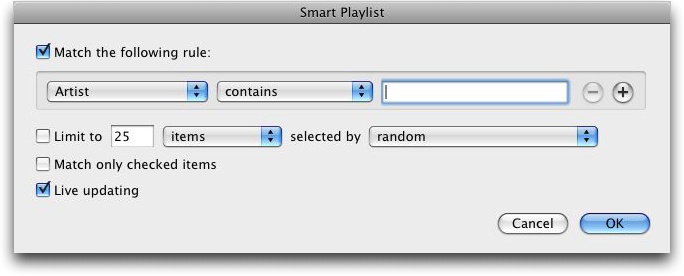 Change the main setting to "Podcast" and "is true." Then, click on the "+" button to the right to add a second rule. Make this rule "Kind" "contains" "audio" as shown in the image. You can change this to "Video Kind" "is" and "Movie" for video podcasts. Now it should look like this:
Then also set the limit to 25 items, so your playlist doesn't include all your audio podcasts. Set "selected by" to "most recently added." Also, make sure "Live updating" is checked.
Now you have a list of the most recent podcasts in iTunes. To get this list on to your iPod or iPhone, make sure it is set to sync all your playlists, or at least select this new smart playlist as one you would want to sync.
Now when you update your podcasts on your computer in the morning, and then sync your iPod, you'll be all set with an easy-to-find playlist of your latest podcasts.
Thanks to Gary Rosenzweig from
MacMost
for this helpful iTunes tip. You can find lots of video tutorials, news and commentary at
MacMost.com