I'm a member of the Google AdSense program and find it a pretty decent way to earn some extra spending money from my Web site, but I'm wondering if there's a way for me to make a few bucks helping people sign up for and use Google's AdWords program? By the way, I'm in your Amazing Results with AdWords course and it's inspired me quite a bit!
You're not the first person to wonder if there's a way to make some money helping lead people to join and use the AdWords program, and until recently there wasn't a solution. The AdSense program now includes AdWords referral payouts, however, so let's have a look at how you can add it to your site!
Step one, as always, is to log in to Google AdSense (if you don't yet have an AdSense account, please read my popular Get Started with AdSense article and sign up through that. My mortgage payment thanks you! 🙂
Once you're logged in, you'll want to click on AdSense Setup –> Products –> Referrals and you'll see all the many products you can list and make a referral fee upon specific actions happening:
Select "Google AdWords", of course, to proceed with this particular link and choose "Continue", you'll see the various text and image links you can use for your referral: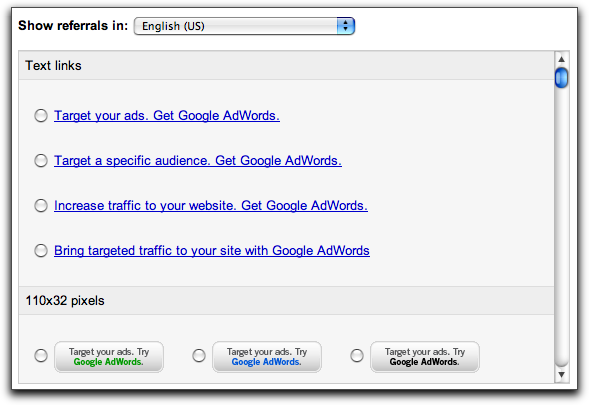 There are more graphical options, but I'm partial to the text links. I'll continue with "Bring targeted traffic to your site with Google AdWords" as it's the best of their choices.
Tip: If you're going to drop this link on a variety of sites or different areas on your individual site, I strongly recommend you set up a channel or two so you can differentiate results and identify which pages produces which leads and payouts.
Once you've picked a channel — or not — you'll get the usual AdSense code box: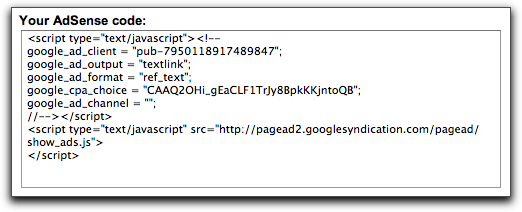 Simply copy and paste that into your pages or templates and you're ready to go. Here's what I get when I copy and paste that into this particular blog entry:
Click on it, you'll see it just leads you to the regular AdWords signup page, with no indication that it's a referral link. Simple, straightforward, and hopefully another method of generating some revenue from your Web site!
And when do you get paid? Well, Google's explanation of the referral fee for this particular link is: " Google AdWords referral is counted when a publisher, who has never previously enrolled in Google AdWords, creates an account and spends at least $100.00 within 90 days of sign-up."