When I plug in my Apple iPhone 4s into my Dell Windows 7 laptop, it automatically imports all the photos and videos into Windows Live Photo Gallery. It's driving me crazy! I don't want to use this particular program for managing my photos! How can I change it or, better, have Win7 simply ask me what to do when I hook up my iPhone?
While the experience of using the iPhone with a Mac OS X system is remarkably smooth, tightly integrated through the central switching station of iTunes, on the PC it really is a different and less pleasant experience. Where do your contacts save on the PC? Where are your photos? What happens to videos?
We can't solve all the problems here in this one post, but when you ask about photo management for your iPhone pictures on your Windows 7 computer, well, you're opening up the proverbial can of worms.
With that in mind, go to the START menu and look for "AutoPlay" on the Control Panel menu: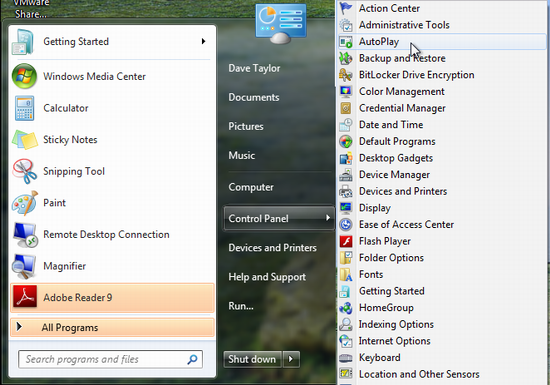 Choose "AutoPlay" and scroll down on the window to find where it lists the Apple iPhone:


A click on "Choose a default" and you'll see all the standard options for photos and videos on your iPhone when you plug it into your Windows PC:


I like "Ask me every time", which produces the following prompt window every time Win7 sees the iPhone plug in: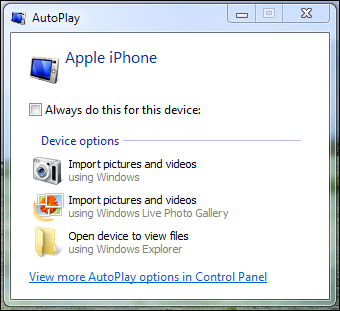 If you have another choice you'd prefer from the menu, you can see it's easy to set. Click "Apply" to make sure it's saved in the system and the next time you plug in your iPhone 4s you'll be able to have a much better idea of what's going to happen to all those photographs!