I switched from an iPhone to an Android phone and am having a hard time figuring things out. The first one: how do I change the wallpaper image?
I've been testing out the Verykool SL5000 Android-based phone so your question arrives at an opportune time since the device is in my hands. Android over the years has become more and more like the iOS system with its configuration and settings options, however, so I'm a bit surprised you're finding the switch a bit confusing. I admit, there are a number of nice default iPhone apps that are just missing in action on the Android, but with a little bit of poking around in the Google Play store (the Android equiv of the App Store) you should be able to find replacements for all of them.
One thing I will say is that with iOS 8 the iPhone has a huge advantage in terms of cool wallpapers you can choose from so your first step might be to download to the phone a few of your favorite photos or do an online search to find some that are suitable for the task. Not a huge issue, tho!
Let's jump in. Here's the home screen on the verykool SL5000, in all its Technicolor glory: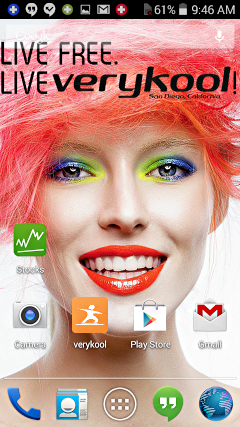 I'd like to meet this gal at some point, but that's another story!
To get to settings, you can swipe left and right to see if you've moved the icon onto your home screens, or jsut tap on the circle with the six tiny squares in the middle of the bottom row to get to all your apps.
Now just swipe left or right to find "Settings":
Can you see the gear icon in row two on my screen capture? Good! Tap on it.
Now you can also rotate your phone if you're so inclined. I prefer a horizontal orientation personally, so I'll do so for all subsequent screen captures…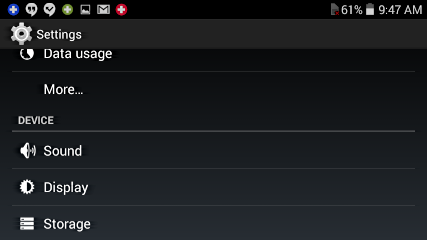 Swipe down just a bit to find "Display".
Tap on it.
Wallpaper. That's what you want.
Tap on it.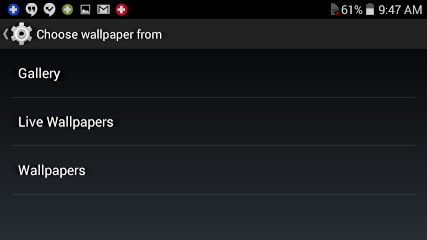 A "Live" wallpaper is animated and moves, typically very slowly. These can be cool but they also take processor cycles, so if you want the best possible performance from your apps, stick with static wallpapers, or photos from your Gallery.
I'll just go down the "Wallpapers" rabbit hole…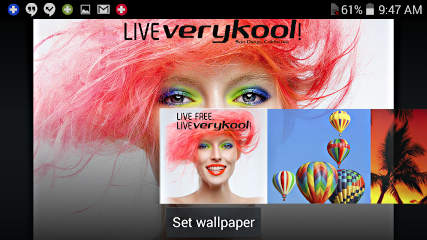 There's that gal again!
The wallpapers are shown in small thumbnails, so you'll want to swipe right-to-left across the filmstrip to see all the options.
I like the rainbow falling star image, as shown here:
That's the one you want? Tap on "Set wallpaper" along the bottom and…
Done. Nice.
Here's how it now looks on the home screen:
No rainbow girl. Actually, I might switch back. 🙂