There's a lot I like about the low-cost Chromebook my school gave me to use for classes, but the scroll is backward. I'm used to swiping "up" to move down, and vice-versa, but ChromeOS does it the opposite. How can I fix scrolling in Chrome OS?
It might not seem critical, but if you want to start a debate with your friends, ask them whether a swipe from top to bottom should scroll the content UP or DOWN. They'll disagree, and if you're used to one style of interaction, the other just doesn't make any sense to you and causes you to do "the jiggle" where you move your finger just a little bit up and down to remember the scroll setting on your device. Smartphones, tablets, laptops, even those interactive menu systems at your favorite fast food restaurant face that same up/down scrolling dilemma.
Fortunately, you can change the settings on just about every modern device too, including your Chromebook. In fact, there are even some experimental settings you can check out if you really want to gain complete control over the scroll/swipe experience!
Let's have a look.
FIRST STEP: UPGRADE YOUR CHROMEOS
Chrome OS updates at a surprisingly rapid pace, so your first step any time you want to change settings is to ensure that you have the latest version. My Lenovo Chromebook is usually up to date, but when I checked, I was actually a couple of versions behind:

There are a bunch of ways to get to this information, but I tend to go to Help > About Chrome within the Chrome browser (it's off the "•••" link on the top right), where there's a link to check the OS version itself. Once it's updated, you always need to restart too:
The new version is 97.x, as you'll see in a subsequent screenshot. A click on "Restart" and you're ready to change those settings.
CHANGE SCROLL DIRECTION SETTINGS ON CHROMEBOOK
This time, let's use the Settings shortcut. Do that by clicking on the time display on the bottom toolbar, then the gear icon on the top right: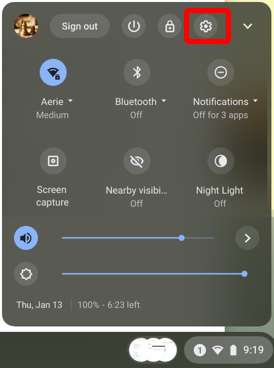 There's lots of value on that little pop-up window that I hope you already utilize (notably Night Light and Notifications).
Don't want to use that path? Okay! Open up the search feature by clicking on the circle on the lower left of that same toolbar "shelf" and search for "scroll":

The very first match is exactly what you seek: Touchpad reverse scrolling. Tap on it and you'll see that there are quite a few different scrolling options: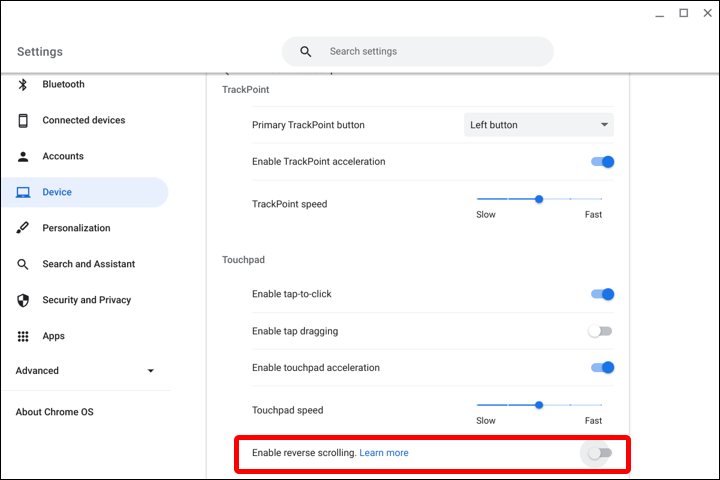 Lots of settings to explore, and I recommend you do try some of them out to see how things change on your Chromebook. You might already think that the Chromebook is reversed with its scrolling, but… tap on the on/off widget adjacent to "Enable reverse scrolling" and you've made the change.
Well, almost… you'll need to restart your Chromebook yet again. But now, it should be scrolling as you want!
EXPERIMENTAL SCROLL SETTINGS
There are some experimental settings for additional scrolling interaction if you want to explore them too. In the Chrome browser, go to chrome://flags and search for 'scrolling'. You'll see "Smooth Scrolling" at the top:

But there are quite a few different scrolling options, many of which change click behaviors too. Try a few, see what you think!
Pro Tip: I've been writing about operating systems for many years. You can find a lot more useful tutorials about Chrome OS in my Chrome OS and Chromebook help library here on the site. Why not check it out while you're visiting?