I feel like a complete idiot, but I was trying to copy and paste about fifteen paragraphs of text from a Microsoft Word document to an email message, and somehow ended up cutting the text out of the document and then having my email program crash. The net result is that I've lost about a day's typing and really want to know if there's any way I can recover it?
You might not realize it, but Microsoft Word actually keeps somewhat of a history of your document in the file, even when it looks like there's nothing there and even when you have revision tracking turned off.
One way you can see that this is the case is by doing a "Save As…" on a document you've been editing for a while.
You'll find that the new version of the file, the version that has all the archival data purged, is often dramatically smaller than the original. Sneaky, eh?
Now, the challenge is how to access that data.
What you need to do is enable document conversion on open. In Microsoft Office XP, that's done by creating a blank document (so you can get to the Options preference, otherwise it's grayed out), then selecting Tools –> Options and clicking on the General tab.
You'll see this: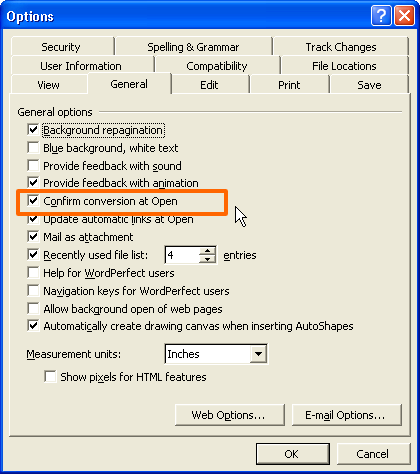 Select the
Confirm conversion at Open
option (it's right by the mouse cursor) and click "OK".
Now open up the file with the missing text and you'll be asked if you want to use a converter:
There are lots of choices, but I've highlighted the one you want:
Recover Text from Any File
. Click "OK" and you'll see lots of junk, typographical notations, and other miscellany. In the middle of it, however, you should be able to find all your missing text.
When I deleted some text from my test file and did this procedure, here's what I saw: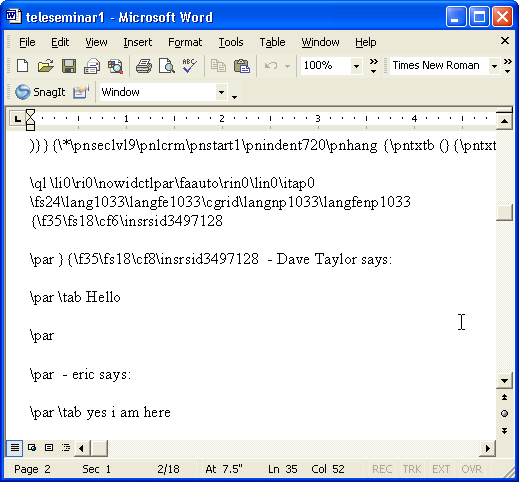 The text from "Dave Taylor says:" to the bottom of the page was all deleted from the file, then the file was saved to disk. Theoretically it should have vanished, but it's still there and I was able to recover it.
Hopefully this will get you back your missing prose!
Good luck.