Maybe I'm too old to have an Apple Watch, but the text is darn small and that makes it hard to work with. Is there any way to make the text and words on my Apple Watch Sport bigger?
There is some truth to the observation that smartwatches and the lower acuity of vision through old eyes aren't a match exactly made in heaven, but there are a few things you can do to tweak the settings on your Apple Watch to make the text at least a bit easier to read.
The first question, though, is do you have a 38mm Apple Watch or a 42mm Apple Watch? If the former, well, turns out that 4mm makes a difference and you might want to consider a size upgrade which will definitely help things be a bit easier to read.
I'll hope you already started out with the bigger watch face, however, so let's just look at the settings. There's not a ton to tweak and change, but go to Settings from the app cloud. It's the gear icon:
Tap on it and you'll be able to access the various settings and preferences on your own watch.
Swipe up just a little bit to find "Brightness & Text Size":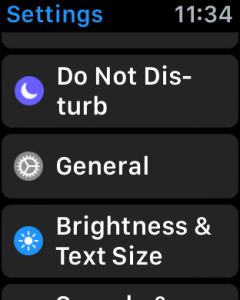 Tap on "Brightness & Text Size" and turning up the brightness can make things a bit easier to read, but there are other settings you can adjust to make the text more — or, I suppose, less — readable: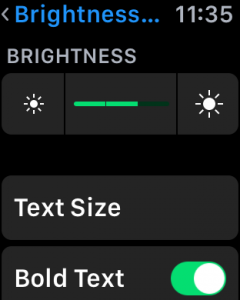 Turn on "Bold Text" by simply tapping on the slider if it doesn't look like what's shown above. That'll help.
But the big bang for the buck comes from tapping on 'Text Size"…
Ah ha! Mine is set to be rather small. A few taps on the larger Aa to the right and the slider moves along as the text displayed increases size too:
That's it. Between brightness, bold and choosing a larger text size, that's about all you can do to make your Apple Watch Sport or Apple Watch Edition easier to read. Hope that helps!