I have two-step verification enabled on all sorts of my accounts now, but the one I use the most just has a simple password: Amazon.com. Can I turn on 2-step verification for my account?
Amazon just made 2-step verification available for all Amazon.com accounts in the last week or two, without any sort of announcement. Apparently it isn't allowed to get in the way of Black Friday preparations and press information from the company. 🙂
The idea of two-step account verification is simple: you log in to the site with your usual account ID and password, then the site sends a secret 5-6 digit number to your mobile phone or cellphone. You additionally enter that and then you're logged into your account. The point? If someone has your password, they still can't log in to your account. In the security biz it's known as a "what you know" (the password) and "what you possess" (the cell phone).
And it's a really, really good idea. I have 2-step verification enabled on every single account I can just so I don't have to worry about anyone stealing my password — or guessing it. Yeah, they could hijack my cellphone too, but that's a whole lot less likely…
To start with the task of enabling 2-step verification for your Amazon.com account, go to your account settings:
Choose "Your Account", as shown, then look through all the options for "Change Account Settings":

Once you've clicked on it, there are a variety of settings you can modify: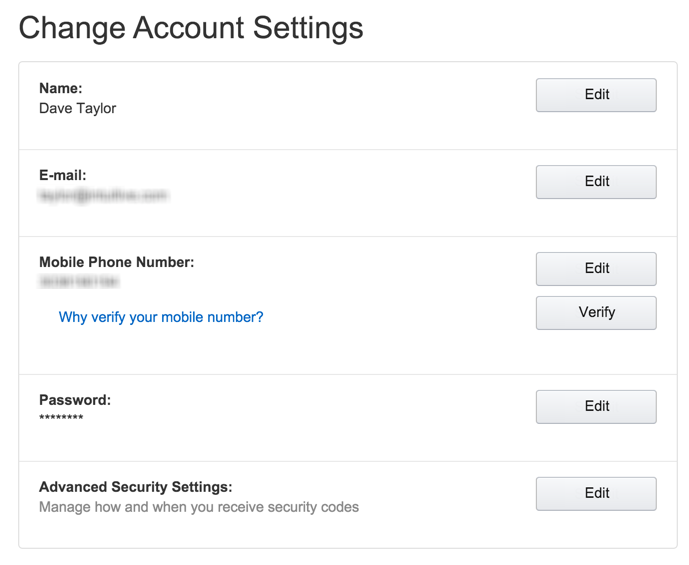 What you want is at the bottom: "Advanced Security Settings". It's new in case you've never noticed it before.
Click on "Edit" and you'll find out that it has exactly one option, the one you want:
No surprise here, click on "Get Started" to, well, get started.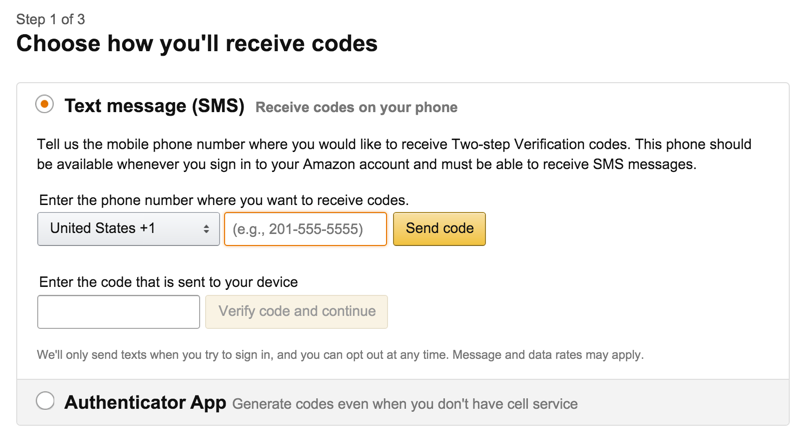 Here's where you'll enter your cellphone number — and make sure it's a number you're going to have for the foreseeable future, as it's going to be a real pain if you set up 2-step verification then don't have access to your cellphone afterwards! — and click "Send code".
After a moment or two, a text message will show up on the phone. Here's what I got on my iPhone 6s:

Easy enough, enter the code specified and click "Verify code and continue" on the Web page.
You'll be asked to set up a backup number, which I think is a darn good idea:
Once you've done that, you'll be all set, as Amazon explains: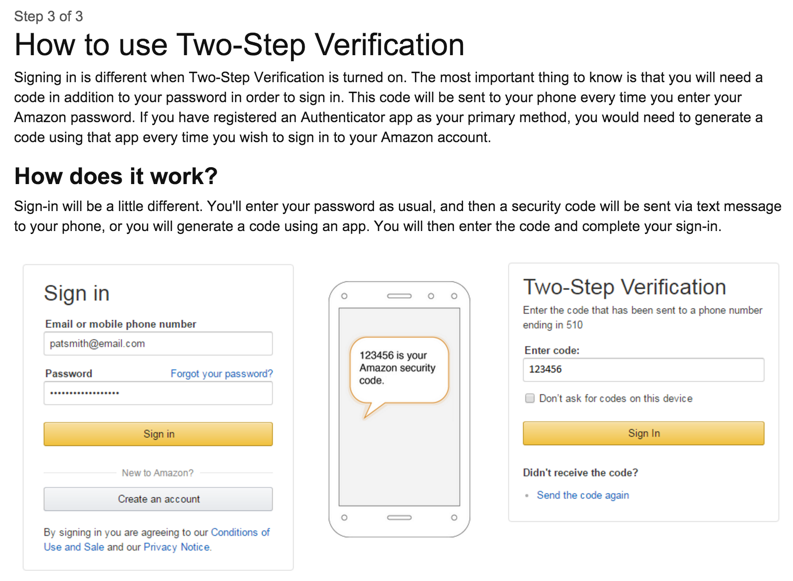 Got a secure device or two, like your desktop computer at the office or your laptop? You can mark those as trusted "personal" devices in this step too:

And, finally, you're done:

That's not too bad, and it's a big step towards ensuring the privacy and safety of your Amazon.com account.
Well done!