I like to explore a wide variety of Web sites when I'm using my computer and don't want to be tracked or have it show up in my history. Is that possible in Firefox?
Though my suspicions are that most people use private browsing in a Web browser to look at inappropriate photos and other content, there are also plenty of cases when being on the Internet requires some privacy, including visiting political sites or reading about controversial or possibly illegal topics. I'll just say if you don't tell me, I won't ask. We good?
Turns out that just about every Web browser in the biz now supports masked, private or secret Web browsing, a way that you can explore the Web to your heart's content without the browser later giving up your secrets. Worth noting is that it's not as private as using a Virtual Private Network [for example, IPVanish] because the operating system is still requesting content from specific domains, but depending on what you're doing, private browsing is often plenty enough privacy.
And the good news: Firefox definitely supports it, and in a smart way. No surprise.
To demonstrate, I'll use Firefox on my Ubuntu Linux system. Starting up, that's pretty obvious:
What you want is the so-called "hamburger menu" on the top right — the three horizontal lines. Click or tap on it and a menu with oodles of choices and options shows up:
Plenty to keep you busy if you want to learn about customizing your Firefox experience, but for now, let's stay on task! Middle of the top row is "New Private Window" and a Mardi Gras-inspired mask icon. Click on it and Firefox will explain what's changed in the new browsing window: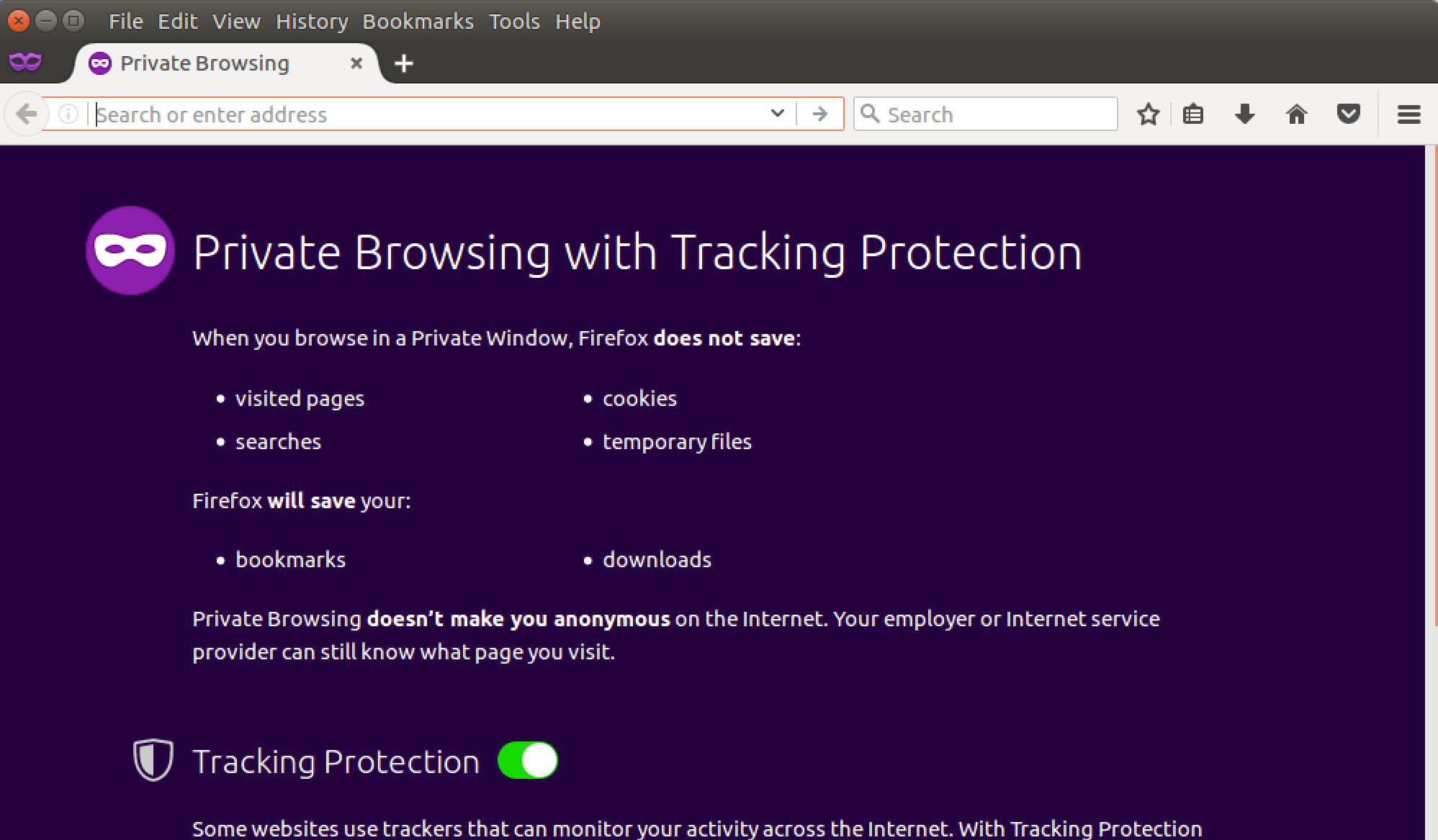 You can read above what it does. Note also that it enables tracking protection. That's good to ensure that you don't get into some weirdness with visiting a Web site in Private mode, just to have a related advert show up on another site later. Super annoying in regular life and a sign of something being broken if you're trying to stay anonymous or private online.
Now, let's test it by searching for something, ummmm…. naked.
Naked. Mole. Rat. Go look at the images if you really want to be impressed. 🙂  Also note the purple mask on the top left of the window to denote that I'm in Private mode.
But now that we've visited Google and done that search, will it show up in our browser history? I hope not, but a quick search shows what's happened:
My earlier search for baby aardvarks shows up, but no searches for the naked mole rat. Perfect!
And that's how you private browse in Firefox. Be safe out there!