I'm enjoying Instagram both because I get to see what my friends are doing and because I can share some of my more artistic photos, but I'm finding that all of a sudden I'm getting random adverts, scams and spam comments added to the photos I post on Instagram. That stinks. What can I do about it, can I block the spammers?
Glad to see another Instagram fan here, as I definitely enjoy it — and invite you to follow me on Instagram too, I'm d1taylor there — but I also am seeing what you talk about with the spammers and scams and other junk showing up. It's a sad fact of life that as soon as a social media service becomes popular these bottom dwellers show up, convinced that their desire to make a buck is more important than your post, your photo, your audio sample, whatever it may be.
On Instagram, it seems like it's tied to you either gaining a certain level of popularity or using a common hashtag that the spammer is monitoring. They doubtless use software that identifies individual Instagram postings and add their blurb as a comment: I'm sure they're not typing these in by hand.
So far, there doesn't seem to be much that Instagram is doing about the situation, including no ability to delete annoying spam comments from your own photos, but that'll have to change as it becomes more and more of a problem which, alas, it inevitably will.
In the interim, what you can do is follow the ID of a spammer and mark them as such in the Instagram app and hope your friends will just ignore the stupid comments on your own photos. It works like this…
Here's a photo I posted on my Instagram account and you can see that "carolcamargo" added her irrelevant, spammy two cents: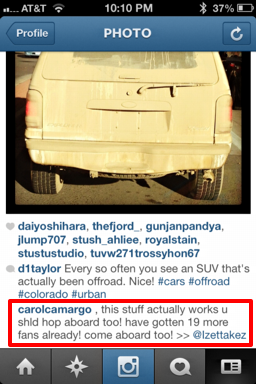 To identify her (tip: it's probably not a gal) as a spammer to Instagram, I tap on her account name, which produces what is ostensibly her profile:
Looks so benign, doesn't it? But there's not a single photo that's actually personal, is there? In any case, at this point it's subtle, but you tap on the arrow-box on the top right.
This pops up a few choices:
I can block the user from my material, but I want to report them as a spammer, so I tap on the big red "Report for Spam", and…
That's it. Their comment doesn't vanish from my Instagram posting. Just a "we will review this account" and what that means? I have no idea.
In any case, it's still better than just suffering through these daft comments!