Ever wish you could connect directly with overseas manufacturers and purchase their products without any middleman? A surprising number of companies sell through online shopping malls and thereby offer you a chance to get some wicked good deals, if you have the patience to wait for the products to arrive. I tried the Chinese-based ArkarTechMall to find out how it worked…
It's easy to have a US-centric view of the Internet and assume that every Web site and every online shopping site is based here in the United States. But you'd be quite wrong, actually.  Facebook says that 85% of its daily active users come from outside North America. With so much manufacturing happening in China and the Far East region, it's no wonder then that there are a lot of manufacturers wanting to connect directly with customers worldwide too.
That's why when ArkarTech approached me about checking out their online products, I was actually just as interested in their online "mall" as the products themselves. The company, based in Shenzhen City, Guangdong, China, focuses on "Gaming headsets, headphones, keyboards, speakers and mice for the Xbox, PlayStation, PC, and Mobile." Though ArkarTechMall has a .com domain name and is built atop Shopify, it's still a chance to disintermediate, as they say, and buy directly from the manufacturer rather than go through a middleman who ups the cost of goods.
But is it safe? Does the product arrive, and as ordered? I decided to find out by ordering an Arkartech gaming headset.
Jump onto the site at ArkarTechMall.com and it's bright, cheery and easy to navigate. You can see where it's a good match for gamer searches for "Best Budget Gaming Headsets":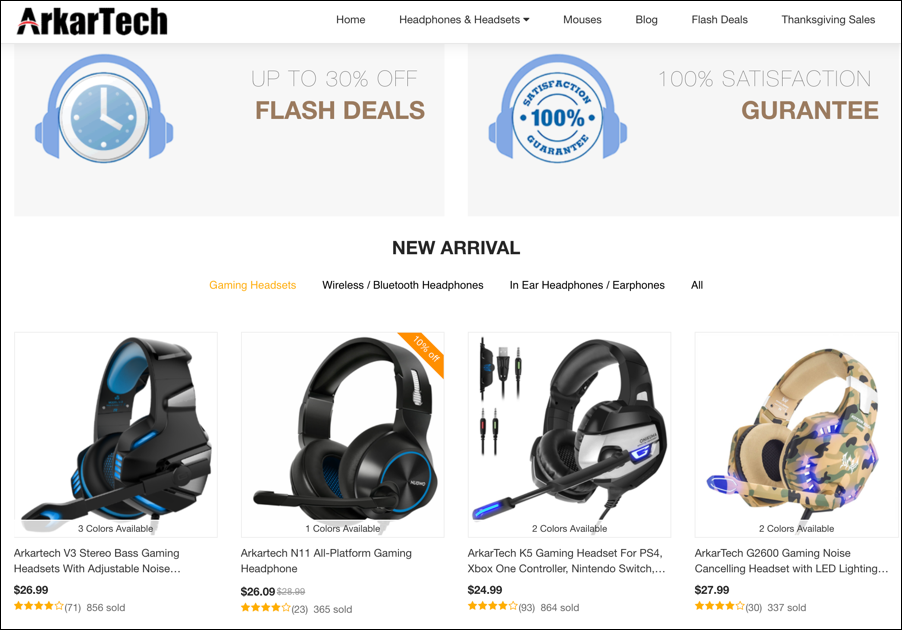 There are some hiccups with the English translations and grammar, but let's be honest, their English is a lot better than my Mandarin, so don't get too caught up in those issues. Products have lots of reviews – good and bad – so it's clearly a popular online destination for gamers, and the prices are definitely quite competitive.
After poking around, I settled on the Arkartech K9 Gaming Headset, mostly because of the noise-cancelling microphone: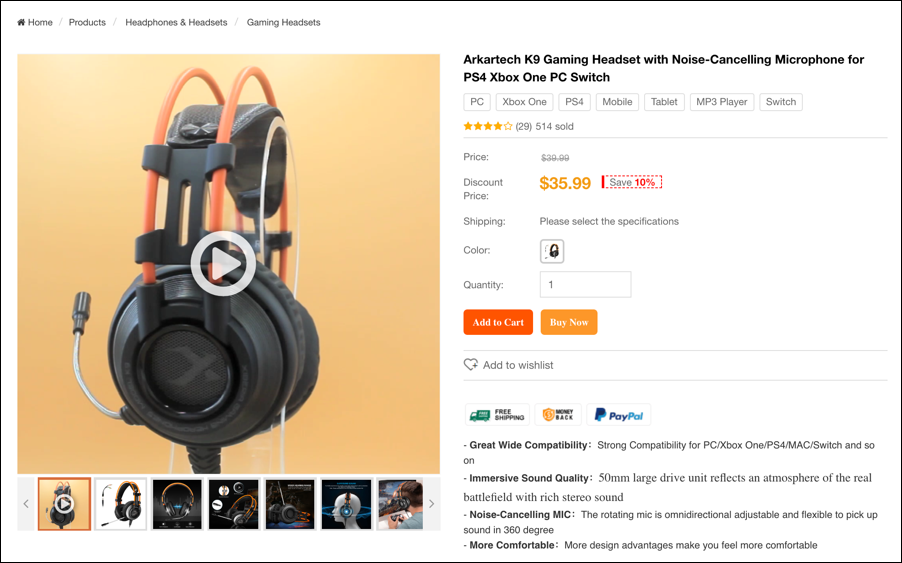 $35.99 including shipping and no sales tax – since they have no direct retail outlets in the USA – makes this a pretty solid deal if it's as represented and actually ships, right? The company has a guarantee against purchase issues and if you use PayPal, you'll get buyer's protection too, but I'll get back to that in a moment or two.
An Add to Cart click shows me the total, as is the case with every other online shopping site too:

A click on "Checkout" and I can see the price with shipping and the many payment options: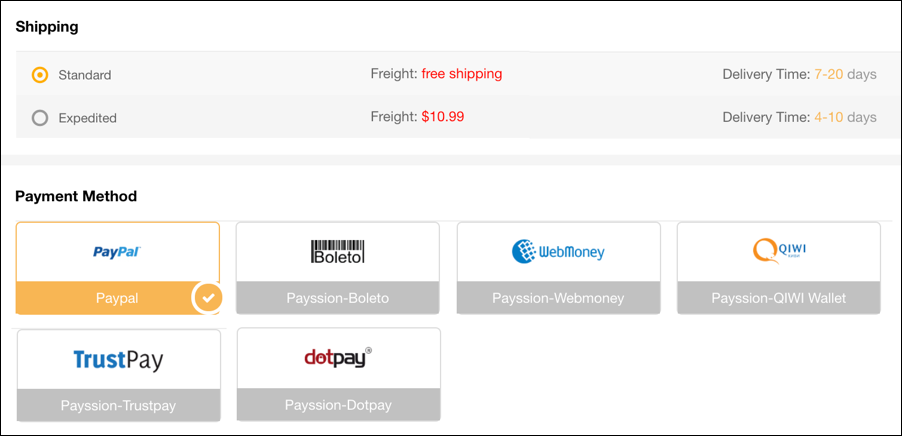 The first question is: do you want to pay a few dollars for fast shipping (well, relatively fast, it's not overnight!) or quite literally have it take the slow boat from China? I opted for free standard shipping, though it took a bit more than 20 days to arrive…
Also notice all the various payment systems. This is where you can see the international nature of the site audience: PayPal might be global and US-based, but Boleto is Brazilian, WebMoney is Russian, QIWI is based in Cyprus, TrustPay is an EU based online payment system based in Slovakia and dotpay is based in Poland.
As I said, ArkarTechMall offers the following guarantee: "All items are covered by a 5-day dead on arrival (DOA) warranty. 30-day no-questions-asked money back guarantee. Most items are covered by a 90-day refund and replace policy, 180-day repair warranty, and product lifetime support and repair services."
If you opt to pay through PayPal, don't forget that you'll also be covered by Paypal Buyer Protection: "When buyers pay with PayPal on any website, PayPal Buyer Protection covers them in case there is a problem. If an item doesn't arrive or is significantly not as described, we will help buyers get a full refund."
All good, so I finish up my transaction and mid-afternoon on Nov 18, 2018, I see this:

Now, how long it's going to take to arrive with regular, free shipping is a function of how you define time. They say 7-20 days so if you count that as business days only, then 20 days is four weeks, right? In which case, that's a good estimate, because after much waiting, on Dec 12, I received a mysterious package wrapped in layers and layers of tape. Within was another box similarly wrapped: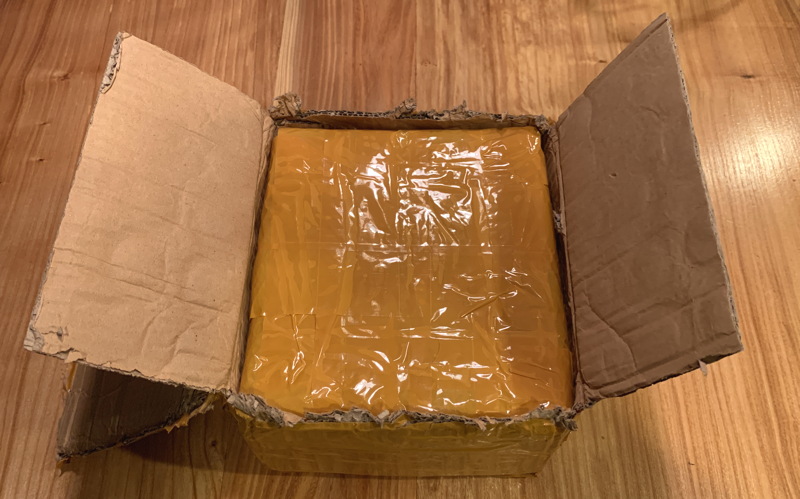 Turns out it was actually quite well packaged and survived a very long voyage in completely pristine conditions, even if the packaging wasn't quite the standard Amazon overly-big box with air packs.
But the big question: Was the gaming headset as ordered? Yes, it was, and quite a nice device at that: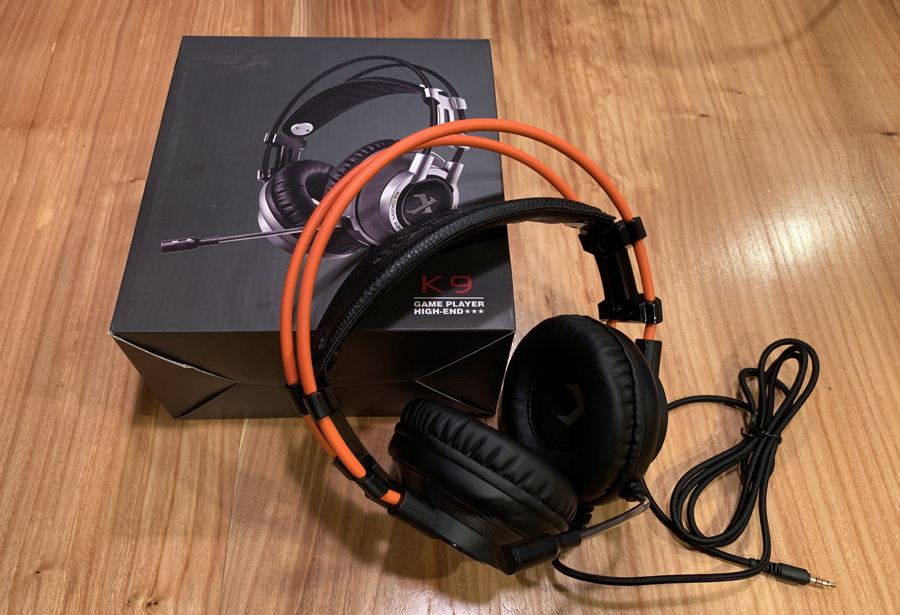 And so endeth my adventure with overseas gamer product ordering. A bit longer than expected for shipping, but a very nice product at a very reasonable price with no extra fees or charges. Success!
Next up, my review of the ArkarTech K9 gaming headset, which I'll do over on my YouTube channel. Subscribe so you don't miss it! And if you're really interested in the K9, you can also order it through Amazon.com: K9 Multi-platform gaming headset.
Disclosure: ArkarTech reimbursed me for the cost of the headset in return for this writeup.