I love running Linux because it's so darn fast. But Firefox on Linux is boring. Is there a way I can apply a theme or color scheme to spice it up just a little bit? Thanks.
You didn't specify which flavor or distro of Linux you're running, but I still know what you mean. You can apply a wallpaper, but fundamentally, most computer interfaces are still rather dull, rectilinear and, well, boring. Worse, unlike Apple, the various Linux development groups generally don't have artists on the staff, so icons, buttons, graphics all end up being a smidge more uninspired than perhaps they could be. This also extends to that mainstay Web browser that's been around forever: Firefox.
But what you might not realize is that Firefox does support themes, and while they might not make a dramatic difference in your overall user experience, a new theme can definitely give you a splash of color on the top portion of your browser window! To be completely transparent [ pun intended ] there are thousands upon thousands of themes for Firefox precisely because it has been around for so long. Let's check it out and see if we can find a Game of Thrones theme, shall we? For this, I'll be working in the latest version of Ubuntu Linux, but it should work identically within Firefox in any other Linux distro.
HOW TO APPLY A THEME IN FIREFOX FOR LINUX
First off, let's fire up the program in all its "default" theme glory, then click on the hamburger menu icon on the top right (the three horizontal bars, if you don't know that jargon):
The key entry in this theme is "Customize…", as subtly highlighted. Lots of other things to check out when you have time, but for now, Customize it is…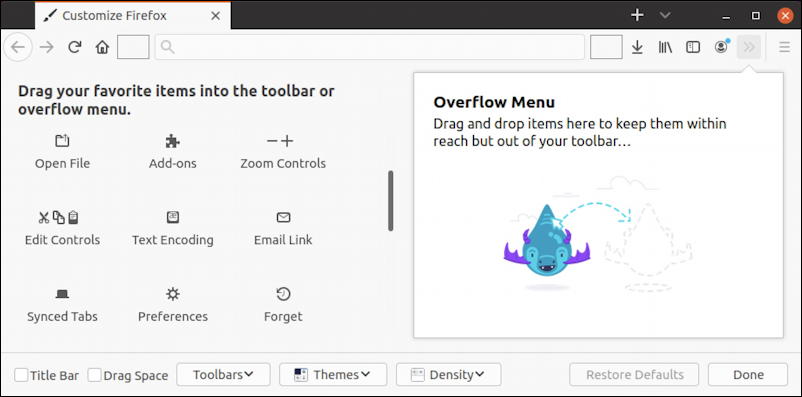 There's a lot going on with this customize window and quite a bit you can adjust. Take your time looking along the bottom because it's about a lot more than just customizing the toolbar. In fact, you'll want to know that it's the "Done" button on the lower right that will let you get back to your Web browsing when you're done.
To choose a new theme, however, click on the "Themes" menu on the very bottom.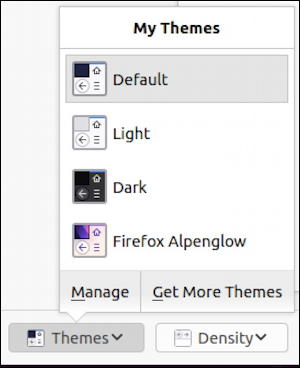 You can see that there are four themes included with Firefox, dull, boring, dark and boring, and splash of purple. Uhm, I mean Default, Light, Dark and Firefox Alpenglow. Choose the lattermost of those four options and your browser will definitely perk up with a cheery splash of color:
But you don't have to just stick with Alpenglow if you would prefer something else. On the Themes menu choose "Get More Themes" on the lower right corner. You'll be whisked to the Firefox site, into the Themes area of Add-Ons:
Notice the theme categories along the bottom: Abstract, Causes, Fashion, Film and TV, Firefox, Foxkeh, Holiday, Music, Nature, Other, Scenery, Seasonal, Solid, Sports and Websites. That's a lot of categories!
Click into one of them – perhaps Film and TV since we're looking for Game of Thrones themes – and you'll see just how large the Firefox theme library actually is. It's impressive!
The fact that The Matrix is one of the top themes is a bit retro, but that's okay. Notice you can filter your results on the left, which is really helpful because their matching algorithm is really weird for searches. Still, let's search for "game of thrones" and see what pops up:
There are a number of matches, so I'll scroll down until I find one I like. A click and more information is revealed:
Thank you for your efforts, Ladynany. This looks good. To install a theme is super easy: Click on the big blue "+ Install Theme" button (did I have to tell you that? 😀)
Firefox prompts you to ensure you want to install the theme…
A click on "Add" and after just a moment or two the top area of your Firefox window will be updated for this theme.

Notice also the reminder that you can change or even delete themes at any time by clicking the jigsaw puzzle icon in your menu, or just going to Customize… > Themes.
In fact, I'm going to install another theme to add a bit more color, then let's go back to that Themes mini menu and choose "Manage" from the lower right of the menu. Here's what pops up:
You can manage your themes, extensions and other add-ons all from this same handy spot. Now, which of these themes do you prefer and what are you going to install and use on your computer?
Pro Tip: I've been writing about Linux since it was a hobby project out of Torvald's basement, and Unix before that. Please do check out my extensive Linux help library for tons of useful tutorials. Thanks!