Psyched to get my new iPad and, even better, I'm selling my older iPad 2 to my brother-in-law. All good, but I need you to tell me how to erase everything on the iPad before I give it to him. I know that there's a simple sequence for reformatting / erasing everything on an iPhone, but can I do the same on my iPad?
You're smart to wipe your old iPad clean before selling it, even if it's to your brother-in-law. I would say that any device you don't want to share with someone who is going to use the same iTunes account should probably be wiped and rebuilt from scratch by the new owner. It's just cleaner and then there's no worry of identity theft (not so much with your bro, but with a random stranger), invasion of privacy (remember, even new content can show up on the device after you've sold it if you don't wipe things out, through channels like iCloud's photo stream) and just someone else running up your iTunes Store account by buying tons of movies, music and apps.
All of that is definitely in the not good department!
Fortunately, it's pretty straightforward to clean things up but make triple sure it's what you want before you proceed: once you commit, there's no way to recover your old data, whether it's a phone number, photograph, app or anything else.
Ready?
Okay. Start by going to "Settings" and tap on "General"…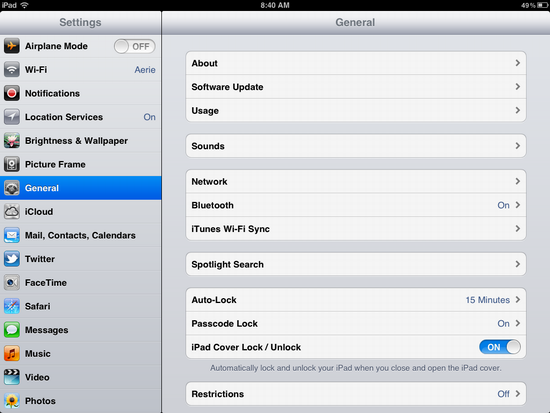 The hardest part of the entire process is that you need to scroll to the bottom of this window. Do so, and you'll see "Reset" as the last of the options: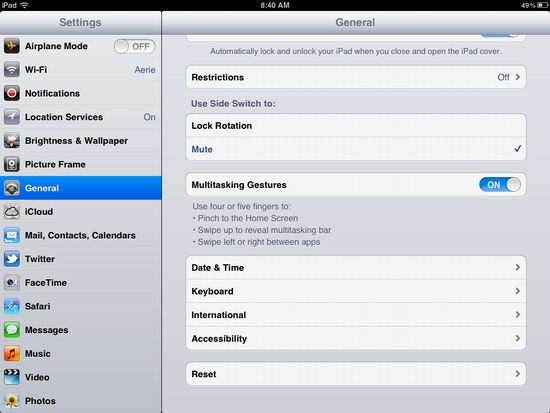 Tap on "Reset" and you'll see that there are a lot of different choices!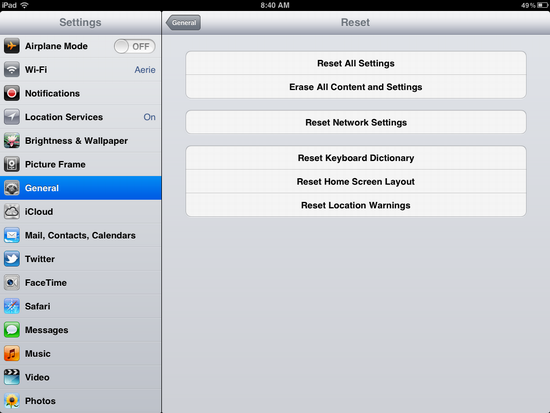 Since you want to do a "factory level wipe", erasing out all data, every app, and every setting and customization, choose "Erase All Content and Settings".
This is definitely not something you want kids to stumble into, or sneaky colleagues, so it'll go through some confirmation steps, starting with you needing to enter your passcode:


Got that right? Now it'll ask if you're sure this is what you want to do…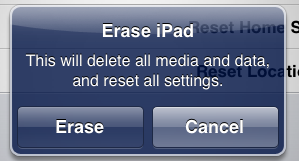 You are, so you tap "Erase", but it'll ask again. It really is irreversible, so Apple makes triple sure this is what you want to do: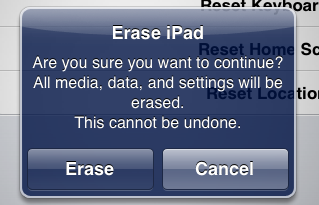 The iPad will go dark, then restart, slowly, with the Apple logo on the screen. Finally, it'll show the out-of-box welcoming screen and if you have it plugged in to your computer, it'll show up as a new, uninitialized device:


That's it. You're good to go. Unplug the iPad and hand it off to your brother-in-law. You're safe. Now just hope it doesn't break or go wonky in the first week, because then you might have a rather awkward situation! 🙂