What is the reason people buy stocks from a company. I know the obvious reason is to make money, but there is more. So just "why do people buy stocks"? thank you.
On first blush this seems like an extraordinarily basic question, but it is actually a pretty interesting question, so let's have a shot at it, and hopefully others can add comments with their own perspective too. I should disclaim, I suppose, that I have stock in a bunch of companies, some I started, some from acquisitions of companies I started, some I've consulted with and many that I've purchased, either through collectives like mutual funds or as specific individual stocks.
If you go back to the foundations of the capitalist system, our old pal Adam Smith, you'll find that public ownership of companies, that having individuals share in the upside of corporate fortunes, is a key element. It's up there with private ownership of property, actually, something that hasn't proven to be always true in different cultures (for example, the native Americans were actually puzzled when Europeans arrived and started sectoring property with barbed wire and fences, claiming them as individually owned).
That's kind of the why we have stock question, but your question is more about why people buy stock. I think that the easiest way to answer that is to observe that people who purchase company stock are able to enjoy the benefits and upside of a growing and successful firm.
Think about it this way: if you bought Google (NASDAQ: GOOG) stock when they first came onto the market, you would have made a lot of money. They opened at about $100 per share, and are now at $487 per share. If you'd purchased $5,000 worth of stock, you would now have $23,450 in stock, a tidy profit. If, instead, you'd purchased $50,000 worth of Google, well, you can see that you would have quite a tidy nest egg.
Here's how Google's done in the last 24 months, a classic growth curve: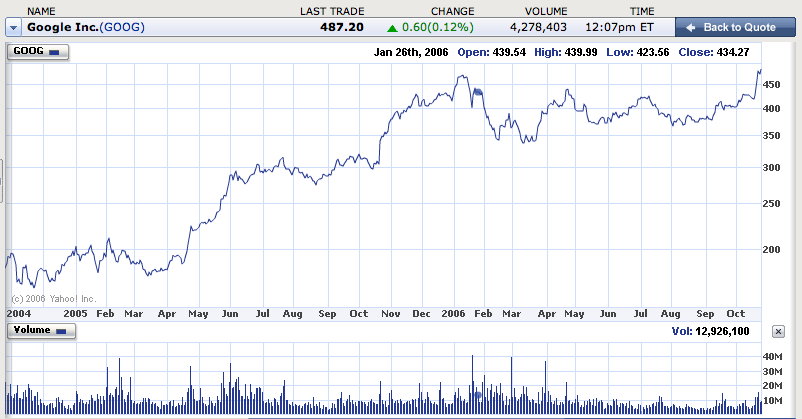 Of course, for every stock that does wonderfully, there's another stock that does poorly and that $5,000 investment can end up being worth $350 or even less. There's clearly great risk and with billions in the markets, being able to pick between the winners and losers is huge, it's a multi-million-dollar industry unto itself. Figure that one out, and, well, you'll make oodles of money yourself!
I think that's one of the greatest reasons that someone buys stock, actually. To make money. For some people, they might buy stock to be able to have a sense of ownership in companies that they like, or to gain some shareholder benefits (Disney Corporation (NYSE: DIS), for example, used to offer special product pricing to shareholders, even if you only had one share).
There are perhaps other reasons for a small subset of stockholders, including the ability to raise the voice of dissent in shareholder meetings (which you can't attend if you don't have at least one share of stock in the company), but I believe that the main reason people buy stock is to make money.
Anyone else want to offer their two cents on this great question?

This article was written by Eric Savage, who has been involved with business and management for long enough to figure this all out.