I take a lot of photos and sometimes people ask me where I was. I believe that my Android phone records the location every time I take a photo, so how can I ascertain the map coordinates or location?
In the old days, when you took a photograph, you exposed chemicals on a sheet and produced a negative that had to be developed and printed to produce the print you wanted to view. Nowhere in that process was space for additional information, not even time or date. Digital photography is a completely different world, however, and it was immediately obvious that a digital picture could include additional information, even down to focal length and exposure. Really helpful and interesting information, particularly when both the timestamp and geo-location are also automatically recorded. How does your phone know? Your phone actually always knows exactly where you are through various satellites and the cellular signal. That way it can stay connected even as you move around. Remarkable engineering, really.
The collection of all this additional data beyond the actual image itself is know as EXIF information. I think of that as "EXtra InFormation", but the official definition of the acronym is "Exchangeable image file format". Either way, it's automatically recorded with every selfie, every sunset picture for your Instagram feed, every goofy video you post on TikTok and every other photo you capture with your mobile device. After a lot of awkward problems with users extracting this EXIF information from shared social photos, however, every social network automatically strips out geolocation data as part of the upload process (particularly important for teens posting from their bedrooms!)
You can also disable location capture as part of your photography in your Android camera settings: In the Camera app, choose "Save Location" from "Settings" and you can stop recording geolocation [actually latitude / longitude, if you're curious] for every photo you capture. I do not disable this feature, personally, as I really like being able to look on a map to see where I was when I took a photo from years earlier.
VIEWING EXIF INFORMATION FOR A PHOTO IN ANDROID
You're lucky you're an Android user with all the EXIF information too: iPhone users have to go through a ridiculous number of steps – or get an app! – to view this most basic of photo information. I'll come back to that in a minute, however. For now, in the Gallery app, here's a photo I took recently: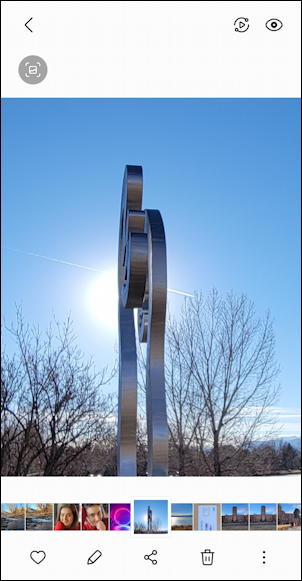 Hopefully you've already figured out that the heart lets you add a photo to your favorites list, the pencil lets you edit it, the three circles "<" lets you share and the waste bin lets you discard the picture if you don't really like it. What we want to focus on is the "•••" vertical pileup icon. Tap on it and a menu pops up: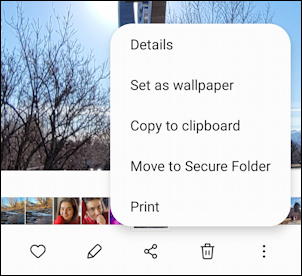 A number of interesting options show up here, including the much discussed Secure Folder for photos you don't want others to see if they happen to peruse your phone gallery. You can learn more here: How to Use the Samsung Secure Folder. If you're not on a Samsung phone, you might have other options you can utilize instead, I suggest a Google search or two for your edification. On this menu I'm also a big fan of the "Set as wallpaper" feature, which makes it a breeze to turn that great pic of your baby into your phone's lock screen or home screen wallpaper.
All of the EXIF information, however, is accessible by tapping on "Details"…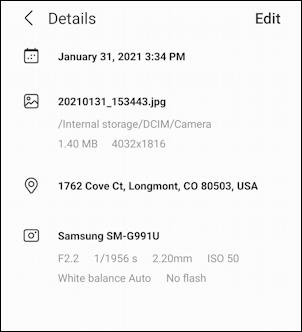 This is broken into four categories of information, as can be seen: Date, File Information, Location, and Camera Info. This particular image is 1.4MB in size and taken at a resolution of 4032 x 1816. The camera was set to f2.2 and the shot took a speed 1/1956ths of a second (shooting the edge of the sun makes for startlingly quick exposures!) at a simulated ISO 50 speed, auto white balance and 2.20mm focal length.
The most interesting snippet for your query, however, is the address, and Android's shown the closest property address, which is a bit curious: 1762 Cove Ct., Longmont, CO. Unfortunately, there's no easy way to copy this address or tap on it to see it in Google Maps [though that seems like a no-brainer addition!]. Tap on "Edit" on the top right and you can remove the address, but even then you can't actually copy it: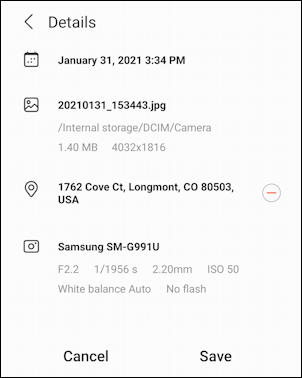 Can you see the addition of the red dash in a circle adjacent to the address? Yeah, not super useful.
You can share the photo to an app and choose Google Maps from the strip of app icons along the bottom…
but then it brings up an informational display, not a map with the location pinned or otherwise highlighted.
Finally, you can use a second device or just remember the address and do a quick Map search. When I do that, I find the photo was taken here: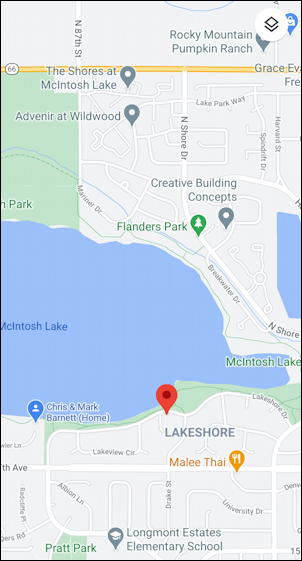 Still, it's a sight better than the mess that you find on an iPhone. I've written about the hoops you have to jump through to get to the EXIF information on an iPhone running iOS – see View Photo EXIF Information on iPhone – but I will credit Apple for making the data more readable and usable both: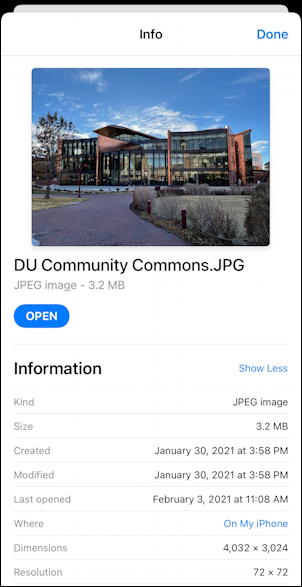 So Apple's got the friendly display figured out, but make it a ridiculous hassle to find it. Android, meanwhile, makes getting to the EXIF data super easy, but then format it poorly and omit any sort of link to a map to show where the picture was taken, even as it shows an address. Weird.
Nonetheless, this should definitely get you up and running with EXIF information on your Android device. Have fun!
Pro Tip: I've been writing about Android since the beginning of the operating system. Please do check out my extensive Android help area while you're visiting, for lots more useful tutorials and guides! Thanks.