Now that I'm running iOS13 has Apple finally made it possible for me to view the EXIF and additional information saved with the photos I take on my iPhone XS? If not, what app do you recommend?
It's rather inexplicable that even with the latest release of iOS, iOS 13, there's still no 'view info' sort of feature in the Photos app, though your iPhone is definitely saving quite a bit of associated information every time you capture an image or record a video sequence. The common name for all this information is "EXIF", a rather awkward acronym for exchangeable image file format (you'd think that would be EIFF, wouldn't you?) but it can include GPS data that specifies where you took the photo, dates, times, camera settings, even the device you used down to specific iPhone model info.
There are oodles of third party apps in the $0.99-$2.99 range that can make browsing this data on your iPhone easy, but there is a way to view all the info a lot more easily from within the Files app on your phone. The problem is that Files only works with images that are saved in your iCloud file area, it can't actually access your Photo Library. Which means that the first step is to copy whatever photo or video you want to check onto your iCloud account if you don't already automatically back up all your images to iCloud. If you do, you can skip this first part!
Start by going into Photos and finding the image you want, then tap and hold to pull up the contextual "force tap" menu. It'll look like this: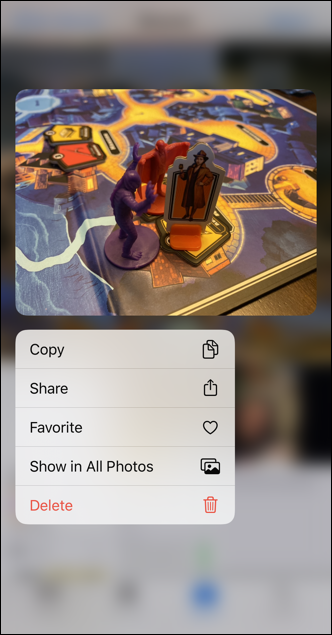 If you are already backing up photos to iCloud, you can skip this part, but if not, tap on "Share" off this menu (or Share elsewhere in the Photos app if you prefer), then swipe down until you see the following set of options: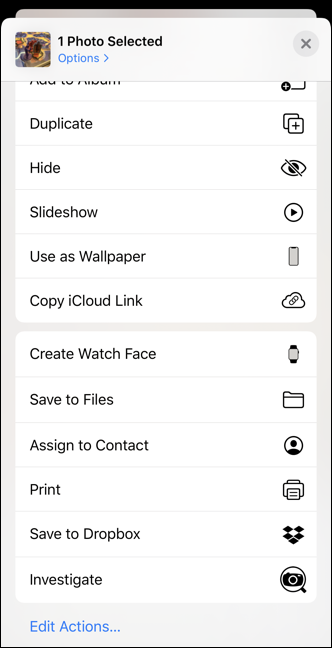 You want to choose "Save to Files". Tap.
Once you choose that, you'll be able to see the file structure you have on your iCloud Drive. Mine conveniently includes a folder for Photos but if you don't have something similar, you can tap on the tiny blue folder icon with the even tinier "+" (near the top right) to create a new folder. Here's what I see just before I save the photograph: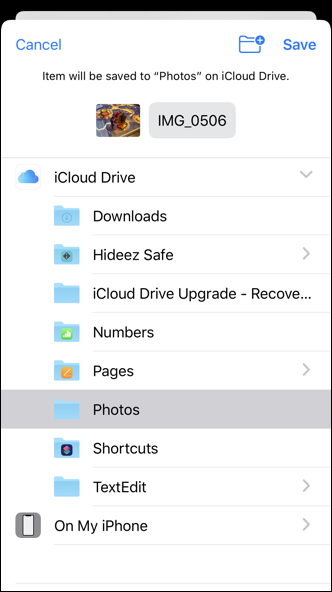 Looks good. Tap on "Save" on the top right to save the photograph to your iCloud file area.
That's it for the Photos app, after you've done this you'll want to go back to the main screen on your iPhone and launch the "Files" app. Can't find it? Swipe down from the middle of your screen and search for it!
To be honest, Files is a pretty rudimentary program but it's functional. Once launched, tap on Browse along the bottom and you'll see something similar to this: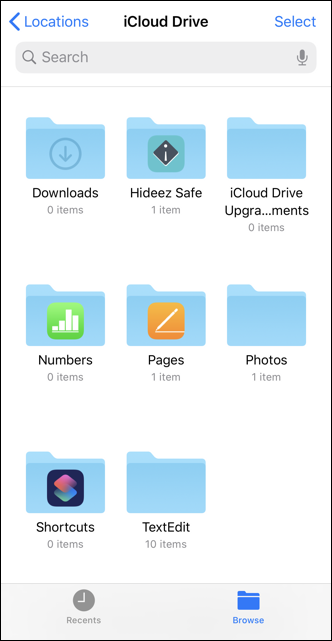 That's a familiar set of folders, isn't it? Great, notice that my "Photos" folder has a single file within.
A tap opens up the folder and reveals the photo: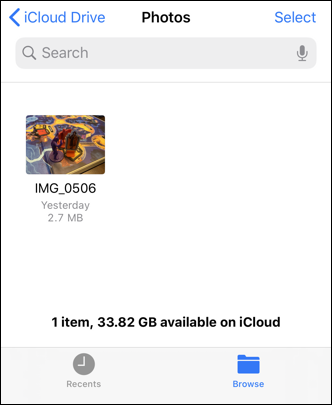 Now we're going to use the 3D Touch shortcut again, so tap and hold down your finger on the image until you see the following pop-up contextual menu: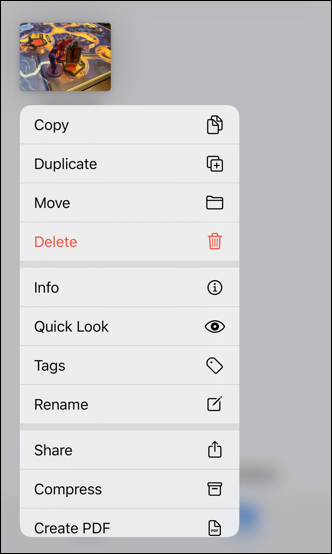 Just about there, you're just a tap away from seeing all that photo info!
Tap on "Info" and here's what you'll see, finally!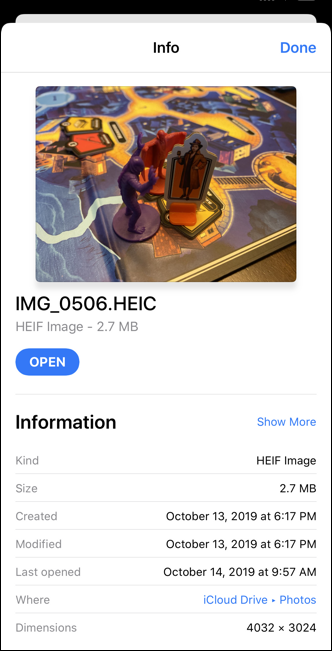 Want to see more? That's available too! Tap on "Show More" and a lot more information is displayed.
Swipe down to see camera, lens, ISO speed settings, and much more: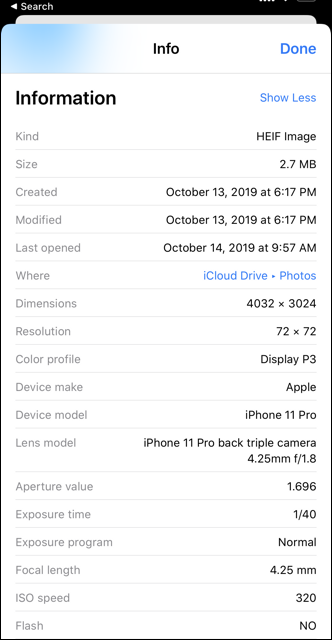 If you haven't blocked your phone recording the location of every photo and video recorded, shooting geolocation information is also stored with the photo (and shared every time you share that image!).
It's shown in latitude / longitude format, as you can see in the last two lines of a different photo's EXIF info: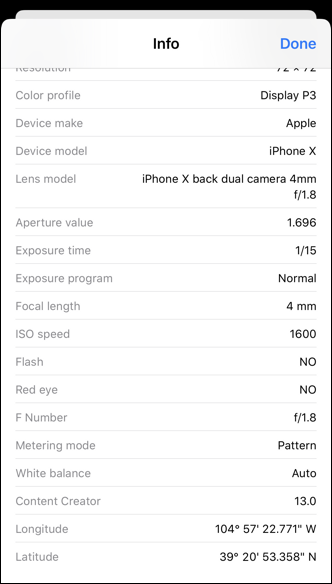 Turns out you can feed lat/long information directly into mapping programs like Google Maps and it'll identify the location on a map view, but I'll leave that as an exercise for you to figure out, dear reader! Why there isn't a link that would open up the specified location in Apple Maps remains one of the many curious omissions in this area of iOS functionality. We can add it to the question of why 'info' isn't something you can access directly from within the Photos app too. :-\
In any case you now know a quick and (relatively) easy way to check the EXIF information and other data associated with any photo or video, whether someone texted or emailed it to you, or whether you captured the image yourself.
Want to disable having your camera record specific Lat/Long info when you record images? Smart idea. You can do that in Settings. Go to Privacy > Location Services > Camera then change it to "Never" and all new photos and videos will omit the GPS location information!
Pro Tip: I've been writing about the iPhone and iOS for a mighty long time. Please check out my extensive iPhone help area for lots more useful tutorials. Thanks!