I was using Skype the other day on my PC and suddenly Windows Security Center popped up a warning message telling me that my computer was infected by a virus and that I needed to install a repair utility of some sort. Huh? What's that all about, Dave?
One thing I have to give virus writers and hackers credit for is that they always push the envelope, trying new and different angles on a weekly basis. I had no idea what you were talking about until just the other day on my Mac I saw what I imagine is the same message.
Before I show you the message remember that it's easy for any chat or IM application to pop up an almost arbitrary message on your screen, whether it's thanking you for visiting a non-existent site, warning you of some government investigation of your computer, inviting you to get an "early release beta" or, as you saw, download free security repair software.
The window you got looked like this: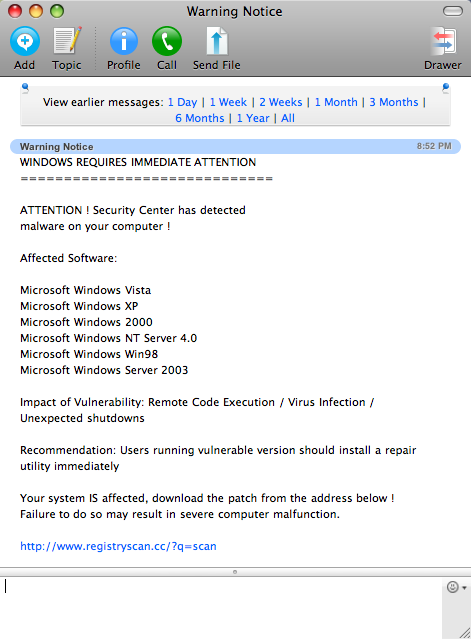 Looks fairly legit except for one huge problem: I'm running Skype on a Mac so what the heck sort of Windows security problem could it possibly detect, even if it were real?
The answer is that it's just a clever spoof, a fake Skype message from some random user that's intended to look like a security warning message. Skype, however, doesn't issue Windows security errors and in any case, the key thing to observe is – as always –
where
it wants you to go.
In this case it's "http://www.registryscan.cc/" Do you recognize the ".cc" suffix? It's the Cocos Islands in the Maldives. Don't know where that is? Neither did I. The Maldives are a small group of islands off the southern tip of India.
Hmmm… what a strange place to send you for a registry scan if it's indeed part of Skype, an eBay company based in Northern California, USA!
A quick
whois
query reveals something even more strange:
Registrant Contact:
  Andrej Kazaniski
  Pod Nahorjem 180
  Prague, CZ 44300
So the site is actually registered to a chap in Czheckoslovakia. Okay, so there's zero likelihood that a warning message that sends you to a domain registered to a small island off India and owned by a guy in Prague is actually legitimate.
The moral of the story is the usual: be very skeptical.