QuickTime Player on your Mac system is good for what it is, but if you watch a variety of content, you constantly bump into "QuickTime Player can't open" errors. The solution? Elmedia Player. Here's my review…
Audio, video, even photographs have ended up with a bewildering variety of different formats in the computer age. Music can be MP3, WAV, OGG, PCM, AIFF and AAC. There are dozens of video formats you can encounter, from AVI and MOV to MP4, MKV, WMV, FLV and DIVX. For almost all of them, QuickTime Player is going to crash and burn, leaving you unable to watch that TV show, movie or video footage from a friend or colleague.
One really slick solution is to grab yourself a copy of Elmedia Player, the free media player for MacOS X. The company sent me a license for the pro version and I gave it a test or two with some public domain movies and content of my own. And it works flawlessly, offering a wide variety of different capabilities including built-in support for both Chromecast and AirPlay, making it a breeze to 'cast' it to your TV if you have an AppleTV or Chromecast capable unit. Me? My Vizio 4K TV has built-in Chromecast and it works great…
Download and launch Elmedia Player and you'll immediately see that the company has some great designers on staff. It looks really nice: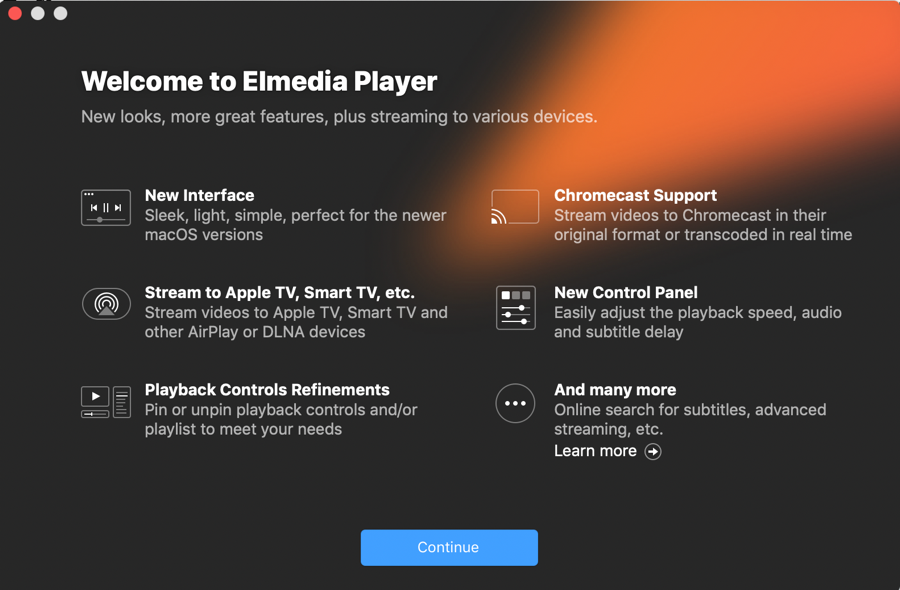 Since there's so much to this program, I focused on just a few features in this review. Let's start with the basics: open up a video file and here's what you'll see: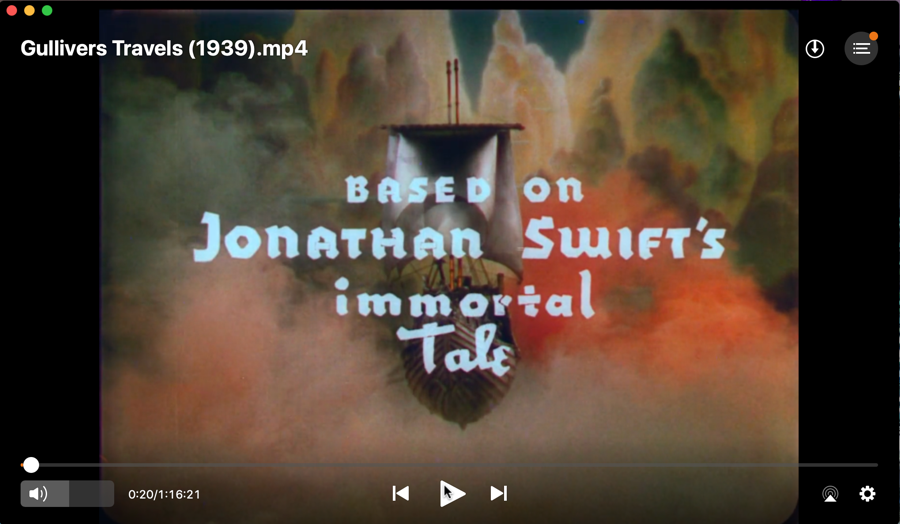 First off, don't panic, I'm using the public domain animated film Gulliver's Travels from 1939. You can learn more about this fun Fleischer Studios release – the second feature length animated film – on the Fleischer Studios Web site, and watch it or grab a copy for yourself from YouTube: Gulliver's Travels 1939.
Now, let's have a look at the capture, above. From the top left, you can see the file name, and it's an MP4 format video file. On the top right there's a down arrow that launches the Elmedia browser, letting you download or play videos from popular sites like YouTube, Vimeo and Dailymotion, and a playlist button on the top right. We'll get back to that playlist, so let's stick with the tour!
On the lower right, going right to left, are Settings, AirPlay sharing, forward / play|pause / back controls, a running segment timer (look closely, you'll see that we're 20 seconds into a 1:16:21 video). The slider on the very left is volumen, and you can see that I have the volume set to about 50%.
Let's have a quick look at the playlist. Check this out: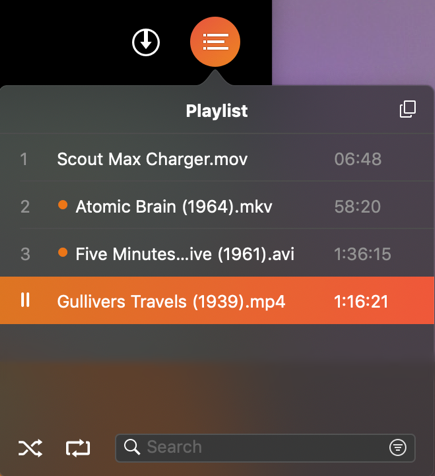 More public domain movies (Atomic Brain and Five Minutes to Live) along with a video of my own. Notice mostly the formats: MOV, MKV, AVI and MP4, all happily coexisting. Not something QuickTime can manage, that's for sure. What makes playlists really nice, though, is you can load up two, three, ten, even thirty videos and it'll play through them non-stop. Perfect for demos at a trade show or for binge watching the entire Planet of the Apes series or all the Die Hard movies on Christmas morning!
The Settings area is really where Elmedia player shines, however. First up is "Playback":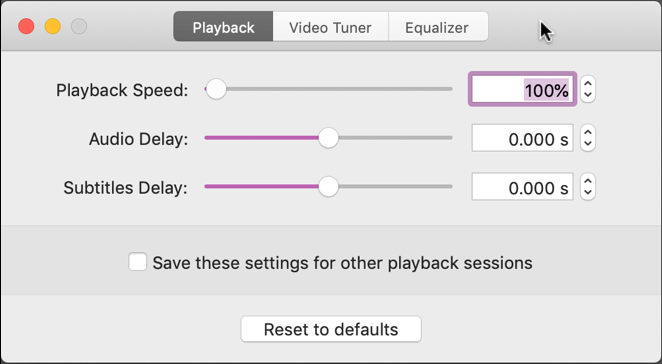 Notice that if you're finding that audio is out of sync with your video content, you can adjust the subtitle delay positive or negative fractions of a second. Slowing down the video to try and match the audio is common, but the opposite? This should let you exactly nail that pesky lip sync on any video from any source, even a sloppy cam recording. 🙂
You can also speed up some of those boring movies too if you really want to get through it. As a film aficionado, I don't like the idea of watching a film other than how the director intended, but if you want to watch Rudolph the Red Nose Reindeer at 120%, I will not judge you!
Click on "Video Tuner" and you'll see more super useful controls: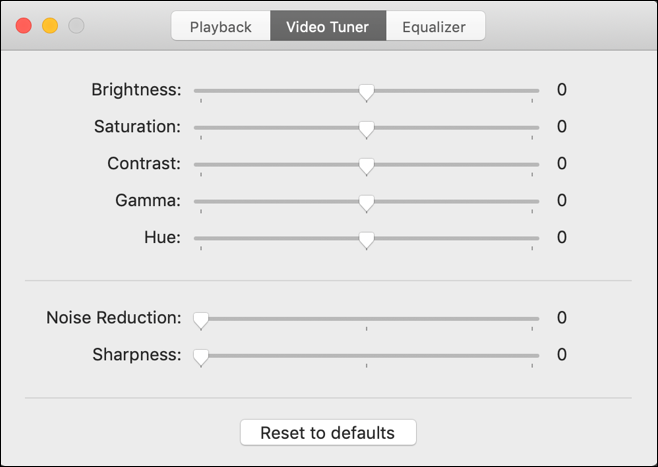 The sad reality is that not every video you want to watch is in great shape, so these controls let you tweak things to your liking. And if you can tweak the video, it's no big surprise that you can adjust the audio playback with "Equalizer":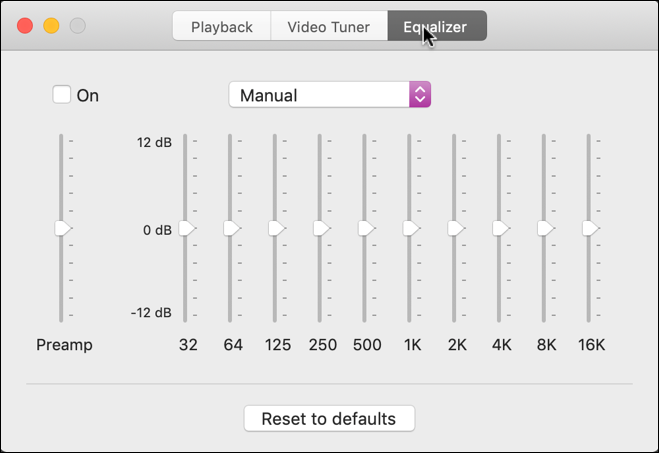 Where this is most useful is if the audio is muffled or poorly recorded: With equalizer settings you can get rid of the rumble or low frequency noise and be able to actually hear the dialog. Darn useful.
Between them, these Settings offer a remarkable amount of control over your viewing and listening experience. You can also fine tune the video playback window, changing it from a thumbnail to full screen, all from the "View" menu: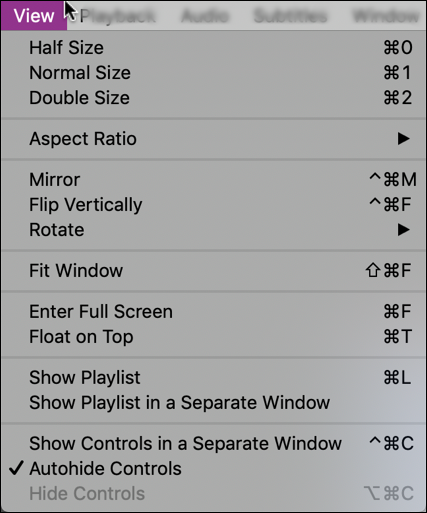 Worried about all those controls all over the video playback window in the earlier screen capture? Notice here that "Autohide Controls" is selected: that means that if you don't interact with any of the controls, after a few seconds they vanish from view. Just as you'd want!
One of my favorite features in Elmedia Player, however, is its strong support for subtitles. Turns out that subtitles are useful for more than just foreign language, as anyone who watches the wide variety of BBC programs knows; sometimes it's darn hard to understand the more regional accents. Elmedia Player has support for the terrific site OpenSubtitles.org which makes it super easy to find the right subtitles for your movie or TV show or other video content if it's available.
Even an animated movie from 1939, as you can see:

More recent films could have a half-dozen, dozen or even more language and text options, and if there are multiple edits of a film (like a theatrical release and a director's cut) those might be listed separately too. Choose it, pick the typeface, presentation style and type size you prefer, and subtitles show up to help you enjoy whatever you're watching, like this: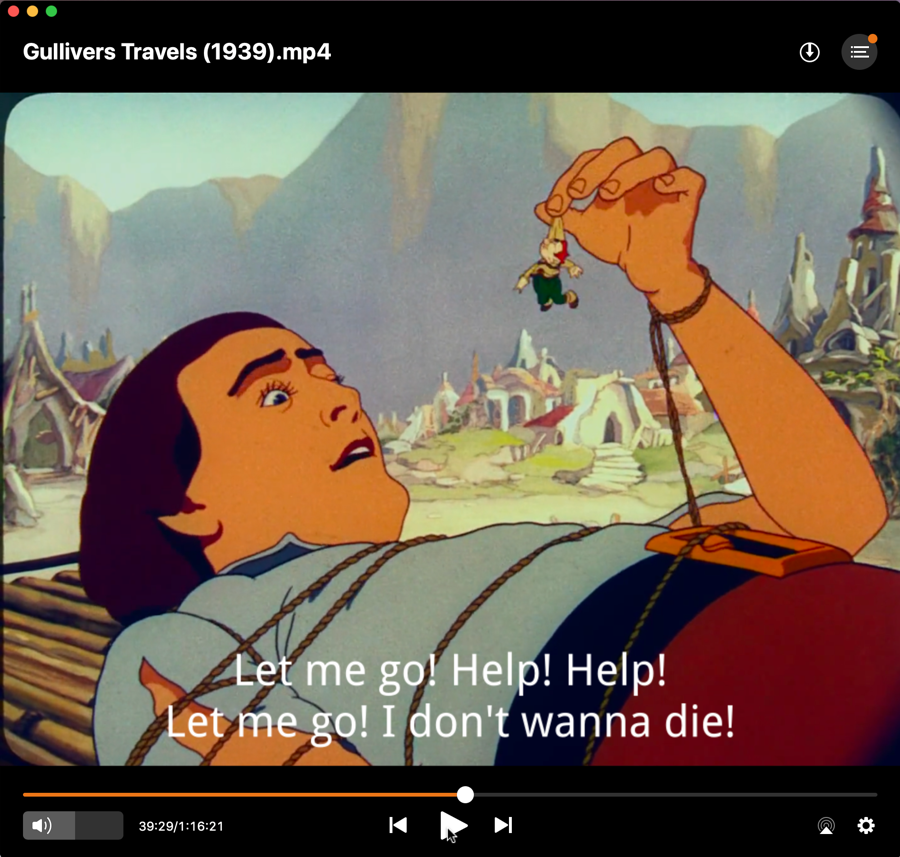 That's it. Elmedia Player has a wide variety of other features and capabilities, but having the ability to play just about every possible video format, tweaking settings as needed for sync, audio and video problems, and being able to push it out to other displays through Chromecast and AirPlay are terrific. It's a massive upgrade from QuickTime Player and if you watch video at all on your Mac, it's a no brainer too.
Which leads to one last question: What about VLC? VLC is a terrific open source and free video player for the Mac platform that offers some of these features, so is it a better choice? Actually, I think that Elmedia Player is better, with its slick and well-designed user interface and constant updates. Plus it's a very modest investment, less than the price of a single DVD at the local electronics shop.
Elmedia Player, available in both free version and paid versions for the Mac. The Pro version is $19.99 / system. Learn more at mac.eltima.com
Disclosure: Elmedia Player sent us a software license for the Pro version for the purposes of this review.