One of the people I'm following on Pinterest constantly posts annoying advertisements for their supplements Web site and I'm tired of it. Blech. How do I unfollow them on Pinterest?
As with all too many things, as Pinterest has become more popular, the character of the site has definitely changed and the more we read headlines about "Pinterest proves important source of Web site traffic" and similar, the more we'll see people jump on the site and exploit its community for their own purposes. Of course, this is the nature of things and it could just as easily be called the evolution of a social community. Sometimes evolution isn't pretty.
I'm also reminded of the long slow decay of Twitter and how it was considerably more fun and interactive a few years ago before it because the social network of the day, and am hopeful that the Pinterest team can keep the spirit and fun of the site even as people are showing up and trying to slip billboards for their books, seminars, coaching and consulting work into the mix.
If someone crosses the line and posts the kind of thing you just don't want to see, no worries, no excuse needed, it's only two clicks to unfollow them.
Here's the kind of post I see sometimes on Pinterest that I don't like, where it includes a URL for the person's Web site and sales promotion page:

I've obscured the person's name at the bottom, but it says something like "Lady Gaga via Taylor Swift onto Get Healthy, Get Pregnant". You've seen these. To unfollow the person who posted this particular item, click on their name: in this example it'd be "Lady Gaga". When you do, you'll see all their boards and, on the left, a mini-profile: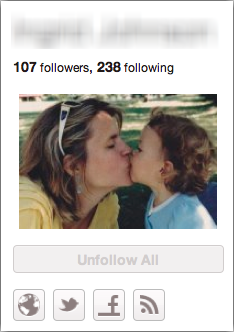 This is where Pinterest is playing a bit of a game with us. The button you want to click already looks like it's greyed out and it seems likely it won't work, right? It will. Click on "Unfollow All" and they'll stop showing up in your stream. Pinterest confirms this by restoring the "Follow All" button under their profile pic: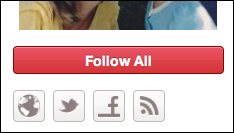 I believe it's deliberately confusing because they don't want you to unfollow people. Now you know, however.
If it seems a bit overkill to completely unfollow someone, have a look at the different pinboards they've set up. It might be the case that the material you don't like is neatly corralled into a single board, in which case you can actually unfollow a specific board. Find the board and you'll see a similar "greyed out" button:
Click on "Unfollow" under the appropriate board and it'll change…
Between those two, you should be able to customize your Pinterest experience, following most of some people's pins, all of others and occasionally shutting someone down entirely. Oh, and me? You can find my Pinterest boards at
Pinterest.com/d1taylor