iTunes started out as a simple, straightforward program that was designed to help you manage the music on your hard-drive-based iPod. Over the years it's gotten massive and confusing as heck, causing a lot of people to dislike it. Worse, Apple holds everything tightly inside iTunes and it can be a bear to extract media and files out of the iTunes universe.
Enter Wondershare TunesGo, a smart alternative that you can use on Mac or Windows and that will let you completely sidestep the chaos of iTunes. I give it a whirl to show you what it can do…
I've been using Apple iTunes for as long as it's been around and have been dismayed to watch it gain in power and sophistication without ever having its functionality pruned down or its user interface redesigned at any point. It's darn confusing now, particularly when coupled with the aggressive digital rights management philosophy that Apple has: if it's in iTunes, it stays in iTunes. On a Windows system, iTunes can also be quite a resource hog and in many corporate environments it's off limits because of its ability to let you squirrel away company data or inappropriate photos or video media. They all add up to plenty of people liking their iOS devices — iPhones and iPads — but not being too enamored of the iTunes world.
That's where third party programs like Wondershare TunesGo are such a great alternative to iTunes. Even better, the program offers functionality not available in iTunes and does it all with an interface that's a lot easier for many people to figure out. But I don't want to talk about it, let me show you what I mean.
For these tests, I'm running the Mac version of Wondershare TunesGo and am exploring an Apple iPhone 7 called "iDave 7". On initial launch, here's what the program displays: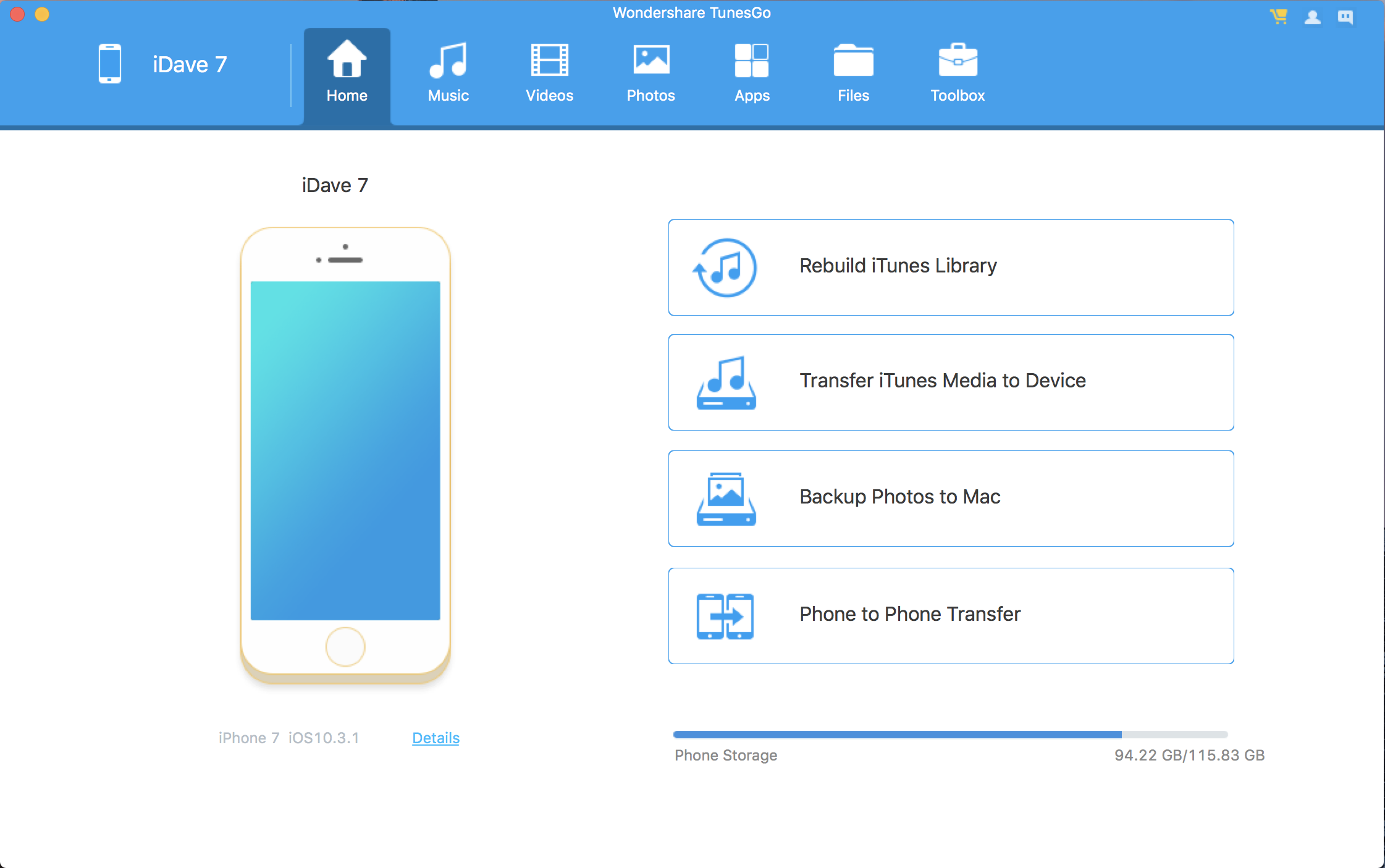 Along the top bar you can see that you can dig into music, videos, photos, apps, files and even jump to the catch-all "toolbox", while on the right side the primary options here are "Rebuild iTunes Library" "Transfer iTunes Media to Device" "Backup Photos to Mac" and "Phone to Phone Transfer". A closer look also reveals that my iPhone 7 is running iOS 10.3.1 and has 94.22GB of 115.83GB of space filled up. Want to copy some photos or a video to your iPhone or iPad? TunesGo makes it easy: Just click "Transfer iTunes Media to Device" and pick what you want to copy over. Done.
In fact, here's a peek at what you can choose and copy from your computer (remember, the Windows version has a slightly different UI to match Microsoft Windows, but otherwise has the same functionality too):
Yes, I have 22.48 GB of TV shows on my computer in iTunes format. It's easy to pick and choose by clicking on "Selected playlists" – and I can even create a custom playlist intended just to make copying that data to the iPad or iPhone a breeze.
The more I thought about it, though, the more I was curious about where all the space on my iPhone had gone. And by going to "Apps" and clicking on "Document Size" column header to sort largest to smallest, I found the culprit:
Spotify is a nice, modest app at 68MB but its associated data on my iPhone is 2.83GB. And that's without any music downloads. What the heck? Isn't the point of streaming media that you don't have to use local storage to keep a copy of the songs? Most odd. If I wanted to, I could actually delete Spotify from my iPhone by clicking the adjacent check box then clicking "Uninstall". I won't, however. I like Spotify!
Still, you can see that the app view is easy to work with too, and notice that you can delete apps from your iOS device and you can add new apps to your device directly from within Wondershare TunesGo. Handy and, again, allowing you to sidestep having to wade through the world of iTunes on your Mac (or Windows PC).
What about photos? TunesGo makes it easy to not only explore all your photos, regardless of what app created them, but also extract things from your "recently deleted" trash, as shown:
You can even cheat: Just click and drag the photo of set of photos to your Desktop and the program will know what to do. Easy!
Backing up one icon, a click on "Videos" shows that I don't have much on my iPhone at all:
Hey, I liked The Man from U.N.C.L.E. thank you very much! In fact, let me grab a copy of it back onto my computer. Easily done: a click to select it, and a click on the "Export" button pops up a window where I choose where it should be saved:
Desktop looks good, so I'll click on "Save" and it immediately starts copying the almost 700MB movie file onto my computer desktop. The icon itself in TunesGo for Mac shows me a progress bar:
Doesn't take long and I'm good to go. Easy.
One more quick demo because it's pretty darn interesting. A click on Music and I can see every album, every song on my iPhone:
What's most interesting here is a button right in the middle: "De-Duplicate". It's inevitable that you're going to end up with duplicate songs on your iOS device if you have enough music, and Wondershare TunesGo makes it easy to axe the dupes. A click and out of 8863 tracks (it's on the very bottom of the above pic, if you look closely) I have 345 duplicates by track name and artist alone: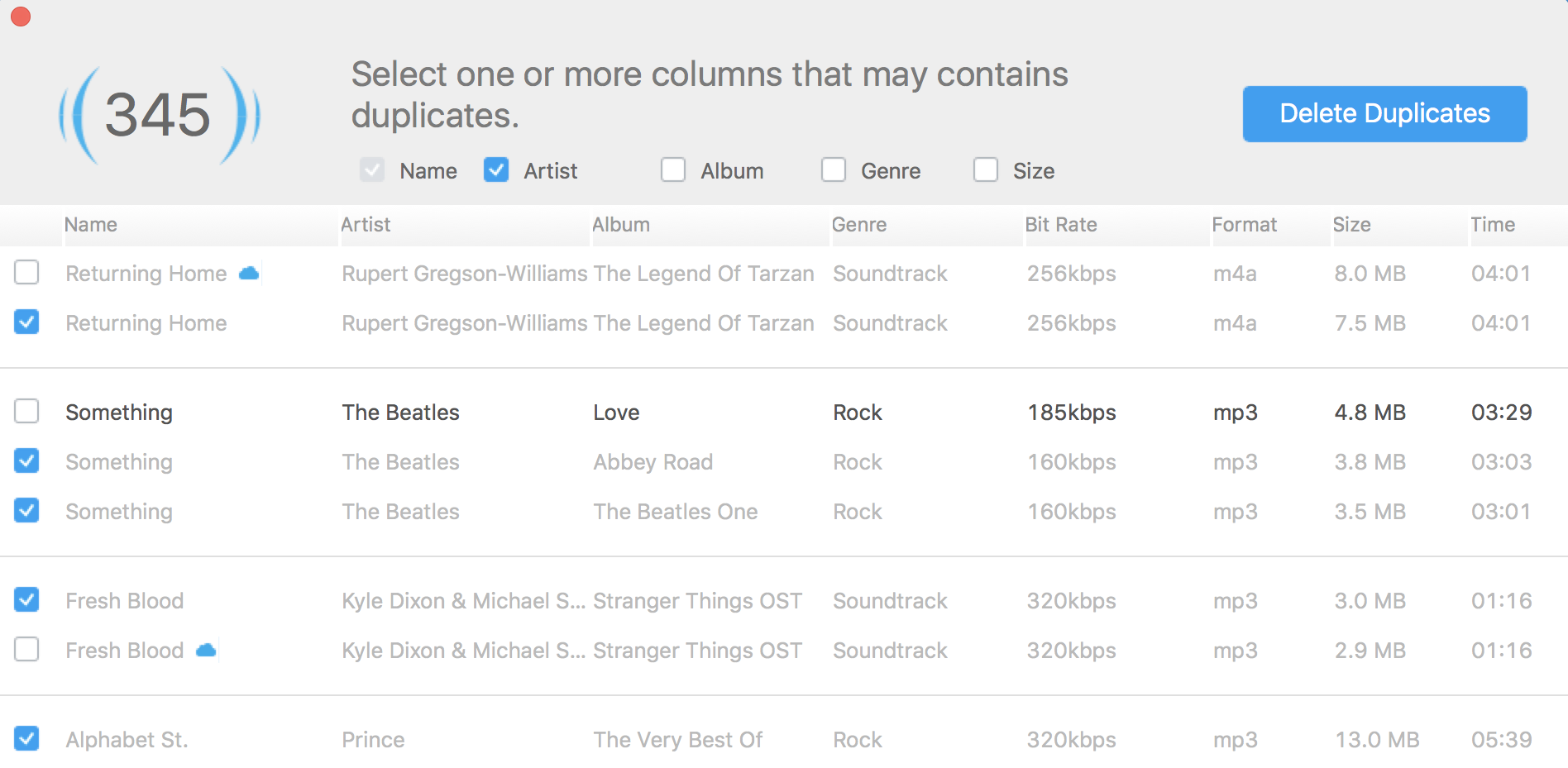 Since you might have multiple versions of the same song from different albums or live versus studio recording, etc, name and artist aren't enough. Check it out, when I add album name for de-duping:
But wait, let's apply one more comparison: file size. A click on "Size" and the results drop dramatically:
These are exactly bit-for-bit duplicates and definitely safe to delete with a click of the "Delete Duplicates" button. Look closely at the 260 results, however, and you can see there are some curious dupes that are going to be different sizes: "Zemo" from the Captain America: Civil War soundtrack appears in both 320kbps and 256kbps format, one an mp3 the other an m4a. One of those can safely be removed, so there might be a bit more work needed here to really cleanly de-duplicate my music library.
Nonetheless, this is plenty to show off some of the useful powers and capabilities of Wondershare TunesGo and demonstrate that it's not just a solid replacement for Apple iTunes but brings some useful – and easy to understand – options to the table too. If you're sick of iTunes on your Mac or just want to try a different way to interact with your iOS device, I encourage you to check out Wondershare TunesGo.
Note: TunesGo is commercial software. A one year, one computer license costs $39.95 for either iOS or Android support ($10 more for both) , a lifetime one computer license is $49.95 ($10 more for both Android and iOS) and a lifetime family license (up to five computers) is $134.95 (or $159.95 for both iOS and Android support). Learn more at https://tunesgo.wondershare.net/.